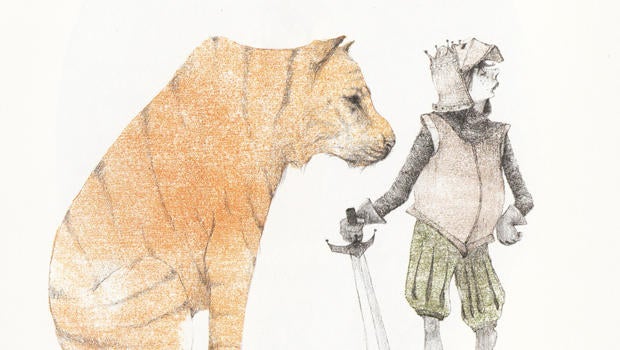 The newest story from Mark Twain
Mark Twain is back in print -- a Ghost Writer, in a manner of speaking. Martha Teichner explains:
Samuel Clemens was already pretty famous and rich when this story begins. Better known by his pen name, Mark Twain, he'd moved his family into a brand-new, 25-room mansion in Hartford, Connecticut.
And as Debra Petke, former executive director of the Mark Twain House & Museum, told Teichner in 2005, his young daughters, Susy and Clara, demanded nightly stories. "His daughters insisted that he tell them stories based on the objects that were lined up on the mantelpiece," Petke said.
It seems Twain thought enough of one story he told them in 1879 that he jotted down notes for a possible book -- sixteen small pages in his handwriting, in pencil.
But somehow the tale of a prince named Oleomargarine, kidnapped by giants, and his would-be rescuer, a boy named Johnny, was put aside unfinished.
It languished for 132 years.
Until 2011, when John Bird, doing research among the Twain papers at the University of California, Berkeley (for, of all things, a Mark Twain cookbook), spotted a file marked "Oleomargarine."
"It was a packet with the manuscript," said Bird, "and somebody had written on the top of it, "A burlesque fairy tale of no use." But I decided, 'Well, it's not food, but I'll read it anyway.'"
He was astonished. Bird, a noted Twain scholar, had hit the academic jackpot with his discovery of a previously unknown Mark Twain manuscript. But there's more to this story.
Philip Stead and his wife, Erin, are stars in the world of children's books. They live and work in rural northern Michigan. Their very first effort together, "A Sick Day for Amos McGee," won the prestigious Caldecot Award.
Phil recalled being asked about "Oleomargerine": "All they were willing to tell us was that the project involved Mark Twain. They wouldn't tell us anything else until we said yes or no. So this, off the bat, is the most unusual entry into a project that we've ever had.
"We were asked to complete this story. We were asked to fill in the gaps. So that began the most difficult and most terrifying three years of my life."
Why terrifying? "Because it's Mark Twain."
Not exactly the elephant in the room (although there is one in the final book, one of many talking animals who befriend the boy, Johnny), the Steads had to figure out how to collaborate with a curmudgeonly and long-dead literary icon.
"I have to draw honestly," said Erin. "I have to draw like myself. However, I was trying to impress Twain! I think Phil and I both felt like there was a ghost in the studio."
When Philip hid himself away in a cabin on an island in Lake Michigan to work on the manuscript, Twain seemed to show up, too.
"Those early conversations I was having with Twain were often arguments about what was going to be left in versus what had to be taken out," he said. "He often replied to me, and he was not always friendly!"
Instead of just channeling him, Stead turned him into a character in the story. "If he had put something in his notes, and I didn't like it, I was allowed, as a collaborator, to have my say, but he needed to be allowed to have his say as well."
Out of Twain's 16 pages of notes, they've crafted a 152-page book that's ruffled some Twain purists, in part because the boy, Johnny, is not white.
"Yeah, he is modeled after a friend of mine, who is black, and his kid, who is black and white," said Erin. "But there is maybe something about the way I see him that is a little universal."
Would Twain have done that in 1879? On the cover he got top billing, but the Steads, being alive, had the last word.
The Steads still have Twain on the brain. Even though the book is out, and they have a new baby, they thought by now Mark Twain would be exiting their lives, but …
"If you have a houseguest live with you long enough, they start to take on an element of family," Phil said. "You'll love them, and they'll irritate you in all the ways that family does. And so I think a piece of Twain will be with us forever."
For more info:
Thanks for reading CBS NEWS.
Create your free account or log in
for more features.