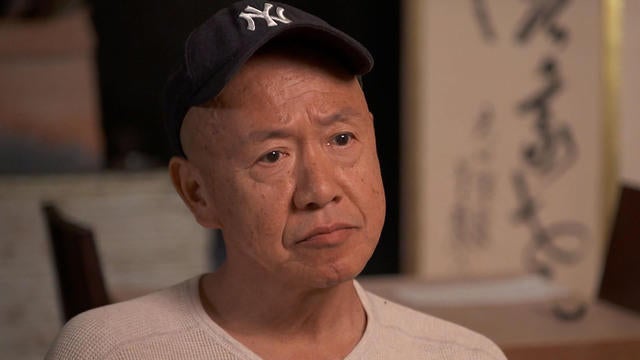 The Dish: Legendary sushi chef Masa Takayama
NEW YORK -- Legendary sushi chef Masa Takayama grew up in rural Japan working at his parents' fish market.
As an apprentice sushi chef, he washed dishes and cooked rice for years before being allowed to pick up a knife.
In the 1980s, he moved to Los Angeles -- and transformed the dining scene with Ginza Sushiko in Beverly Hills.

Then in 2004, he did the same in New York, opening Masa, the first Japanese restaurant in the U.S. to win the Michelin Guide's top rating.

Chef Takayama doesn't let diners take photos inside his restaurant, but he invited "CBS This Morning: Saturday" co-host Alex Wagner and crew in, where they found no detail is too small for the chef.
Inside his three Michelin-starred restaurant, Takayama spends at least one morning a week arranging the fresh plants that will stand just behind his sushi bar.
The bar, made of Japanese hinoki wood, is sanded by hand daily.

"Every morning. Sometimes twice, after lunch service," Takayama said. "I like everything simple, naked. So, wood, flower, fresh sanding -- ritual stuff. Spirit stuff."

The front row seats at Masa could cost you more than a car payment. With a starting price of $595 per person, it's considered the most expensive meal in New York City -- and there's no menu.
"Omakase. I make a menu every day," Takayama said. Omakase roughly translates to, "It's up to the chef."
Masa's dishes come out one at a time, and they are edible works of art. Masa is of course a meal, but it is also a full, sensory experience.
Even something as simple as a grilled shitake mushroom with wasabi is revelatory. Each ingredient is chosen for its flavor -- its essence.
Takayama doesn't stick with the traditional rules of what people expect sushi to be. One dish included imported parmesan and truffles from Italy shaved onto a ball of rice.

Takayama is a creator by nature and he showed us his latest invention: a cast iron mold used to cook burgers which he called "my toy."
His inspiration came from an unlikely source: an ashtray.

"No spikes. Then, after that, you know, I was thinking -- I did, many times -- try many times. But still, in the middle, it's still kind of raw," Takayama said of cooking his new invention.
The lamb burger is grilled, smoked, topped with taleggio cheese and served on a pretzel bun. Takayama is putting the device to use at his new downtown restaurant, Tetsu, which is the Japanese word for iron.
He spent more than eight years designing its cast iron framework, Corinthian columns, and the centerpiece, a robata grill, just like one in a traditional Japanese home.

The menu includes comfort food Takayama enjoys eating on Sundays. The cuisine and cost are more accessible than his eponymous restaurant uptown where the 63-year-old is still behind the bar six nights a week.
Thanks for reading CBS NEWS.
Create your free account or log in
for more features.