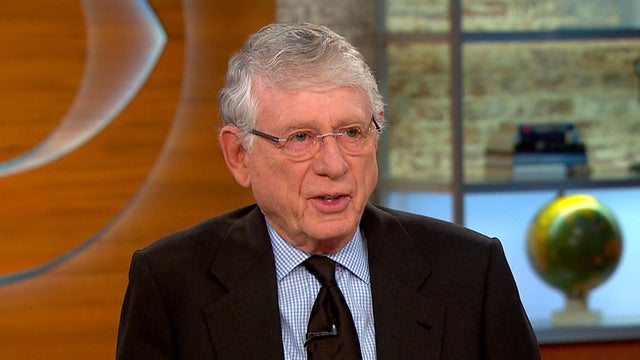 Ted Koppel exposes cyberattack threat on U.S. power grid
Thursday marks three years since Superstorm Sandy made landfall, leaving millions in the dark in places like New York and the New Jersey shore. In some cases, heat and light did not return for nearly two weeks.
But according to Emmy and Peabody Award winning journalist Ted Koppel, a cyberattack could be far more disastrous.
In his new book, "Lights Out: A Cyberattack, A Nation Unprepared, Surviving the Aftermath," Koppel investigates the threat and devastating consequences of a major cyberattack on America's power grid.
On "CBS This Morning" Tuesday, Koppel addressed the seriousness of the threat, recalling what Centcom Commander General Lloyd Austin had told him: "It's not a question of if, it's just a question of when."
China and Russia have already penetrated the grid, and with ongoing tensions with a host of other nations - including Iran and North Korea - Koppel asserts that a cyberattack is very likely, but the United States has "no plan."
"There are plans for hurricanes, there are plans for snowstorms, there are plans for earthquakes," Koppel told "CBS This Morning" Tuesday. "There is no plan for a cyberattack..."
Throughout his two-year investigation, Koppel raised the concern to numerous federal officials. When he spoke to Jeh Johnson, the secretary of Homeland Security "pointed out a bunch of white binders in his office and said, 'I'm sure there's a plan out there somewhere.'"
"I asked, 'Don't you think it's smart to get that plan out to the public before there is a massive break in electrical power?'," Koppel recalled. "And he said, 'Look, I mean this is a relatively simple thing...you need a battery-powered radio.'"
Although then Defense Secretary Leon Panetta has warned of a "cyber Pearl Harbor" during a Senate hearing in 2012, and the president has also warned of it in two State of the Union addresses, there is still no sense of urgency in the government.
During his investigation, Koppel also spent some time with Mormon church leaders in Salt Lake City, who he described as the only exceptions who were "extraordinarily prepared."
"They have made a culture of preparing for disaster, they're ready for it," Koppel said. "Most of the rest of us are not."
A cyberattack on the American power grid could affect tens of millions of people across the country, cutting off electricity, food, and bringing other devastating consequences Koppel says "would be infinitely longer in duration and more widespread than any of those natural disasters."
When CBS News reached out to the Department of Homeland Security for comment, they said they would coordinate with FEMA, local officials and work with the private sector for more resources and support. But Koppel said the government is not doing enough.
"I think people are a little bit worried about preparing the public for something they are not one hundred percent is going to happen," he said. "Let's say we prepare for something that doesn't happen, then we'll at least be prepared for any other disaster that comes along."
Thanks for reading CBS NEWS.
Create your free account or log in
for more features.