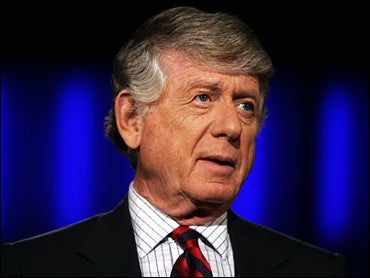 Ted Koppel Joins Discovery Channel
Ted Koppel has joined the Discovery Channel to make news documentaries, bringing his former top producer and eight other ex-"Nightline" staff members, the cable channel announced Wednesday.
Koppel was named managing editor of Discovery, and his first program for the network is due next fall.
The longtime ABC News anchor left "Nightline" after 25 years in November. The late-night news show he originated has continued on ABC with three new anchors.
Koppel will host and produce long-form programming examining major global topics and events exclusively for Discovery, said network President Billy Campbell. Discovery is available in more than 90 million of the nation's 110 million homes.
Koppel will also conduct some of the town hall-style meetings that were a staple of "Nightline" programming, Campbell said.
He's joined by Tom Bettag, his former executive producer at "Nightline," who left ABC with Koppel. A Discovery spokeswoman would not immediately identify the other former "Nightline" staff members to join him.
Discovery Channel is owned by Discovery Communications Inc., whose shareholders are the publicly traded entity Discovery Holding Co.; Cox Communications Inc.; Advance/Newhouse Communications and John Hendricks, the company's founder and chairman.
By David Bauder
Thanks for reading CBS NEWS.
Create your free account or log in
for more features.