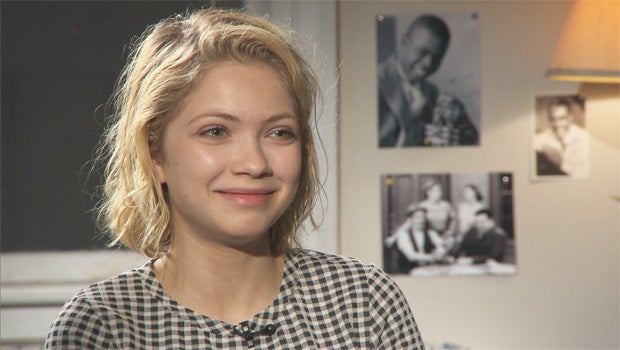 ​Tavi Gevinson: Not so afraid of ambition
Tavi Gevinson isn't a household name -- yet. But she's well on her way. We'll let Anthony Mason make the introductions:
She showed her guest the house she has been in "my entire life."
In her entire life -- all 18 years of it -- Tavi Gevinson has already been a fashion icon at age 12 . . . an Internet publisher at age 15 . . . and a film actress at age 17.
Her room, in her parents' suburban home in Oak Park, Ill., is a cacophony of influences -- everything from Barbie dolls to J.D. Salinger books to 45 rpm records. Her collection includes Frank Sinatra.

"I just want to consume everything," she told Mason. "I'm just a hoarder, basically. What you're really making here is an episode of 'Hoarders.' Sorry!"
But the week we visited, Gevinson was packing up her room to move to New York and the bright lights of Broadway. This September she's starring in the play "This Is Our Youth."
When the Steppenwolf Theatre Company opened its production in Chicago this summer, the Chicago Tribune wrote: 'Tavi Gevinson gives a luminous performance that could easily make her the Broadway 'It Girl' of next season."
Gevinson had never been involved in anything as big as this production. "It's wild," she said. "But I can't really even let myself think about it, 'cause then coming in here is much scarier. I just have to be, like, 'We're just playing on the best playground ever!'"
She was just 11 when she began posting her avant garde thoughts about fashion online, using her father's computer.
Her self portraits, many shot in her backyard, caught the attention of top designers and fashion editors, like Vogue's Anna Wintour, and she was invited to Fashion Week in New York and in Paris.
When asked why she started her blog, Gevinson said, "Middle school is hard. I think by the end of 6th grade I'd been rejected by that group, I didn't fit into this group. So it was just kind of, like, 'Well, I can just have this hobby to myself. And by dressing this way I'm completely exempting myself from even being ranked in the comparisons in middle school."
Mason said, "That's really interesting, because so many kids in middle school and even high school want to dress like everybody else, so they feel included."
"It wasn't even like, 'Oh, I want to stand out,'" said Gevinson. "It was just, 'I don't even want to have to think about being compared to that girl or who's prettier. I just need to have no peer.'"
At school she was teased, but not deterred. Mason asked, "Was it girls or was it the guys?"
"Guys," she replied. "Guys who couldn't understand why you weren't, like, trying to impress them. One time, this kid who had a locker next to mine was, like, 'Your dress looks like a curtain.' And it just seemed to make him so angry. So I was like, 'Just you wait, I'll wear a tutu tomorrow.' Like it was just a game. It was really fun!"
In high school, she launched the website Rookie, a kind of cultural headquarters for teenaged girls that won her legions of fans.
Was she afraid to be ambitious? "I was, at first, and I still am every day a little bit, because we don't live in a world that is necessarily encouraging for young women to be ambitious or to be confident or take what is yours."
She also began auditioning for films, landing a role in "Enough Said," starring the late James Gandolfini and Julia Louis Dreyfus.
"How old were you when you got interested in theater, and what got you interest in theater?" Mason asked.
"It was just how I was raised," said Gevinson. "When I was two, my sister would put curlers in my hair and like, teach me Shirley Temple songs. It was just really part of our home."
But home and high school are behind her now. At New York's Cort Theatre in "This Is Our Youth," she'll be starring with Michael Cera and Kieran Culkin, as three friends grappling with growing up.
She says she wanted the part badly: "Well, obviously I think a lot about youth," she laughed, "and about this time in a person's life and what makes it so interesting and strange and bittersweet."
She has a quarter of a million Twitter followers, and from her new apartment will continue to edit Rookie. But Tavi Gevinson has graduated.
The teenaged fashion icon is now a New York cover girl (left).
Yes, like, wow, but Gevinson said, "I have to do my job and can't be up here and think, like, 'I'm on Broadway!'"
"But has there been a 'pinch me' moment for you?" asked Mason.
"Absolutely, my whole life," she replied. "Yeah, but it's not a complex response, because it's not a complex thing. It's just wonderful. That's it!"

For more info:
Thanks for reading CBS NEWS.
Create your free account or log in
for more features.