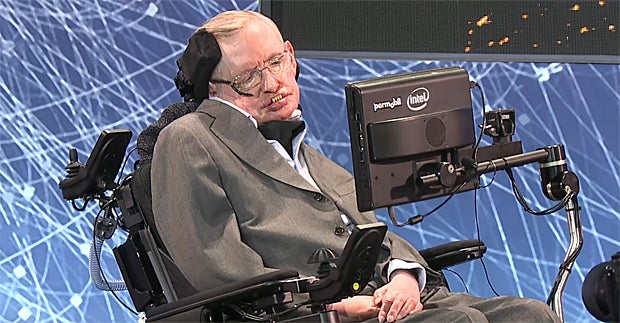 Stephen Hawking: Humans won't survive another 1,000 years on Earth
The world's most celebrated physicist and cosmologist issued a call for humans to "continue to go into space for the future of humanity."
"I don't think we will survive another 1,000 years without escaping beyond our fragile planet," Stephen Hawking said while delivering a lecture on the universe and the origins of humans at the Oxford Union debating society on Monday, according to the British newspaper The Independent.
Despite the dire warning, Hawking also tried to sound a hopeful note about the future of human achievement.
"Remember to look up at the stars and not down at your feet," Hawking said, according to The Independent. "Try to make sense of what you see, wonder about what makes the universe exist. Be curious. However difficult life may seem, there is always something you can do and succeed at. It matters that you don't just give up."
In recent months, Hawking has used his stature in the sciences to make broad statements about the thorny moral and political dilemmas facing modern societies.
In an essay published in The Guardian in July, Hawking argued that in order for humans to survive the massive, serious challenges ahead — climate change, overtaxed food production, and overpopulation, to name a few — they need to resist the individualism and isolationism that have fueled political movements like Brexit.
"We will need to adapt, rethink, refocus and change some of our fundamental assumptions about what we mean by wealth, by possessions, by mine and yours. Just like children, we will have to learn to share," he wrote.
"If we fail then the forces that contributed to Brexit, the envy and isolationism not just in the UK but around the world that spring from not sharing, of cultures driven by a narrow definition of wealth and a failure to divide it more fairly, both within nations and across national borders, will strengthen. If that were to happen, I would not be optimistic about the long-term outlook for our species."
Thanks for reading CBS NEWS.
Create your free account or log in
for more features.