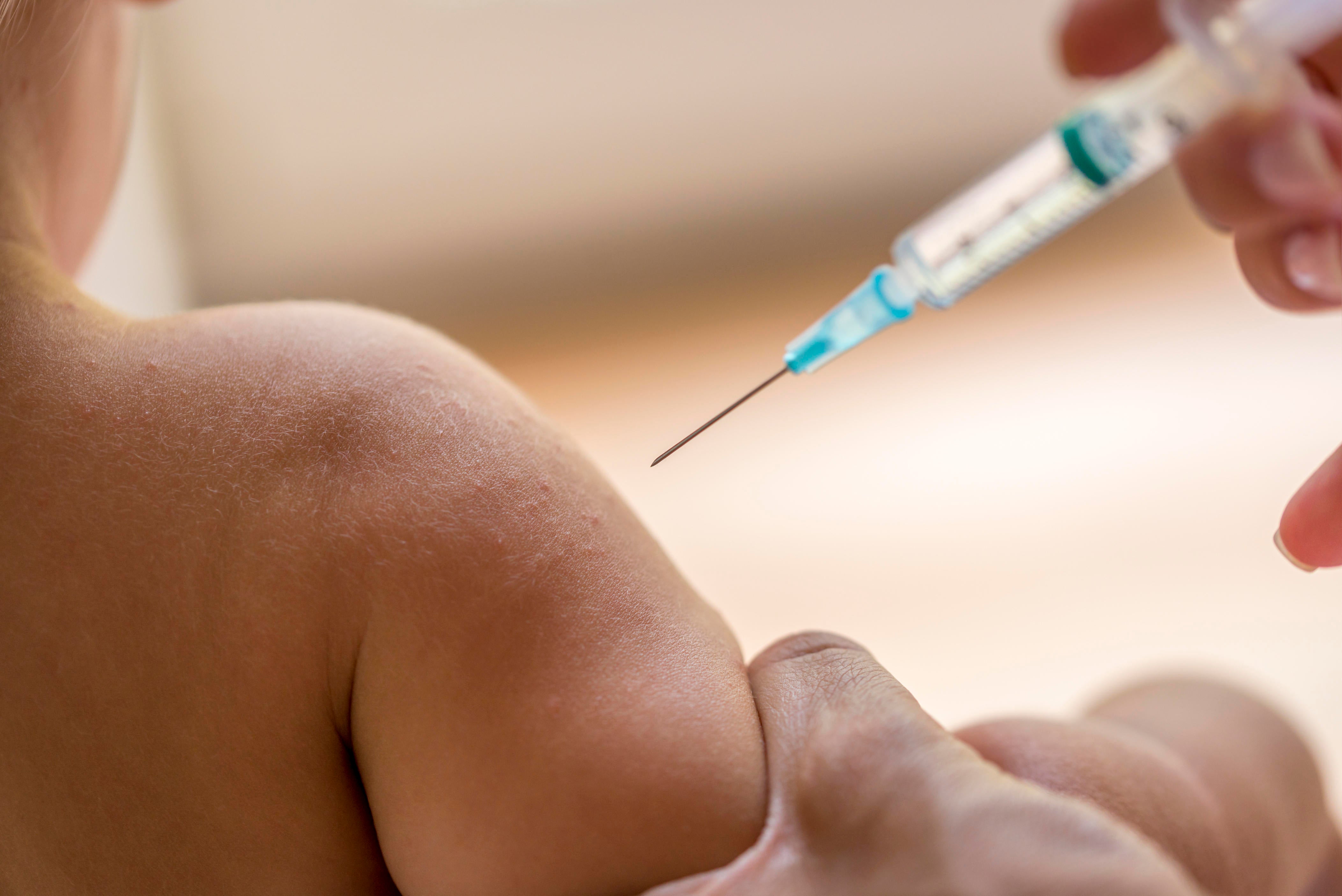 States with the highest child vaccine rates
Vaccines have made huge inroads over recent decades – dramatically shrinking the numbers of people affected by potentially deadly diseases such as measles, whooping cough, influenza and polio.
But an additional 1.5 million deaths could be prevented across the globe if more people were immunized, says the World Health Organization.
U.S. medical experts spoke with CBS News for World Immunization Week (April 24 – 30) and raised concern about the number of Americans who still aren't vaccinating their children or getting their own shots, which continues to fuel preventable disease outbreaks.
For example, the U.S. saw a spike in mumps cases last year. In 2016, there were approximately 5,748 cases reported to U.S. Centers for Disease Control and Prevention, compared to 229 cases in 2012. Already this year, 1,965 mumps cases have been reported to the CDC.
Colleges have been particularly hard hit by the mumps. In 2015-2016, the two largest outbreaks happened in Iowa and Illinois, each involving several hundred university students. And this week, University of Minnesota health officials are warning students about a mumps outbreak on campus where at least six people have been affected.
The MMR vaccine, given as a two-dose series, protects against measles, mumps and rubella and could reduce those numbers, said Dr. Gregory Poland, who studies the immunogenetics of vaccine response in adults and children, and heads up the Vaccine Research Group at the Mayo Clinic in Rochester, Minnesota.
Data from the American Academy of Pediatrics shows which states have the best track records for getting children vaccinated for some of the most common preventable childhood diseases:
• Measles, mumps, and rubella (MMR vaccine)
• Diphtheria, tetanus and whooping cough also called pertussis (DTaP vaccine)
• Chickenpox (varicella vaccine)
Maine, Massachusetts, Nebraska and Rhode Island are in the top 10 states with the highest vaccination rates for all three.
The measles virus is of particular concern to experts because it can make children seriously ill and may be fatal, posing a particular risk to babies too young to get vaccinated.
"It's among the most contagious diseases of humankind. If you're across the gymnasium from someone with measles and they cough, you can get it," said Dr. Sean O'Leary, a spokesperson for the American Academy of Pediatrics and an associate professor of pediatric infectious disease at the University of Colorado School of Medicine and Children's Hospital Colorado.
In 2015, there were 134,200 measles deaths worldwide. In the U.S., 28 measles cases from 10 states have been reported between January and March of this year. The majority of people who came down with the virus were unvaccinated.
Just this week, health officials in Minnesota said a measles outbreak has sickened at least 20 children — 16 of whom had not been vaccinated, CBS Minneapolis reported. The Minnesota Department of Health said the outbreak began at a child care facility and spread through the local Somali immigrant community, which has lower vaccination rates.
The MMR vaccine doesn't offer total protection, but after two doses, 97 percent of people are protected, say experts. Immunization resulted in a 79 percent drop in measles deaths between 2000 and 2015 worldwide.
Who isn't vaccinating?
There are generally two types of people who don't vaccinate their children or themselves, the Mayo Clinic's Poland told CBS News.
"On one end of the spectrum, you have some people who are ignorant of vaccine recommendations. They just may not know or may not have access to care. At the other end of the spectrum, you have people who should have access and have health care and education but reject vaccines," Poland said.
There's a lot of misleading information out there about vaccines which can influence some parents to avoid vaccinating their kids, even when doctors and public health officials strongly recommend or even require it.
"That latter group is in an unthinking and uncritical way rejecting vaccines. That doesn't mean they aren't trying to do what they think is the best thing for their child. This battle, the 'vaccine wars,' is a battle of science over opinion, data over media. And it is a very, very sad fact when these kids end up in the hospital or dying from a vaccine-preventable disease. They've died of ignorance," Poland said.
Choosing not to vaccinate a child not only puts that child at risk but everyone around them who is unprotected, including other vulnerable youngsters, said O'Leary. Some children can't get vaccinated because they have compromised immune systems, including children receiving chemotherapy for cancer. A small percentage of kids are allergic to vaccines. They must rely on "herd immunity" — the protection of living among mostly vaccinated people — to reduce their risk of illness.
School vaccine policies differ by state
States have different rules about vaccines, with some making it harder than others to send a child to school without their shots.
"All 50 states have what are called medical exemptions to vaccination, such as a severe reaction to vaccines, but those complications are rare," O'Leary said.
Forty-seven states allow for either religious or personal belief exemptions, or some states allow for both, and there are varying degrees of how difficult it is to obtain one of those exemptions, O'Leary said, explaining that some require paperwork from a doctor to verify that there's an allergic reaction or other significant reason to skip the shots.
Where it's harder to get an exemption, vaccine rates are higher and outbreaks are fewer, O'Leary said, pointing to Mississippi and West Virginia as two states that have been strict about limiting exemptions.
A recent increase in the vaccination rate in California is linked to a change in policy there. After a measles outbreak in Disneyland in 2014-2015, the state passed a law abolishing the option for parents to claim a personal-belief exemption. The state began requiring youngsters who were entering public school at the start of this school year to be fully immunized, and vaccination rates are now the highest they've been since 2001. This month, public health officials in California reported that 96 percent of kindergartners there had received all of their shots.
In Washington state, policy changes have made it tougher for parents to opt out of vaccines for their kids, too.
"Before, you could show up at school and sign a form to opt out of vaccines, but now parents have to have a conversation with a family doctor or pediatrician. We've seen vaccination rates going up after that. States who don't require mandated conversations with health professionals for vaccines have lower rates," said Dr. Wendy Sue Swanson, pediatrician and chief of digital innovation for Seattle Children's.
"In states where they have easier exemption policies, like in Colorado, it's very easy to get exempted and we've had ongoing pertussis [whooping cough] outbreaks," said O'Leary.
He is concerned about what he calls clusters of parents who don't vaccinate their children.
"This is well-documented in the scientific literature, that parents of unvaccinated children tend to cluster and in those communities they're at a higher risk for outbreaks of disease. And that's happened over and over again," he said.
One reason some parents fear vaccines is due to false reports that they are linked to autism, he said.
"The potential link between vaccines and autism has been studied possibly more than any other link, and over and over it's shown that there's absolutely no link between vaccines and autism. The link was based on a study that was completely debunked," said O'Leary.
O'Leary said even though in the U.S. less than one percent of the population is unvaccinated, it can potentially have a huge impact, especially with highly contagious diseases like measles.
"A very small number of parents not vaccinating can impact a community because measles is so contagious. When there is measles in a community, the local and state health departments really go into high gear and do a ton of work to investigate where it came from, to find out who may have been exposed and then they try to track down all those people who were exposed to try and keep them from spreading it in a community. That work costs a lot of money. There's a lot of work behind the scenes that keeps those numbers low," said O'Leary.
Americans can't get too comfortable, the experts contend.
"Although we haven't seen polio in the U.S. for decades, it's a plane ride away. Those risks are pretty unpredictable. Certainly some of these diseases are more severe than others. Fortunately we've eradicated smallpox, which was possibly the most severe of all," said O'Leary.
Flu is another illness people forget to get vaccinated for, or don't perceive to be important, said O'Leary. But flu takes tens of thousands of lives a year, mostly people who didn't get flu shots.
About three-quarters of U.S. kids who died of flu complications between 2010 and 2014 were unvaccinated before they fell ill, a study out earlier this month in Pediatrics found. But if all children got their yearly flu shot, 65 percent of those deaths could be prevented, the researchers estimated. Adults and children ages 6 months and up should be vaccinated ahead of every flu season, doctors recommend.
Researchers watch for disease trends, and in places where measles and whooping cough outbreaks happen — like a canary in the coal mine — they know that vaccination rates tend to be lower.
Swanson, of Seattle Childrens', said pregnant moms are now offered the whooping cough (pertussis) vaccine in their third trimester and it offers protection to both the mom and new baby. Without it, newborns who are exposed to the illness can die.
"About five years ago, there was a large whooping cough outbreak in California and a newborn baby passed away," she said.
In the old days, parents were advised by pediatricians to go home and keep their newborn away from sniffling, sneezing but well-meaning friends and relatives for the first months of life to protect the baby from germs and to give the child's immune system time to mature.
"We're not going to rely on people to cocoon their babies when they're newborns anymore. The risk is greatest before they're even immunized," said Swanson, referring to pertussis.
Most children begin getting a five dose series of the DTaP vaccine at two months of age and the rest of the series up through six years of age.
Only between one and two percent of U.S. families decline all vaccination, said Swanson. And only 10 to 11 percent of families use an alternative or delayed schedule. Nine out of 10 families in the United States follow the American Academy of Pediatrics' vaccine schedule.
O'Leary said, "At end of day, most parents do vaccinate their kids. I'd like to see giving those parents a voice. What we hear from is this very small percentage of anti-vaccine people — probably less than one percent of the population who has mistrust of vaccines based on bad information. I think parents care about this issue a lot more than we realize."
Just days after tens of thousands of scientists took to the streets in hundreds of cities across the country and around the world in the March for Science on Earth Day, Swanson told CBS News that it's more critical than ever that doctors convey the importance of immunization to parents.
"We've made a lot of inroads with vaccines. But as we come into this political environment, my concern right now is the anti-establishment distrust in medical authority. If intent is lower and the inconvenience factor is higher, I'm concerned we will have more outbreaks, like we did at Disneyland in 2015. And we will have more burden from the influenza season," she said.
If more pediatricians followed up with patients via a text or email when a vaccine is due, it may help give parents the nudge they need to get back into the doctor's office for their family's shots.
"Health providers need to be really passionate and make it easy for them to get their vaccines," said Swanson.
Thanks for reading CBS NEWS.
Create your free account or log in
for more features.