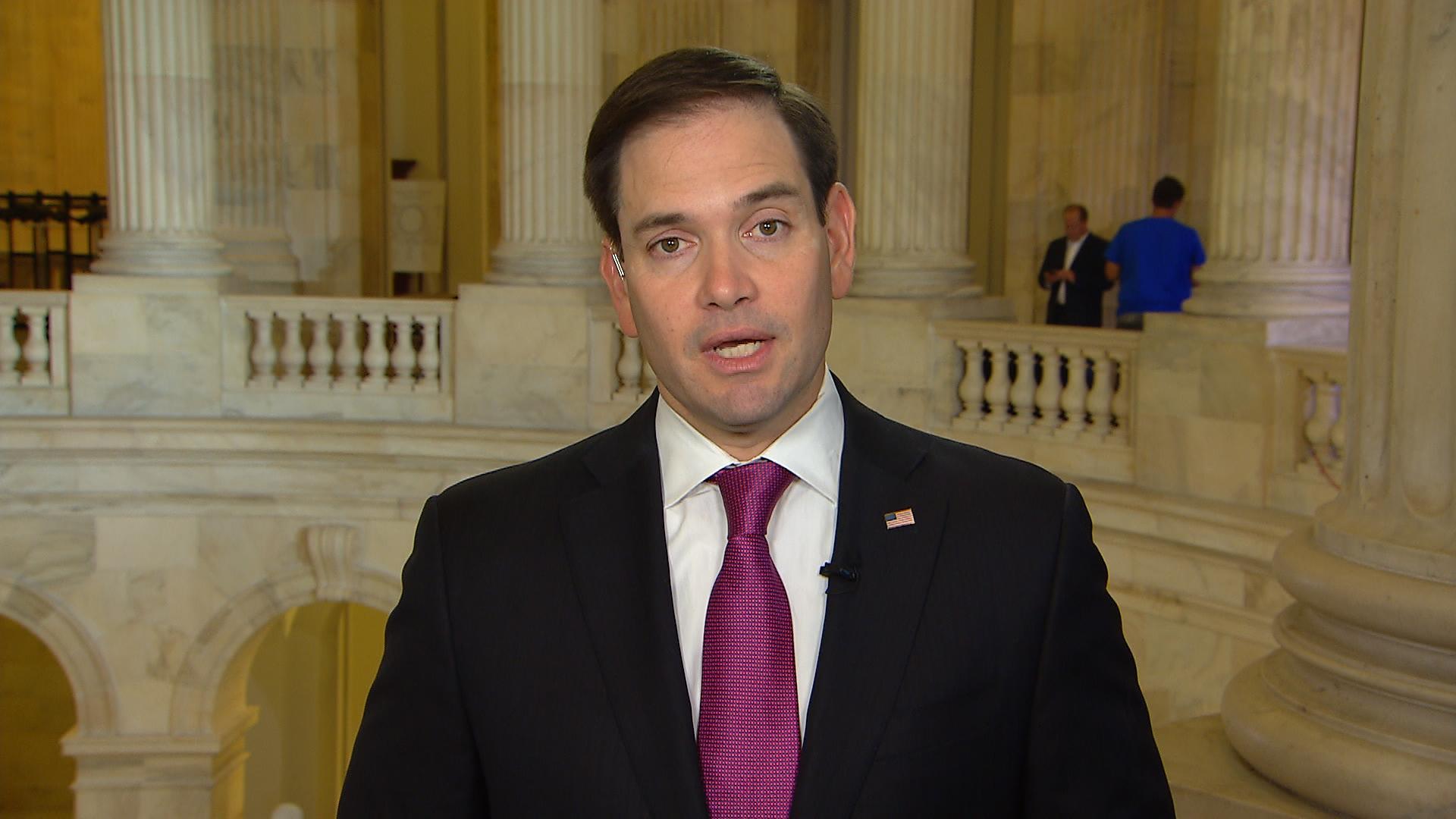 Rubio denies setting up secret Mar-a-Lago meeting between Trump, former Colombian presidents
MIAMI -- Florida Sen. Marco Rubio denied arranging what has been described as a "secret meeting" between President Trump and two former presidents of Colombia.
"No," Rubio told CBS Miami in an exclusive interview. "I didn't have anything to do with that meeting."
The informal summit between Mr. Trump and former Colombian presidents Álvaro Uribe and Andrés Pastrana took place last weekend at Mr. Trump's private resort, Mar-a-Lago. Mr. Trump's official schedule made no mention of the meeting, nor was it disclosed to reporters who had traveled with him to Palm Beach.
The two men are opponents of current Colombian President Juan Manuel Santos, who is expected to meet Mr. Trump for the first time next month.
White House press secretary Sean Spicer said five days after the meeting that he was "unaware of the circumstances" of the meeting. The White House later said the men "briefly said hello when the president walked past them."
News of the encounter has created concern the Trump administration may come out against Colombia's peace accord with the Revolutionary Armed Forces of Colombia, commonly known as the FARC.
Colombian media has been reporting the Mar-a-Lago meeting was set up by Rubio, a critic of the FARC peace agreement. Rubio's office had declined to comment.
However, in an interview scheduled to air Sunday on CBS Miami's Facing South Florida with Jim DeFede, Rubio said the reports of his involvement were simply wrong.
"I'm a big fan of President Uribe," Rubio said. "I didn't even know he was in Florida. And beyond it, I would say to you, I don't see what the problem is. But my understanding is it wasn't even a meeting. My understanding is that President Uribe and the former President [Pastrana] happened to head over to the Mar-a-Lago and bump into the president while he was there. But I didn't even know President Uribe would be in Florida."
But former Colombian President Pastrana, tweeted they had a "cordial and very frank conversation regarding problems and perspectives in Colombia and the region
When Santos, Colombia's current president, lands in Washington he is expected to urge Mr. Trump to support not only the peace accord but $450 million in foreign aid pledged to Colombia by former President Barack Obama. The money is critical to bolster the peace accord and help end the region's longest armed conflict.
In his interview with CBS Miami, Rubio was asked if he opposed the $450 million in aid to Colombia or if he was urging Mr.Trump to block it.
"No, on the contrary, I'm in favor of it," Rubio told CBS Miami. "I'm in favor of Plan Colombia. The decision on whether or not to do a deal with the FARC belongs to the Colombian people. They had a referendum. They voted against it. President Santos went into a different direction, got it implemented. They are going to have elections in Colombia in a year. They are going to choose a new President and that's up to them. That's a democracy and a sovereign country."
Thanks for reading CBS NEWS.
Create your free account or log in
for more features.