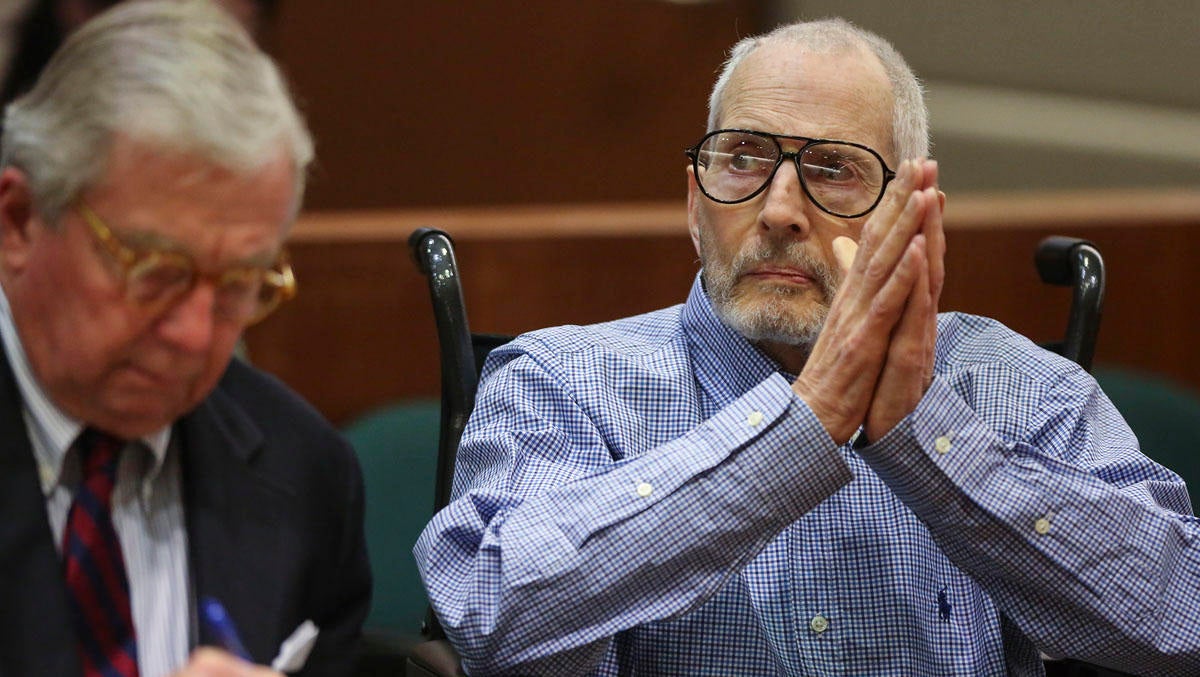 Robert Durst case: Testimony heard on 1982 disappearance of wife Kathie Durst
LOS ANGELES -- The murder case against New York real estate heir Robert Durst took a trip back in time Tuesday to the mysterious disappearance of his first wife in 1982.
WATCH: "48 Hours:" Murder in Beverly Hills
Prosecutors seeking to get testimony on the record now from elderly witnesses and those who fear Durst could have them knocked off began calling witnesses in Los Angeles Superior Court even before a judge rules whether the aging mogul will go on trial in the 2000 killing of Susan Berman, his best friend.
Dr. Albert Kuperman, 85, a retired associate dean at Albert Einstein College of Medicine, testified that he remembered Kathleen Durst as a bright, attractive, smartly dressed medical student. She was the only medical student who vanished during his 40 years at the school in the Bronx section of New York.
Kuperman said he got a call from a woman who identified herself as Kathie Durst on Feb. 1, 1982. She informed him she couldn't make it to her first day of a clerkship in pediatrics because she had diarrhea.
The call was long considered the last known conversation anyone ever had with Kathie Durst, though Deputy District Attorney John Lewin suggested while interrogating Durst that someone else placed the call.
Durst told Lewin that the filmmakers who interviewed him extensively for the six-part HBO series "The Jinx: The Life and Deaths of Robert Durst" think Berman made the call. Durst disputed that during interrogation after his arrest two years ago in New Orleans, saying Berman wouldn't have done that.
Durst, 73, has denied killing either woman, and his lawyers have said it's absurd to suggest that he could have witnesses killed. He has pleaded not guilty to one count of first-degree murder in the fatal shooting of Berman in her Los Angeles house just before Christmas 2000.
Berman and Durst had been close friends since they attended the University of California, Los Angeles. Berman, the daughter of a Las Vegas mobster and a writer, acted as Durst's unofficial spokeswoman after his wife's disappearance.
Prosecutors contend Durst killed her because he thought she was prepared to speak with police about Kathie Durst's disappearance. Kathie Durst was never found, but Deputy District Attorney Habib Balian said Tuesday that authorities believe it's a "no-body homicide."
Defense lawyer Dick DeGuerin objected to the use of that term to which Balian snapped, "Do you have her body?"
Durst, who is frail looking and has previously been brought into court in a wheelchair, walked into court Tuesday. He then turned and scanned the gallery packed with reporters.
One face he may have recognized was New York Times writer Charles Bagli, who has covered the case since Kathie Durst disappeared.
DeGuerin asked the judge to boot Bagli from the courtroom because he may be called as a witness in the case.
Bagli has previously interviewed a "secret witness," who has not been named to protect their identity until testimony, and may be able to contradict that person's testimony, DeGuerin said.
The secret witness is expected to provide "sensational testimony," DeGuerin said and he doesn't want that to influence Bagli's potential testimony.
Deputy District Attorney John Lewin said the courtroom should be open to the press and he asked for a full hearing on the matter.
Judge Mark Windham allowed Bagli to stay in the courtroom for Kuperman's testimony. He said he would take up the matter before the "secret witness" is called, which is expected Tuesday.
Thanks for reading CBS NEWS.
Create your free account or log in
for more features.