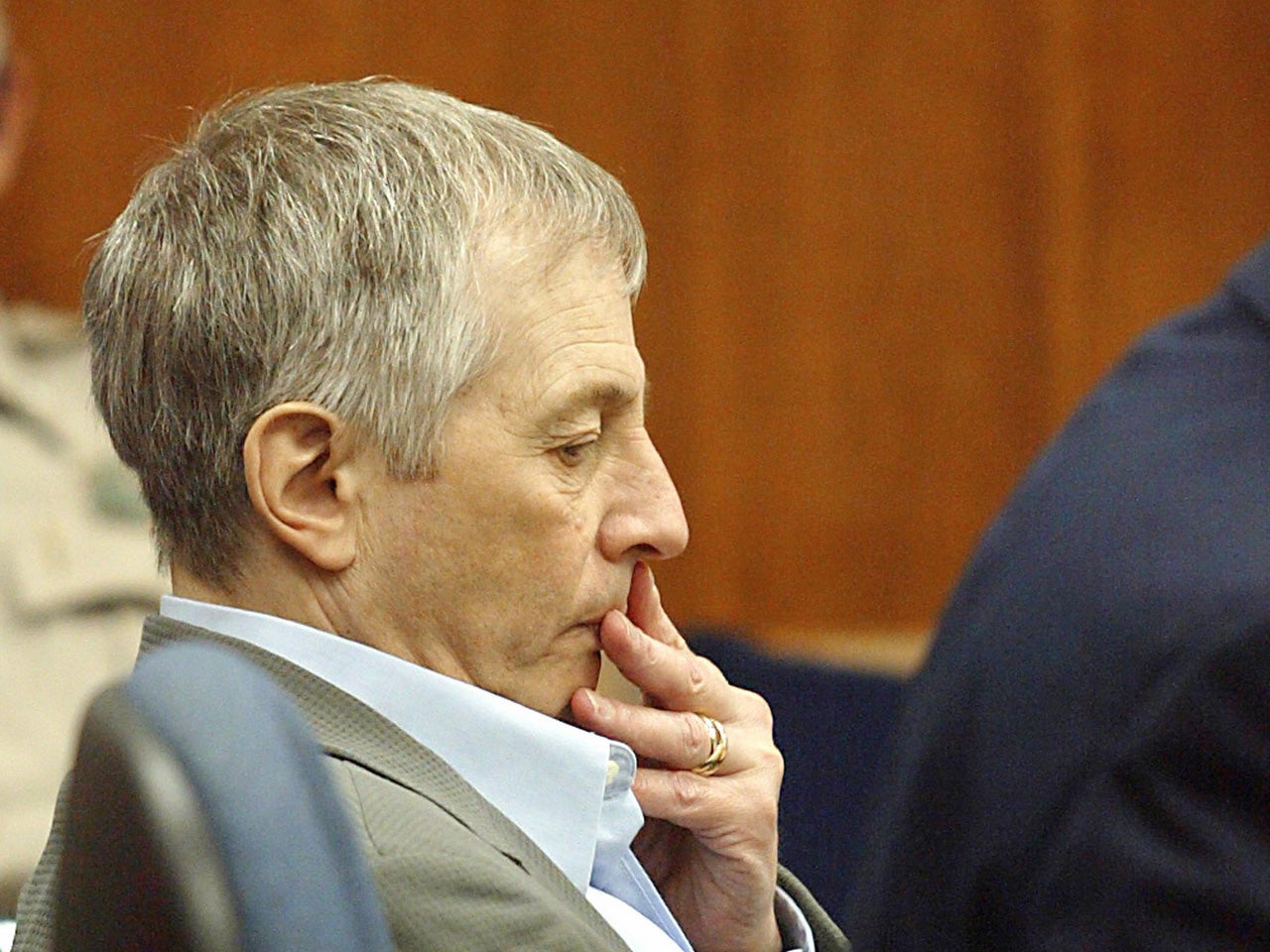 Durst arrested just before finale of HBO's "The Jinx"
NEW ORLEANS - The arrest of Robert Durst, a wealthy eccentric linked to two killings and his wife's disappearance, came on Sunday just before the finale in an HBO show about his life in which he said he "killed them all."
Durst was arrested on a murder warrant just before Sunday evening's finale of the HBO documentary about his links to the three sensational killings.
In the finale, Durst was asked about similarities in handwriting in a letter he wrote and another linked to one of the killings. Later, filmmakers said Durst wore his microphone into the bathroom.
What followed was a bizarre rambling in which Durst said, apparently to himself, "There it is. You're caught" and "What the hell did I do? Killed them all, of course."
The show ended, and it wasn't clear whether producers confronted Durst about the secretly recorded words, or what Durst meant by them.
CBS News talked to Chip Lewis, Robert Durst's attorney following Sunday's airing of the HBO documentary and he gave a short statement about what he saw.
"I was rather underwhelmed, given all the buildup of new evidence, new this-or-that," said Lewis. "I frankly expected more than bathroom mutterings or musings. So underwhelmed would best capture my thoughts after watching the episode."
Lewis said Durst's extradition hearing is scheduled for Monday morning at 10 a.m. He said if further procedures call for an arraignment, Durst's lawyer would enter a plea of not guilty.
Durst was arrested by FBI agents Saturday at a New Orleans hotel, on a warrant from Los Angeles for the murder of a mobster's daughter 15 years ago.
Durst was ordered held without bond pending another hearing Monday. His lawyer, Chip Lewis, said Durst will agree to be taken to Los Angeles to face the first-degree murder charge.
Durst participated in the documentary, giving an extensive interview to filmmaker Andrew Jarecki for "The Jinx: The Life and Deaths of Robert Durst." Lewis said nothing his client revealed changes his innocence.
"It's all about Hollywood now," Lewis told The Associated Press.
A call to Lewis seeking comment about Sunday's final episode hasn't been returned.
Durst's estranged and fearful relatives thanked authorities for tracking him down.
"We are relieved and also grateful to everyone who assisted in the arrest of Robert Durst. We hope he will finally be held accountable for all he has done," said his brother, Douglas Durst, in a statement.
Durst, 71, has always maintained his innocence in the 2000 murder of Susan Berman, whose father was an associate of Las Vegas mobsters Bugsy Siegel and Meyer Lansky.
Berman, 55, a writer who became Durst's spokeswoman, was killed at her home near Beverly Hills with a bullet to the back of her head as New York investigators prepared to question her in the unsolved 1982 disappearance of Durst's wife, Kathleen.
"The jig is up," said former Westchester County District Attorney Jeanine Pirro, who had hoped Berman would help solve the disappearance. The documentary uncovered "evidence that law enforcement in three states wasn't able to unearth," added Pirro, who now hosts Justice with Judge Jeanine on Fox News.
The climax of last week's episode revealed a hand-written address on a letter, recovered by the slain woman's relative, that Durst had sent to Berman. The handwriting seems virtually identical to an anonymous letter alerting Beverly Hills police to a "cadaver" in Berman's home. Even the word "Beverly" is misspelled as "Beverley" on both documents.
Durst observes in the documentary that only Berman's killer could have sent the letter to police.
Jarecki is then shown putting the other letter in a safe deposit box.
The episode didn't indicate whether Jarecki shared that earlier letter with the authorities, but the Los Angeles Police said the arrest resulted from "investigative leads and additional evidence that has come to light in the last year."
Lewis said he didn't know if police had previously examined the newly revealed letter, but said Durst had provided handwriting samples to LAPD in the past.
"I know all about this case," Lewis said. "I have no doubt we will present a most compelling defense."
He's got no doubt the timing of the arrest was orchestrated in coordination with HBO's broadcast of the final episode. Neither LAPD nor the movie's producers would comment on that claim.
After Berman's death, Durst moved to Texas, where he lived as a mute woman in a boarding house until his arrest in 2001 after dismembered parts of the body of his elderly neighbor, Morris Black, were found floating in Galveston Bay.
Durst then became a fugitive, until he turned up shoplifting a chicken sandwich, Band-Aids, and a newspaper in Pennsylvania, even though he had $500 cash in his pocket and $37,000 in his rental car - along with two guns and marijuana.
Lewis told the jury that Durst shot Black in self-defense and suffered from Asperger's syndrome. Despite admitting that he used a paring knife, two saws and an ax to dismember Black's body before dumping the remains, Durst was acquitted of murder.
Durst still faced some consequences in Texas - in 2004 he pleaded guilty to bond jumping and evidence tampering, but with time served, he was paroled in 2005. Then, violating the terms of his parole, he returned to the boarding house where Black was killed, and had to serve another four months in jail.
Durst "has been incredibly lucky that so many people who've investigated him have dropped the ball, but I think that luck may be running out," said former Galveston County District Court Judge Susan Criss, who presided over the Texas murder trial.
Lewis defended Durst again in Texas after he inexplicably urinated on the candy display at the cash register of a CVS pharmacy in Houston last year. Durst paid a fine and compensated the store for what Lewis called an "unfortunate medical mishap."
Durst left his Houston town house for New Orleans to escape unwanted attention since the documentary's second-to-last episode aired, Lewis said.
The Durst family is worth at least $4 billion, according to the Forbes list of richest Americans.
The oldest son of the late real estate mogul Seymour Durst, whose Durst Corporation manages 1 World Trade Center, Robert Durst became estranged from his family when his brother Douglas was chosen instead of him to run the family business.
Robert Durst had known tragedy from an early age - when he was seven, his father called him onto the roof of a building to try to persuade his suicidal mother not to jump. He left before seeing her fall.
In 1982, Robert Durst reported that his wife Kathie had suddenly disappeared from their cottage in South Salem, New York. No one was ever charged.
More recently, Douglas Durst has said he fears his brother would kill him. Robert Durst has denied that.
But in 2012 and 2013, his family members had restraining orders taken out against him, and he was ultimately acquitted of trespassing charges for walking in front of their townhouses.
Also in 2013, Durst tried unsuccessfully to claim $82,000 from his missing wife's estate, even though his personal net worth has been estimated at about $100 million.
"The story is so operatic," Jarecki told the AP before his documentary aired.
"That's what's so fascinating to me - seeing someone who is born to such privilege and years later is living in a $300-a-month rooming house in Galveston, Texas, disguised as a mute woman."
Jarecki told a fictionalized version of Durst's story in "All Good Things," a 2010 film starring Ryan Gosling. Then he got a call from Durst himself, who wanted to see it, and eventually agreed to talk on camera.
Jarecki said his documentary has left him with a "firm conclusion" about Durst's guilt or innocence. But he wasn't saying before Sunday's final episode.
Thanks for reading CBS NEWS.
Create your free account or log in
for more features.