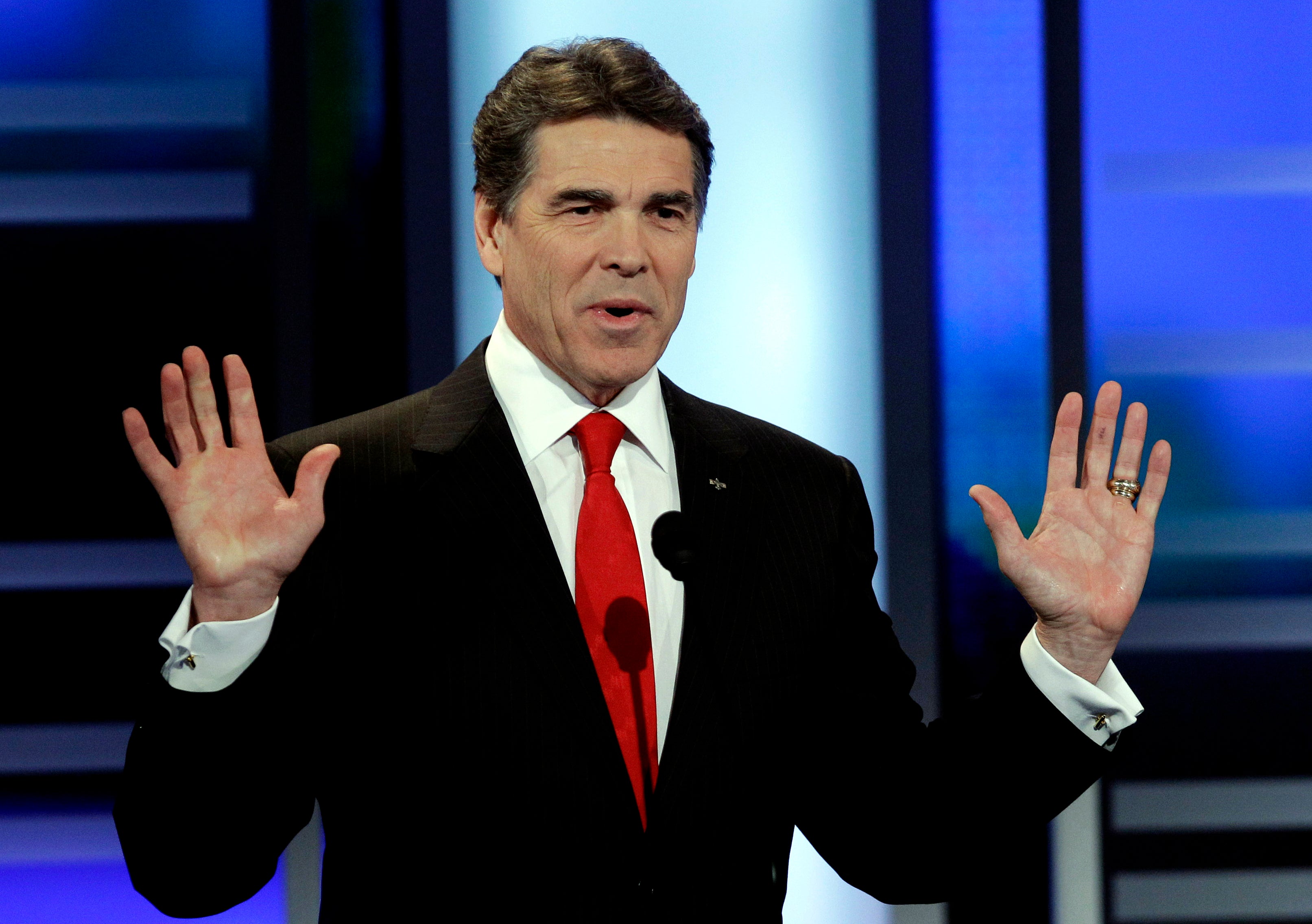 Rick Perry hopes to be the Tim Tebow of Iowa caucuses
Rick Perry fought back perceptions he does not have a chance of winning January's Iowa caucuses by comparing himself to star Denver Broncos quarterback Tim Tebow Thursday night.
"So am I ready for the next level? I hope I am the Tim Tebow of the Iowa caucuses," Perry said at the Republican presidential debate in Sioux City, the last before the first voters make their choices Jan. 3.
"There are a lot of folks that said Tim Tebow wasn't going to be a very good NFL quarterback," Perry said. "And, you know, he won two national championships. And that looked pretty good."
Since taking over as quarterback for the Broncos, Tebow has won the seven of the last eight games. And six were come-from-behind victories, something Perry is clearly hoping to do next month.
In the latest RealClearPolitics poll average, Perry is in fourth place behind Newt Gingrich, Mitt Romney and Ron Paul.
Perry's Tebow reference may also have been a Hail Mary pass to court religious conservatives. The quarterback is known for his frequent expressions of his Christian religion, especially the "Tebow Bow." During games, he drops to one knee in prayer after a touchdown- "Tebowing."
On Thursday, the Texas governor also addressed concerns he wasn't ready to face seasoned debater President Obama.
"I'm kind of getting where I like these debates. As a matter of fact, I hope Obama and I debate a lot. And I'll get there early. And we will get it on," Perry said.
Perry went on to reference his record on job-creation. "We're the national champions in job creation back in Texas."
More from the debate:
GOP candidates: Oust Holder for Fast and Furious
Newt Gingrich hammered for Freddie Mac ties
Romney praises Medicare overhaul proposal
Gingrich, Paul challenge electability questions
Thanks for reading CBS NEWS.
Create your free account or log in
for more features.