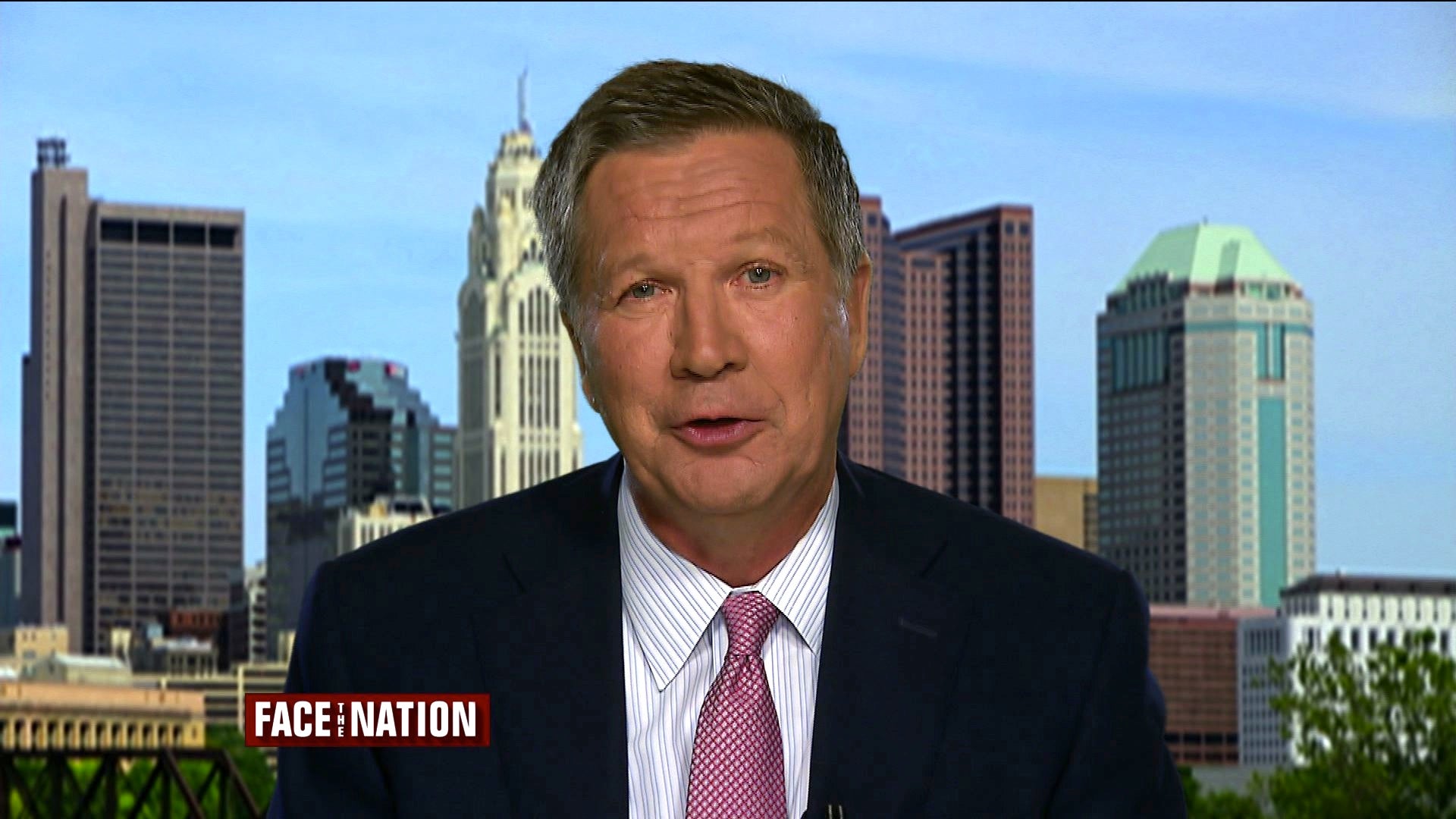 GOP gov.: "Time to move on" from same-sex marriage
Possible Republican presidential candidate and Ohio Gov. John Kasich believes it's "time to move on" from the same-sex marriage issue in the wake of the Supreme Court's landmark ruling.
"I do believe in traditional marriage and the court has ruled and it's time to move on," Kasich said on CBS' "Face the Nation" Sunday, adding that there's "so many other things now that we have to focus on."
Kasich, who has not yet officially announced a bid for the White House in 2016, believes the country needs to wait and see "how this evolves."
"I think everybody needs to take a deep breath to see how this evolves," the Ohio governor, who was the named defendant in the original lawsuit brought by Jim Obergefell over same-sex marriage, said. "But I know this. Religious institutions, religious entities - you know, like the Catholic church - they need to be honored as well. I think there's an ability to strike a balance."
But while the Republican governor has conceded that "it's the law of the land and we'll abide by it," some in the conservative wing have expressed their willingness to take on the same-sex marriage fight over the long term.
Russell Moore of the Southern Baptist Convention told CBS' "Face the Nation" that people of faith "are not going to simply surrender" their traditional marriage views because of the Supreme Court ruling.
"We didn't make up our views on marriage and sexuality, and we can't unmake them," Moore said Sunday. "We understand that in the short term, things are very stacked against us here, but we ought to have the pluralistic American environment where we can agree to disagree."
Instead, Moore added, "we're going to have to take a page from the pro-life movement and see this as a long-term strategy."
"I don't think that an infinitely elastic view of marriage is sustainable," the evangelical leader said. "I think we have to be the people who keep the light lit to the old ways when it comes to marriage and family and that's going to be a generation-long skirmish."
In a nod to the upcoming 2016 elections, Moore acknowledged that it's "not something that's going to be resolved in a presidential election or two."
Human Rights Campaign President Chad Griffin also appeared on "Face the Nation" to praise the ruling, but called for more progress when it came to LGBT rights.
"While this was a monumental leap forward in this country, we still have a long ways to go," Griffin said. "You know, in a majority of states in the country still today, after this ruling, you can be married at 10:00 a.m., fired from your job by noon and evicted from your home by 2:00, simply for posting that wedding photo on Facebook. And so, as you look at the battles ahead, we've got to bring full and comprehensive non-discrimination protections to everyone living in every state in this country and that's the next battle in Congress."
Thanks for reading CBS NEWS.
Create your free account or log in
for more features.