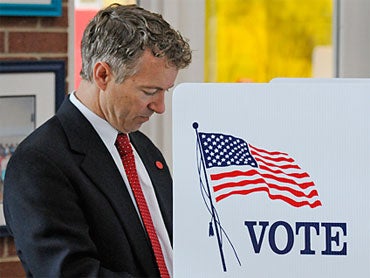 Rand Paul Wins Kentucky GOP Primary
Updated at 11:08 p.m. ET

In an unambiguous demonstration of the muscle of the Tea Party movement, Dr. Rand Paul has defeated Secretary of State Trey Grayson in the Kentucky GOP Senate primary, according to an estimate by the Associated Press.

With 43 percent of precincts reporting, Paul was ahead of Grayson 60 percent to 36 percent, according to the AP.

Paul called it a "tremendous mandate for the Tea Party."

"It cannot be overstated that people want something new," he said. "They don't want the same old, same old politicians, and I think they think the system is broken and needs new blood."

Grayson, the choice of much of the GOP establishment (including top Senate Republican Mitch McConnell, Kentucky's senior senator), had initially been expected to win the Republican nomination fairly easily.

But Paul, an eye surgeon and the son of former Republican presidential candidate Rep. Ron Paul, captured the imagination of the state's Republican base with a message of fiscal discipline.

"Neither party has controlled the debt very well and neither party has controlled spending," Paul, a political newcomer, said on CBSNews.com's "Washington Unplugged" today. "So I think the Tea Party is about bringing government back to its senses and a lot of the things we talk about are a chastisement to both parties."

Once the strength of Paul's campaign became clear, Grayson began to publicly lament his rival's "strange ideas," among them abolition of the Department of Education, Energy and Commerce. But the characterization of Paul as outside the mainstream did not stem the momentum of Paul, who drew the support of Sarah Palin and other Republicans affiliated with the Tea Party movement.

Palin told the AP that Paul's victory is a "wake up call for the country."

"This is a real time of awakening for America," she said. "We have an opportunity to not embrace the status quo but to shake things up."

Now eyes turn to the general election, where Paul will face Democrat and Attorney General Jack Conway, who won his own primary Tuesday - and who was his party's preferred candidate. Political watchers have suggested that Paul may be a less viable candidate in a general election than Grayson, a sentiment echoed tonight by Democratic National Committee Chairman Tim Kaine.

"Rand Paul's positions fail to resonate beyond the far-right Republican segment of the electorate that supported him tonight," Kaine said in a statement. "Middle-class Kentucky voters want to elect a senator with clear ideas about how to create jobs and opportunities for Kentucky families. But Rand Paul is more interested in talking about abolishing the Department of Education and disbanding the Federal Reserve than about supporting economic recovery."

Paul insists, however, that his appeal resonates across the political spectrum.

"I think the interesting thing is that a lot of the things the Tea Party talk about are very popular with Democrats and Independents. We talk about term limits... You poll a balanced budget amendment you find than an enormous amount of Independents and Democrats support term limits and balanced budget," Paul said on "Washington Unplugged." (watch in the video above)

Rand Paul to Dems: Please Bring Obama to Kentucky
Paul: Tea Party Ready to "Flex Some Muscle"

Paul is scheduled to appear at a sure-to-be-awkward unity event Saturday with McConnell, who will now try to gin up enthusiasm for a candidate he actively opposed in the Republican primary. McConnell put out a statement expressing solidarity with his party's nominee Tuesday evening.

"Dr. Paul ran an outstanding campaign which clearly struck a chord with Kentucky voters and I congratulate him on his impressive victory," he said. "Now Kentucky republicans will unite in standing against the overreaching policies of the Obama Administration. We are spiraling further into unsustainable debt and Kentucky needs Rand Paul in the U.S. Senate because he will work every day to stop this crippling agenda."

Grayson is also now pledging to rally behind Paul, the AP reports.

"We'll be standing side by side on Saturday at the unity rally," he said.

Paul's victory is the third major victory for Tea Party forces in this campaign cycle, following Sen. Bob Bennett's failure to emerge from the state GOP convention in Utah and Marco Rubio's Senate primary surge in Florida that forced Gov. Charlie Crist out of the Republican primary.

The Kentucky seat is open because Republican Sen. Jim Bunning is retiring. Bunning had endorsed Paul.

Results:

Roundup: All Winners and Losers
Specter Falls in Pa. Dem Primary to Joe Sestak
Rand Paul Wins Kentucky GOP Primary
Blanche Lincoln, Bill Halter Headed for Run-Off
Dem Wins Special Election for Murtha's Seat

Analysis:

The Surprises From Tuesday's Primaries
Specter's Loss Goes Beyond Anti-Incumbent Mood
Where do Tuesday's Winners Go from Here?
Who Had the Better Spin?
Thanks for reading CBS NEWS.
Create your free account or log in
for more features.