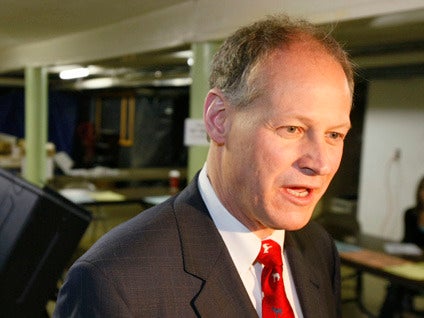 Mark Critz Defeats Tim Burns in Pennsylvania Special Election for Murtha's Seat
Updated May 19 at 1 a.m. ET

Democrat Mark Critz, a former congressional aide, has defeated Republican businessman Tim Burns in the special election for Pennsylvania's 12th district, the Associated Press reports.

The special election has been portrayed as something of a bellwether race for this year's midterm elections, giving renewed hope for Democrats. With 70 percent of precincts reporting, Critz had 53 percent of the vote compared with nearly 45 percent for Burns, the AP reports.

Pennsylvania's 12th was long occupied by the late Democratic Rep. John Murtha. Critz served as an aide for the powerful congressman, but the district has become increasingly conservative. Political prognosticators say the district represents the type of seats Republicans will have to win this November if they want to make a powerful comeback.

"If the Republican doesn't [win], I think us pundits in Washington are going to have to revise our thinking about whether this is a wave election year for Republicans," Chief Political Consultant Marc Ambinder said on CBSNews.com's "Washington Unplugged."

The race had "all the features of the contests we'll see in the fall," Ambinder said. "It's essentially a referendum on the economy, whose at fault for it and which solutions are the best."

Both candidates appealed to the district's conservative values, claiming to oppose abortion rights and gun control, as well as President Obama's health care plan. Burns pledged to push for the repeal of the new health care reforms.

Both the Democratic and Republican parties invested nearly $1 million each in the race, but the Democratic Congressional Campaign Committee has emphasized that the race was an uphill climb for Critz, noting that Pennsylvania's 12th was the only district in the nation where Sen. John Kerry won in the 2004 presidential election and Barack Obama lost in the 2008 election.

"This was the only race in the country today where a Democrat faced off against a Republican and the results are clear," DCCC Chairman Chris Van Hollen said in a statement. "Mark Critz focused on creating jobs for middle class families, while Republicans practiced the politics of fear and distortion."

National Republican Congressional Committee Chairman Pete Sessions (R-Texas) issued a statement calling the race "undoubtedly disappointing." He ultimately, however, used the statement to admonish the Democratic establishment.

"This hard-fought race gave us an early preview of what Democrats will attempt to do in the fall in order to survive," Sessions said. "They will steer clear of publicly campaigning with President Obama and Speaker Pelosi, distance themselves from the Democratic agenda, and attempt to co-opt Republican positions on the issues."

House Republicans: "We've Got a Lot of Work To Do"

Results:

Roundup: All Winners and Losers
Specter Falls in Pa. Dem Primary to Joe Sestak
Rand Paul Wins Kentucky GOP Primary
Blanche Lincoln, Bill Halter Headed for Run-Off
Dem Wins Special Election for Murtha's Seat

Analysis:

The Surprises From Tuesday's Primaries
Specter's Loss Goes Beyond Anti-Incumbent Mood
Where do Tuesday's Winners Go from Here?
Who Had the Better Spin?
Thanks for reading CBS NEWS.
Create your free account or log in
for more features.