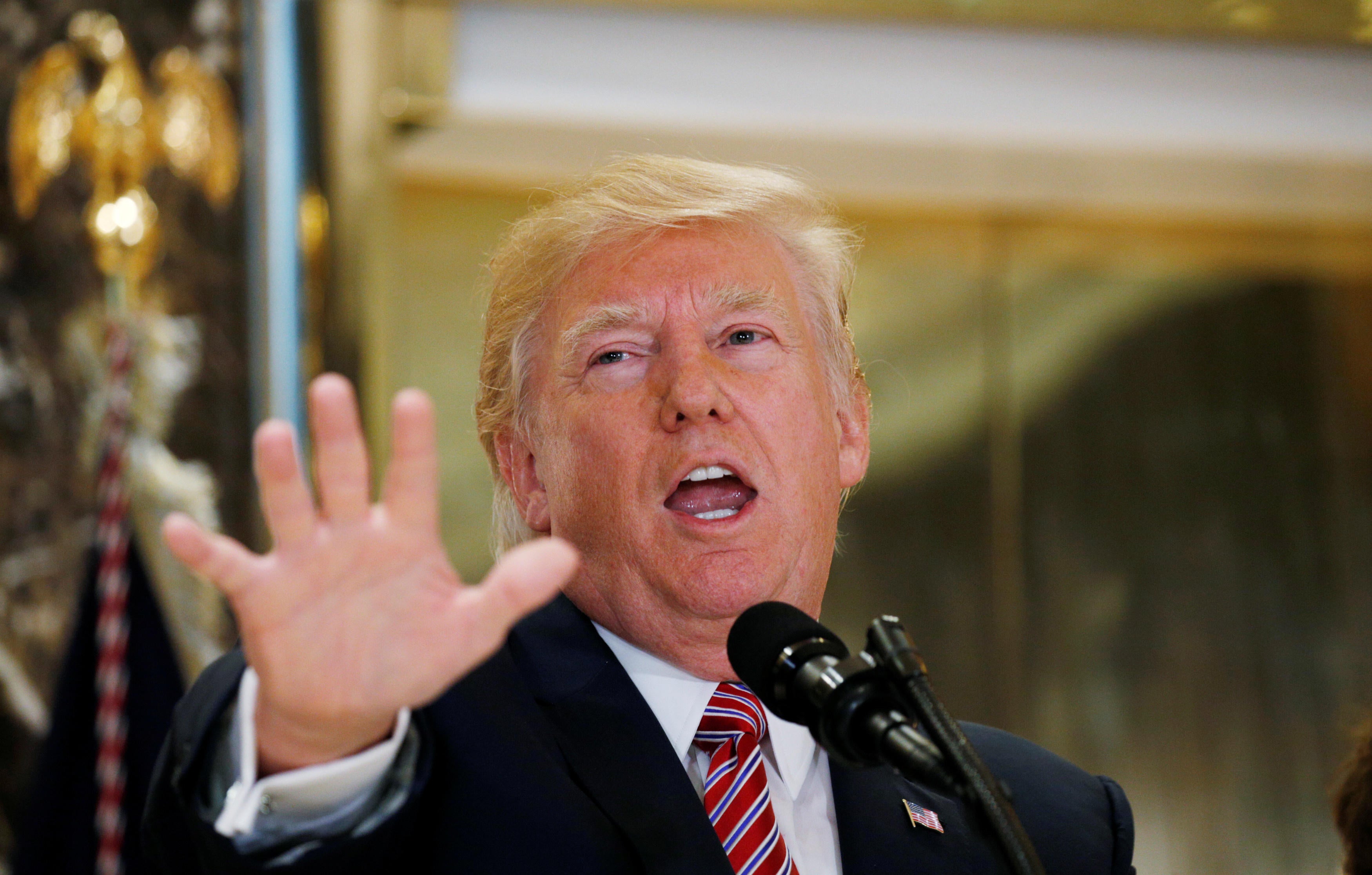 Poll: What do Americans think of Trump's response to Charlottesville?
President Trump's reaction to the deadly violence at a white nationalist rally in Virginia last weekend drew considerably more disapproval than approval, according to a poll released Wednesday by the Economist and YouGov. Forty-two percent of respondents said they disapprove of the president's response, while only 27 percent said they approve. Thirty-one percent had no opinion.
In his first remarks on the violence, the president on Saturday condemned the violence and bigotry "on many sides" – a remark widely interpreted as a suggestion of moral equivalency between the white nationalists and the counter-demonstrators. On Monday, the president struck a more unequivocal tone, describing white supremacists, the Ku Klux Klan, and other hate groups as "repugnant to everything we hold dear as Americans." But by Tuesday, the president seemed to revert to his initial message, declaring in a combative press conference, "I think there is blame on both sides."
The violence in Charlottesville claimed three lives over the weekend. A young woman was killed on Saturday when a car driven by a white nationalist plowed through a crowd of anti-racist demonstrators. And a police helicopter that was deployed in response to the ongoing situation crashed later that afternoon, killing two law enforcement officers on board.
Respondents in the Economist survey were asked which group is more likely to use violence – white nationalists or the anti-racist demonstrators. Thirty-one percent picked the white nationalists, ten percent picked the counter-protesters, and 45 percent said both groups were equally likely to turn violent.
The poll also reflected the dim view most Americans hold of groups under the white nationalist umbrella, including the KKK and neo-Nazis. Only seven percent of respondents said they have a favorable opinion about white nationalists. Six percent said they view the KKK favorably. And only five percent said the same of neo-Nazis.
Results were decidedly mixed, however, on questions involving symbols of the Confederacy like the Confederate flag and statues of Confederate leaders. (The situation in Charlottesville was sparked, in part, by the city's plan to remove a statue of Robert E. Lee from a public park.)
Forty-three percent of respondents said they see the confederate flag mostly as a symbol of Southern pride, while 38 percent said they see the flag as a symbol of racism. Fifty-four percent said they see the statues of Confederate leaders as symbols of southern pride, and 26 percent said they see those statues as symbols of racism. Only 30 percent of respondents said they approve of Charlottesville's decision to remove the statue of Lee, while 48 percent said they disapprove.
According to the survey, the president's approval rating among Americans nationwide stands at 39 percent, and his disapproval rating stands at 51 percent.
The Economist poll surveyed 1,500 Americans between August 13 and 15, and it has a margin of error of plus or minus 3.1 percent.
Thanks for reading CBS NEWS.
Create your free account or log in
for more features.