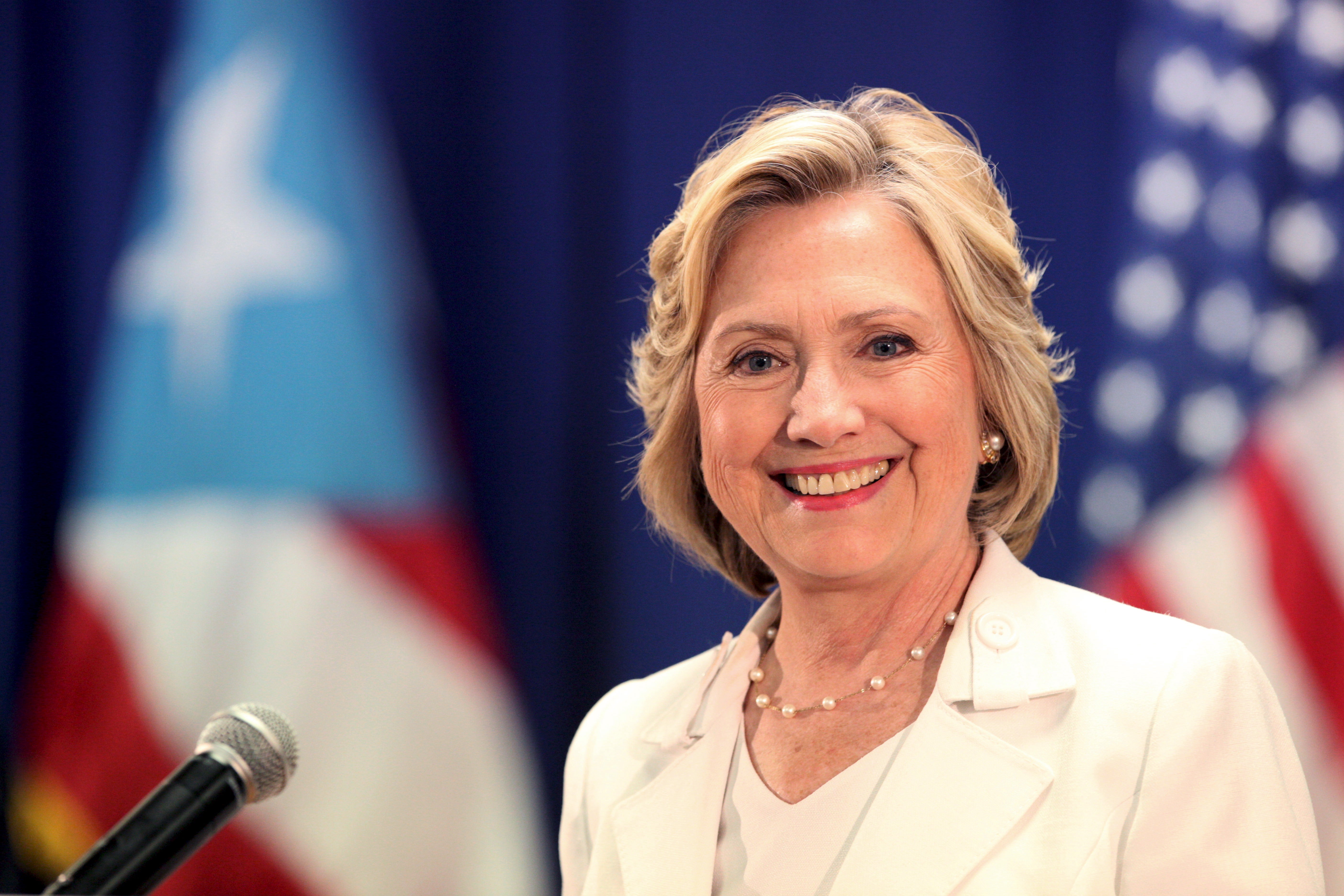 Poll: Hillary Clinton still leads Democratic race
By Anthony Salvanto, Jennifer De Pinto, Sarah Dutton and Fred Backus
The Democratic race
Just days before the first Democratic candidate debate, Hillary Clinton is ahead of Bernie Sanders by 19 points in the Democratic race for the nomination nationally. Forty-six percent would vote for her. Her lead is similar to last month, but has narrowed since August. Potential candidate Vice President Joe Biden comes in third, with 16 percent, while the other candidates trail far behind.
2016 Democratic nomination for president
If Biden decides not to enter the race, Clinton's lead over Sanders widens. She would have 56 percent support, compared to 32 percent for Sanders.
Clinton is still viewed as the candidate with the best chance of winning a general election. Nearly six in 10 Democratic primary voters see her as the most electable, far ahead of the other candidates in the field.
Clinton gets strong support from women (51 percent) and older voters (48 percent). Clinton's lead is narrower with men (39 percent), and she and Sanders run about even among Democratic primary voters under age 50.
Just under half of Democratic primary voters nationwide say they would enthusiastically support Clinton if she became the party's nominee. Twenty-seven percent would support her with some reservations and another 11 percent would only back her because she is the nominee. Fourteen percent would not support her in a general election.
Democratic voters currently backing Clinton are especially likely to be enthusiastic about her. Those not supporting Clinton are less fervent- only about a quarter would enthusiastically support her if she became the party's nominee.
Views of the Democratic candidates
Clinton, Sanders and Biden are viewed more positively than negatively among Democratic primary voters. While fewer see Sanders favorably, over a third has yet to form an opinion of him.
Among voters nationwide, opinions of Biden and Sanders are divided, but more than four in 10 voters - 44 percent - are undecided about Sanders or don't know enough to have an opinion of him.
But among that broader electorate, 53 percent have an unfavorable opinion of Clinton, an increase from August and the highest since the CBS News Poll began asking about her in 1992.
Democrats: The candidates on the issues
On handling of two key issues -- the economy and an international crisis -- more Democratic primary voters say they are very confident in Clinton's abilities than in her nearest competitors'. 47 percent are very confident in Biden to handle an international crisis, while Sanders lags on this issue.
Still, majorities of Democratic voters are at least somewhat confident in both Sanders and Biden.
Clinton, Sanders, and Biden get similar marks from Democratic voters on the issue of regulating banks and financial institutions.
Democrats: Candidate Qualities
Democratic primary voters choose honesty and trustworthiness (26 percent) and having a candidate who cares about people like themselves (26 percent) as the top qualities in deciding their vote for their party's nominee. These are closely followed by strong leadership (21 percent), the right experience (20 percent) and electability (4 percent).
Clinton supporters value experience and empathy as their top candidate qualities. Among Democratic voters not backing Clinton, 34 percent say honesty is the quality that is most important to them, while just eight percent say experience is important.
Generally, the Democratic candidates, or potential candidates, get positive marks on these qualities and characteristics. Majorities of Democratic voters see Clinton, Sanders and Biden as honest and trustworthy, although Biden does the best on this quality, with 85 percent.
Clinton and Biden run about even on leadership and experience (more than 8 in 10 say they each possess these traits). Experience is less of a strength for Sanders -- 52 percent of Democratic voters thinks he has the right experience to be a good president.
All three are viewed by large majorities of Democratic primary voters as caring about the needs and problems of people like themselves.
On all of these measures, about one in 10 Democratic voters do not have an opinion of Sanders.
2016 Candidate Qualities Among All Voters
The poll also tested how potential nominees fared among all voters, not just primary voters, across a number of those same qualities.
Among all voters, Donald Trump (65 percent) gets good marks on strong leadership, just as he does among Republicans. Majorities also see Vice President Biden (55 percent), Clinton (53 percent), and Carson (51 percent) as strong leaders. Fiorina and Sanders rate lower on this, but are also more unknown.
Joe Biden ranks highest on being honest and trustworthy, with 61 percent, though Ben Carson is close behind with 58 percent. Hillary Clinton continues to struggle in this area among all voters, with 35 percent, as does Donald Trump, with 33 percent.
Both Biden (67 percent) and Ben Carson (63 percent) do well on caring about voters' need problems. This is also one of Bernie Sanders' strongest attributes of those tested among all voters. More say Trump does not care about people like them than say he does.
More see Biden (60 percent) as having the right experience to be a good president, compared to the other candidates asked about. Clinton is second with 51 percent), and the political newcomers are much further behind, along with Sanders.
The Clinton email controversy
As questions continue about Clinton's email practices as Secretary of State, 71 percent of registered voters nationwide do not think it was appropriate for Clinton to use a personal email address and server for work-related matters while Secretary of State, up from 64 percent in March. Majorities of Republicans and independents say her actions were not appropriate, while Democrats are more divided.
In addition, about six in 10 voters are dissatisfied with her explanation of the matter, while far fewer - a third - are satisfied.
But how will this affect Clinton's campaign for president? Voters are split: 50 percent say the email issue will be important in their vote for president, while almost as many - 48 percent say it won't be. Most Democrats say the email matter won't be important, while most Republicans say it will be. Independents are divided.
Views on the Role of Government and the Economy: A Partisan Divide
Democrats and Republicans have distinctly different views on the role of government in America. Three in four Republicans say the government is doing too much, while two in three Democrats see it as doing too little.
Overall, a majority of Americans think the government is now doing too much that is better left to businesses and individuals; just 39 percent think the government should do more to solve national problems.
On economic fairness, just over half the public - 54 percent - think that only a few people at the top have a chance to get ahead in today's economy; 42 percent think everyone has a fair chance. But Republicans are more likely to say that everyone has a chance to get ahead; most Democrats think only those at the top do.
Cross-over Appeal?
With the election for president more than a year away, about a third of Democrats and Republicans say they would consider voting for a candidate from the other party. Most, however, are inclined to stick with their own party. Fifty-nine percent of Republicans will not consider voting for a Democrat, and the same percentage of Democrats also say they wouldn't consider voting for a Republican.
---
This poll was conducted by telephone October 4-8, 2015 among a random sample of 1,251 adults nationwide, including 1,038 registered voters. Data collection was conducted on behalf of CBS by SSRS of Media, PA. Phone numbers were dialed from samples of both standard land-line and cell phones.
The poll employed a random digit dial methodology. For the landline sample, a respondent was randomly selected from all adults in the household. For the cell sample, interviews were conducted with the person who answered the phone.
Interviews were conducted in English and Spanish using live interviewers.
The data have been weighted to reflect U.S. Census figures on demographic variables.
The error due to sampling for results based on the entire sample could be plus or minus three percentage points. The error for subgroups may be higher and is available by request. The margin of error includes the effects of standard weighting procedures which enlarge sampling error slightly.
The margin of error for the sample of 343 Democratic primary voters is 6 percentage points.
Thanks for reading CBS NEWS.
Create your free account or log in
for more features.