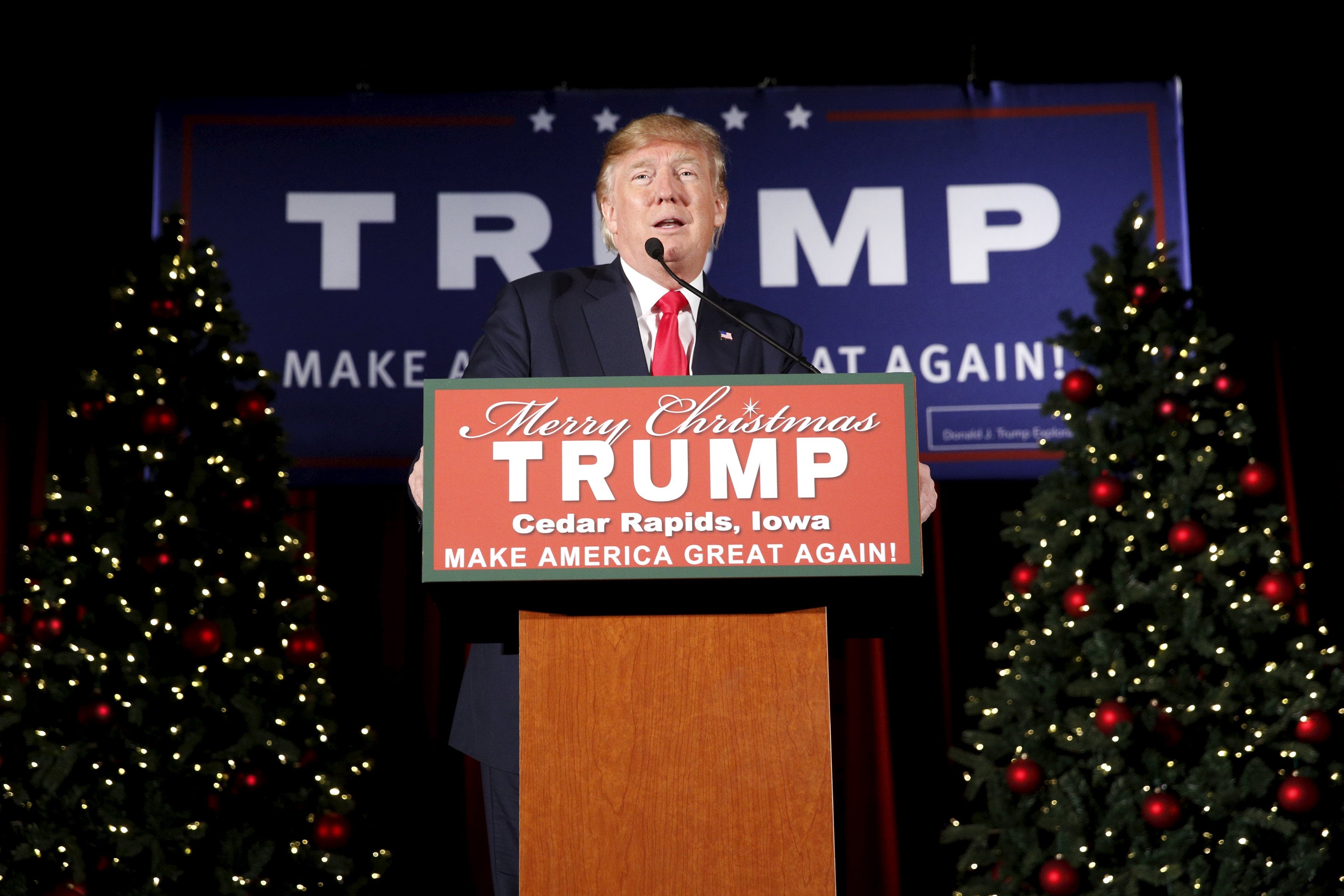 Poll: Donald Trump trails Hillary Clinton, Bernie Sanders in matchup
If the presidential election were held today, Republican candidate Donald Trump would lose to either of the two leading Democratic candidates, a new Quinnipiac poll found.
Sen. Bernie Sanders, I-Vermont, would actually be more successful than Democratic front runner Hillary Clinton, leading Trump 51 percent to 38 percent. Clinton's lead is smaller: She would beat Trump 47 percent to 40 percent.
Trump still leads the 2016 GOP field with 28 percent support among Republicans nationwide, although Texas Sen. Ted Cruz is hot on his heels with 24 percent - within the plus or minus 4.4 percent margin of error among Republican respondents. Florida Sen. Marco Rubio comes in third, with 12 percent support, and former neurosurgeon Ben Carson nets 10 percent. No other Republican candidate gets more than 6 percent support, and 8 percent of respondents said they were undecided.
Republican votes still seem up for grabs, however, with nearly six in 10 voters who picked a candidate saying they might change their mind. And despite his lead among Republicans, half of all Americans say they would be embarrassed to have Trump as their president (including 20 percent of Republicans). More than half of voters, 53 percent, say he does not have a good chance of winning in November.
Clinton still leads among the Democratic field with 61 percent to Sanders' 30 percent. Former Maryland Gov. Martin O'Malley gets 2 percent support with 6 percent of Democrats undecided. Just 41 percent of those voters say they might change their mind.
More than a third of voters - 35 percent - said they would be embarrassed if Clinton were elected president.
The other leading Republicans fared better against Clinton than Trump did. Rubio got 43 percent to Clinton's 44 percent, and she and Cruz tied at 44 percent each. Rubio and Cruz both edged out Sanders, but barely.
Clinton's favorability rating is under water, with 51 percent giving an unfavorable rating compared to just 43 percent who like her. But voters do say that she has the right experience to be president by a margin of 63 percent to 35 percent. Those numbers nearly flip for Trump: two-thirds of voters say he does not have the experience to be president.
Quinnipiac surveyed 1,140 registered voters nationwide on landline and cell phone calls from Dec. 16 to 20. The margin of error is plus or minus 2.9 percentage points for the overall sample. It is plus or minus 4.4 percentage points for the 508 Republicans surveyed and plus or minus 4.6 percentage points for the 462 Democrats.
Thanks for reading CBS NEWS.
Create your free account or log in
for more features.