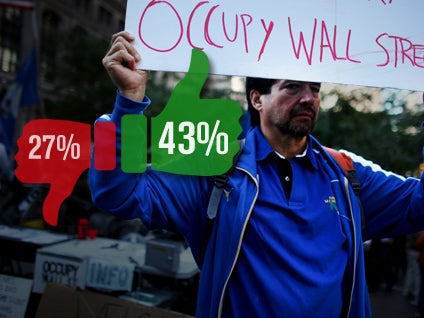 Poll: 43 percent agree with views of "Occupy Wall Street"
Forty-three percent of Americans agree with the views of the "Occupy Wall Street" movement, according to a new CBS News/New York Times poll that found a widespread belief that money and wealth should be distributed more evenly in America.
Twenty-seven percent of Americans said they disagree with the movement, which began more than a month ago in lower Manhattan and has since spread across the country and around the world. Thirty percent said they were unsure.

Riot police arrest "Occupy Oakland" protesters
Young and left-leaning Americans were more likely to agree with the movement than were their older and more conservative counterparts. Half of Americans ages 18-29 say they agree with the movement; just one in three Americans age 65 or older say the same. And two thirds of liberals say they agree with "Occupy Wall Street" compared with just one in four conservatives.
Americans with at least some college education are more likely to agree with the movement than those with less education. Nearly half of those with at least some college education say they agree with "Occupy Wall Street"; among those who did not attend college, that figure drops to 37 percent.
Seven in ten Americans say they have heard or read at least something about "Occupy Wall Street."
While there are different agendas within the "Occupy Wall Street" movement, nearly all of the protesters say that wealth has become too concentrated among a relatively small group of Americans. The poll found that most Americans agree with that assessment: Two in three say that wealth is not distributed as equitably as it should be, while just one in four says wealth is distributed fairly.
Republicans were far more likely than Democrats or independents to say the current distribution of income is fair. Fifty-five percent of Republicans say the current distribution is fair, compared to just seven percent of Democrats; 86 percent of Democrats, 67 percent of independents and 36 percent of Republicans say wealth should be distributed more evenly.
Forty-six percent of Americans say "Occupy Wall Street" represents the views of most Americans, compared to 34 percent who say it does not. Asked specifically what they think about "Occupy Wall Street" as a movement - as opposed to the ideas behind it - Americans were more reticent to offer an opinion: 25 percent said they had a favorable impression of the movement, 20 percent said they have an unfavorable impression, and 53 percent said they were undecided or haven't heard enough.

More from the poll:
Poll: Americans say no one has good jobs plan
Only 9% approve of Congress, says CBS/NYT poll
Herman Cain tops Mitt Romney in latest CBS/NYT poll
---
This poll was conducted among a random sample of 1,650 adults nationwide, interviewed by telephone October 19-24, 2011. Phone numbers were dialed from random digit dial samples of both standard land-line and cell phones. The error due to sampling for results based on the entire sample could be plus or minus three percentage points. The error for subgroups is higher. An oversample was conducted for this survey which will be analyzed in a future poll release.
This poll release conforms to the Standards of Disclosure of the National Council on Public Polls.
Thanks for reading CBS NEWS.
Create your free account or log in
for more features.