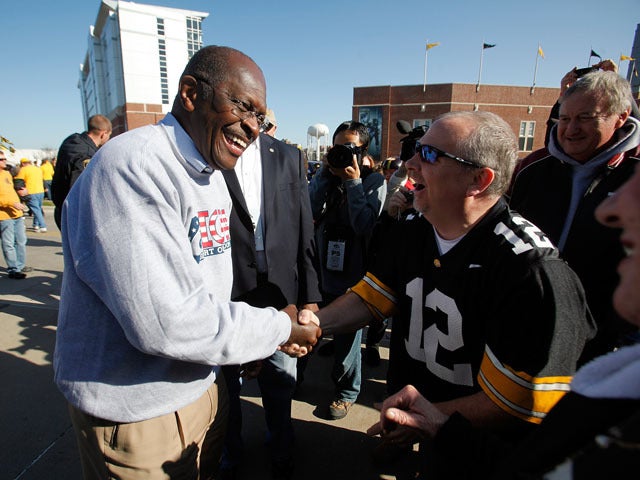 Herman Cain tops Mitt Romney in latest CBS/NYT poll
UPDATED 7:35 p.m. ET
CBS News Poll analysis by the CBS News Polling Unit: Sarah Dutton, Jennifer De Pinto, Fred Backus and Anthony Salvanto.
Businessman Herman Cain is now atop the field of Republican White House hopefuls, squeaking past former Massachusetts Gov. Mitt Romney in the latest CBS News/New York Times poll.
Cain garnered 25 percent support of Republican primary voters in the poll released on Tuesday, compared to Romney's 21 percent.
In early October, the two men were tied at 17 percent.
The poll was conducted Oct 19-24 among 1,650 adults. 1,475 interviews were conducted among registered voters and 455 voters who said they plan to vote in a Republican primary. The margin of error among primary voters is plus or minus four percentage points.
Perry unveils sweeping economic plan with flat tax
Will Santorum's long Iowa slog pay off?
Rick Perry presses birther issue, calls Romney "fat cat"
Cain's support surged among voters who identified with the conservative Tea Party wing of the Republican party, rising to 32 percent in mid-October from 18 percent just a few weeks ago. That's more than four times the level of support he had from the group in mid-September.
Former House Speaker Newt Gingrich took 10 percent of likely primary voters, while Texas Rep. Ron Paul's support was at 8 percent.

Texas Gov. Rick Perry, who led the poll in mid-September, plunged to just 6 percent support. He had 12 percent in early October and 23 percent in mid-September.

(At left, CBS News political correspondent Jan Crawford and Republican strategist Charlie Black discuss the poll on "The Early Show")Romney's Tea Party support has held steady in October, at 18 percent, after a modest increase from September's 12 percent.

Perry, however, has seen his Tea Party backing go up in steam. He had just 7 percent support in the latest poll, compared to 12 percent in early October and a staggering 30 percent in mid-September.

Minnesota Rep. Michele Bachmann, former Pennsylvania Sen. Rick Santorum and former Utah Gov. Jon Huntsman were at the back of the pack, with 2 percent, 1 percent and 1 percent respectively.

The race is still open, as voters are not firm in their support of any of the candidates. About four of five voters said it is too early to say for sure who they support for the nomination, with just 19 percent saying their minds are already made up. That's about the same as it was at this point in 2007.
Americans are getting interested in the 2012 race for president. About 70 percent of registered voters nationwide are paying at least some attention to the 2012 election campaign, including 31 percent who said they are paying a lot of attention.
Republicans, of course, are paying closer attention to the campaign. About 78 percent said they were following the campaign closely, compared to about 68 percent of Democrats.
Poll: 43 percent agree with "Occupy Wall Street"
Poll: Americans say no one has good jobs plan
Only 9% approve of Congress, says CBS/NYT poll
However, Republican primary voters have yet to find an alternative that a majority enthusiastically supports. At this early stage in the campaign, Republican primary voters are not especially enthusiastic about Herman Cain, Mitt Romney or Rick Perry as potential nominees, but there is more enthusiasm for Cain than for Romney and Perry.
Thirty-two percent of Republican primary voters say they would enthusiastically back Cain if he became the party's nominee, while 30 percent would have reservations about him. Fewer Republican voters would enthusiastically support Romney (18 percent) or Perry (14 percent), and more say they would have reservations about each of them (42 percent for Romney and 40 percent for Perry).
Fourteen percent of primary voters say they would not support Cain, and the same percentage says the same about Romney. Nineteen percent say they would not support Perry.
Read the complete poll (PDF)
Search the CBS News poll database
CBSNews.com special report: Election 2012
---
This poll was conducted by telephone from October 19-24, 2011 among 1,650 adults nationwide. 1,475 interviews were conducted with registered voters and 455 with voters who said they plan to vote in a Republican primary. Phone numbers were dialed from samples of both standard land-line and cell phones. The error due to sampling for results based on the entire sample could be plus or minus two percentage points. The margin of error for the sample of registered voters could be plus or minus three points and four points for the sample of Republican primary voters. The error for subgroups may be higher. An oversample was conducted for this survey which will be analyzed in a future poll release. This poll release conforms to the Standards of Disclosure of the National Council on Public Polls.
Thanks for reading CBS NEWS.
Create your free account or log in
for more features.