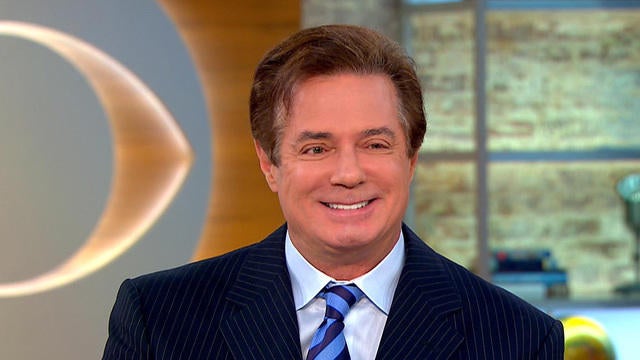 Paul Manafort says he's "not active" in Trump transition
Paul Manafort, Donald Trump's former campaign manager, says he's "not active" in the president-elect's transition.
During an interview with "CBS This Morning" Friday, he was asked if he had spoken with Mr. Trump about transition matters. Manafort did not directly answer, saying only that "I'm watching the transition, but I'm not active in it." But Manafort has been seen at Trump Tower, and he has been in touch with the transition team.
He did weigh in on the possibility that former Trump critic Mitt Romney could head up the State Department -- a consideration that's met with opposition from some on the transition team.
"Is Romney qualified to be secretary of state? Yes, he's qualified," Manafort said, noting that he would support whomever Mr. Trump eventually chose. "The key is whether he and President Trump can see eye-to-eye on the agenda that the secretary of state will have to lead over the course of the next four years."
Responding to criticisms of Mr. Trump's Cabinet picks so far, particularly those that say the president-elect's populist message is contrary to that of the billionaires he's staffing his cabinet with, Manafort said he believed the Cabinet nominations were "all consistent with a philosophy that [Mr. Trump] talked about in the campaign."
Manafort also talked about why he resigned his post from the campaign and pushed back on allegations that he was under investigation for his ties to Ukrainian politics.
"I became a block to his ability to communicate his message," Manafort said. "I didn't think it was fair, the allegations were not true, but the reality is I became a block, and my goal was to get Donald Trump elected."
Manafort, a veteran political operative, left the Trump campaign in late August after mounting press scrutiny over his alleged ties to a pro-Russian Ukrainian political party.
"The media was covering charges which after the election were proven to be false," he said.
When asked if he was currently under investigation by a federal agency, Manafort replied, "I'm not." He also asserted that the basis of a story that precipitated his departure from Mr. Trump's campaign was not valid.
"The government of Ukraine said that the ledger was a falsified document," Manafort claimed, referencing a ledger examined by the New York Times that listed $12.7 million in payments from former Ukraine president Viktor Yanukovych's pro-Russian political party to Manafort between 2007 and 2012. "The bureau there that was dealing with corruption said they were never investigating me, and they never will, they said."
National Anti-Corruption Bureau of Ukraine, however, has said only that Manafort's "name on the list does not mean that he actually got the money." The Ukrainian government has not offered a verification of the ledger's authenticity.
Asked if he would lobby for any foreign clients during the Trump administration, Manafort answered with a definitive "no."
"I haven't been a lobbyist in Washington in 25, 20 years, probably, and I have no intention on going back to that," he said.
Thanks for reading CBS NEWS.
Create your free account or log in
for more features.