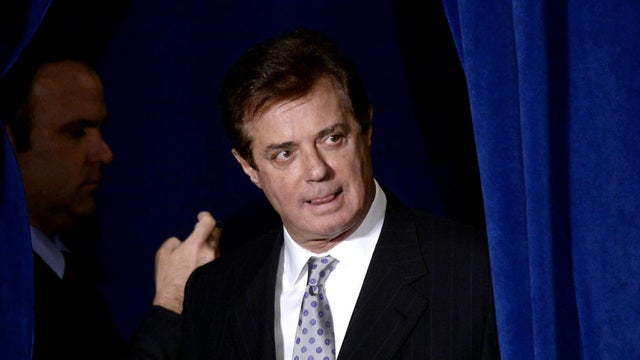 Paul Manafort resigns from Trump campaign
Donald Trump's campaign chairman and chief strategist Paul Manafort resigned Friday, according to the campaign.
"This morning Paul Manafort offered, and I accepted, his resignation from the campaign," Trump said in a statement early Friday morning. "I am very appreciative for his great work in helping to get us where we are today, and in particular his work guiding us through the delegate and convention process. Paul is a true professional and I wish him the greatest success."
His resignation, while yet another distraction -- it was announced as Trump and Pence were touring flood damage in Louisiana -- does not come as a surprise, says CBS News' Major Garrett. Manafort's ties to pro-Russian elements in Ukraine were under closer scrutiny by the press this week. Rick Gates, Manafort's deputy, remains with the campaign as its liaison to the RNC based in Washington.

Several people close to the campaign all told Garrett that they expected Manafort to resign by the end of the week. Those around the campaign expected him to go. The Russia scrutiny was going to intensify, and the campaign knew it.
Eric Trump, an executive vice president of the Trump Organization, weighed in Friday on Manafort's resignation.
"I think my father didn't want to be, you know, distracted by, you know, whatever things that, you know, Paul was dealing with," the younger Trump son told Fox News, seeming to refer to the recent revelations about Manafort's political activity in Ukraine. "My father just didn't want to have the distraction looming over the campaign and quite frankly looming over all the issues that Hillary's facing right now."
Manafort's role with the campaign began in March, when he was first hired by Trump as a "convention manager" to lead the charge corralling delegates and to tackle the possibility of a contested convention later in the summer. He was promoted to campaign chairman in May.
Manafort's past lobbying for the top Ukrainian political party and for Ukrainian officials has drawn increased media scrutiny in recent days.
CBS News confirmed Wednesday that Ukraine's new anti-corruption prosecutor is even leading an investigation into a secret, handwritten ledger earmarking billions of dollars in undisclosed cash that were allegedly given out by the party of former President Viktor Yanukovych. Manafort's name appeared in the ledger 12 times, for a sum of $12.7 million between 2007 and 2012. The Trump campaign chair had consulted for the Russian-backed Yanukovych in several elections. The Ukrainian leader was eventually overthrown in 2014.
The chairman's resignation comes amidst major staff changes for the campaign, the second announced shakeup in as many months.
Earlier this week, Trump appointed two top new officials to helm the campaign: Kellyanne Conway took over the campaign manager post Corey Lewandowski vacated earlier this year, and Steve Bannon, the Breitbart News website chairman was named the campaign's chief executive officer.
As recently as Thursday, the campaign maintained that the shift in leadership was an "expansion" of its general election efforts.
"When it comes to personnel and it comes to senior-level staff, more is more -- the more big minds, and broad shoulders we can get inside the door. Paul Manafort is still there as chairman, he retains his title," Conway told "CBS This Morning" Thursday. When asked who among the three was ultimately in charge, Conway responded: "I'd say it is a combination of us. And Donald Trump has made it very clear who it is."
At the time of their hiring, Manafort sent a campaign-wide memo saying he was "pleased" by Bannon's and Conway's promotions.
"This is an exciting day for Team Trump," Manafort wrote Wednesday. "These announcements come at a time of significant growth for us as we have now built out our organizations in the States."
An earlier version of this story said that Rick Gates was no longer with the Trump campaign. The campaign said Friday afternoon that Gates would be the Washington-based liaison to the RNC.
Thanks for reading CBS NEWS.
Create your free account or log in
for more features.