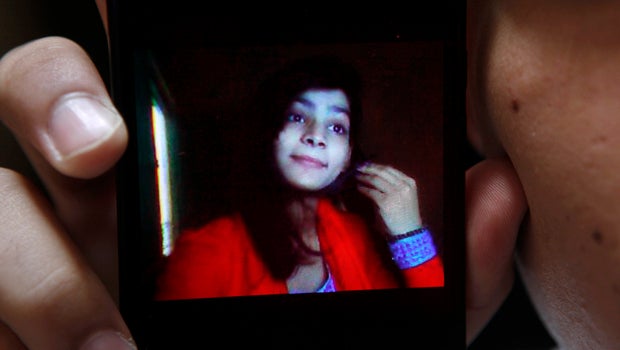 Pakistan mom sentenced to death for burning daughter alive in "honor" killing
LAHORE, Pakistan - A prosecutor says a court has sentenced a woman to death for burning her daughter alive for marrying a man of her choice in eastern Pakistan.
Abdur Rauf said judge Chaudhry Ilyas in eastern Lahore on Monday convicted Parveen Bibi of burning to death Zeenat Rafiq a week after her marriage to Hassan Khan last June.
Rauf said the court sentenced Anees Rafique to life in prison for helping his mother kill his 18-year-old sister.
Defense lawyer Shahid Iqbal said the son had no role in the killing and was wrongly convicted.
Authorities say Bibi brought Rafiq back home with a promise of celebrating the wedding but burned her alive instead.
Neighbors in the congested, working-class neighborhood in the sprawling eastern Pakistani city came running when they heard the screams, but family members kept them from entering the house, said Nighat Bibi, who lives nearby.
The police eventually arrived and found the charred body near a staircase. They arrested the mother soon thereafter.
The victim's husband, Hassan Khan, told reporters the two had been "in love since our school days" but the family had rejected several marriage proposals, forcing them to elope last month. He showed an affidavit of consent signed by his wife before a magistrate. He also showed cellphone photos of a smiling Zeenat wearing a red dress.
Khan told Pakistani media that his wife had only returned to her own family for a visit after being assured it would be a celebration of her marriage, and she would not be harmed. He said he agreed reluctantly to let her return
Akhtar, the a local police official, said Parveen confessed to killing her daughter with the help of her son Ahmar. He quoted the woman as saying "I don't have any regrets." Another police officer, Ibadat Nisar, said the body showed signs of beating and strangulation.
For generations now in Pakistan, they've called it "honor" killing, carried out in the name of a family's reputation.
The killers routinely invoke Islam, but rarely can they cite anything other than their belief that Islam doesn't allow the mixing of sexes. Even Pakistan's hard-line Islamic Ideology Council, which is hardly known for speaking out to protect women, says the practice defies Islamic tenets.
It doesn't matter: in slums and far-off villages, away from the cosmopolitan city centers, people live in a world where religion is inextricably tied to culture and tradition, where tribal councils can order women publicly punished, and a family can decide to kill one of its own, even to avenge a wrongdoing committed by someone else.
In the vast majority of cases, the "honor" killer is a man and the victim is a woman.
She is a sister who falls in love with a man not of her family's choosing. She is a daughter who refuses to agree to an arranged marriage, sometimes to a man old enough to be her father. She is a wife who can no longer stay in an abusive marriage and divorces her husband.
He is a brother who cannot bear the taunts of other men brought up as he was, believing that women are subservient and must be kept in the shadows, their worth often measured by the number of sons they can produce. He is a neighbor who doesn't think his friend did anything wrong in taking his sister's life. He is a father who is angry about her killing not because she is dead, but because her death will reveal her "shame" to other members of the family and beyond.
As modernity pushes against tradition, Pakistan has seen an increase in the number of women and girls killed in the name of honor: in 2015, 1,184 people died, only 88 of them men. The year before, the figure was 1005, and in 2013 it was 869, according to the independent Human Rights Commission of Pakistan. The true numbers are believed to be higher, because many cases go unreported.
The killings have fueled a growing public outrage at the practice, and a chorus of voices saying that there is no honor in killing - only dishonor. They are working to close the legal loophole that lets killers go free.
A proliferation of television channels and newspapers has brought the horrors of girls strangled, burned alive or shot in the head out of the secrecy of the home and into the public.
But for many who have been fighting this kind of killing, it is the mindset of the boy who could kill his sister, or the parent who could kill a daughter, that has to be understood and changed.
Thanks for reading CBS NEWS.
Create your free account or log in
for more features.