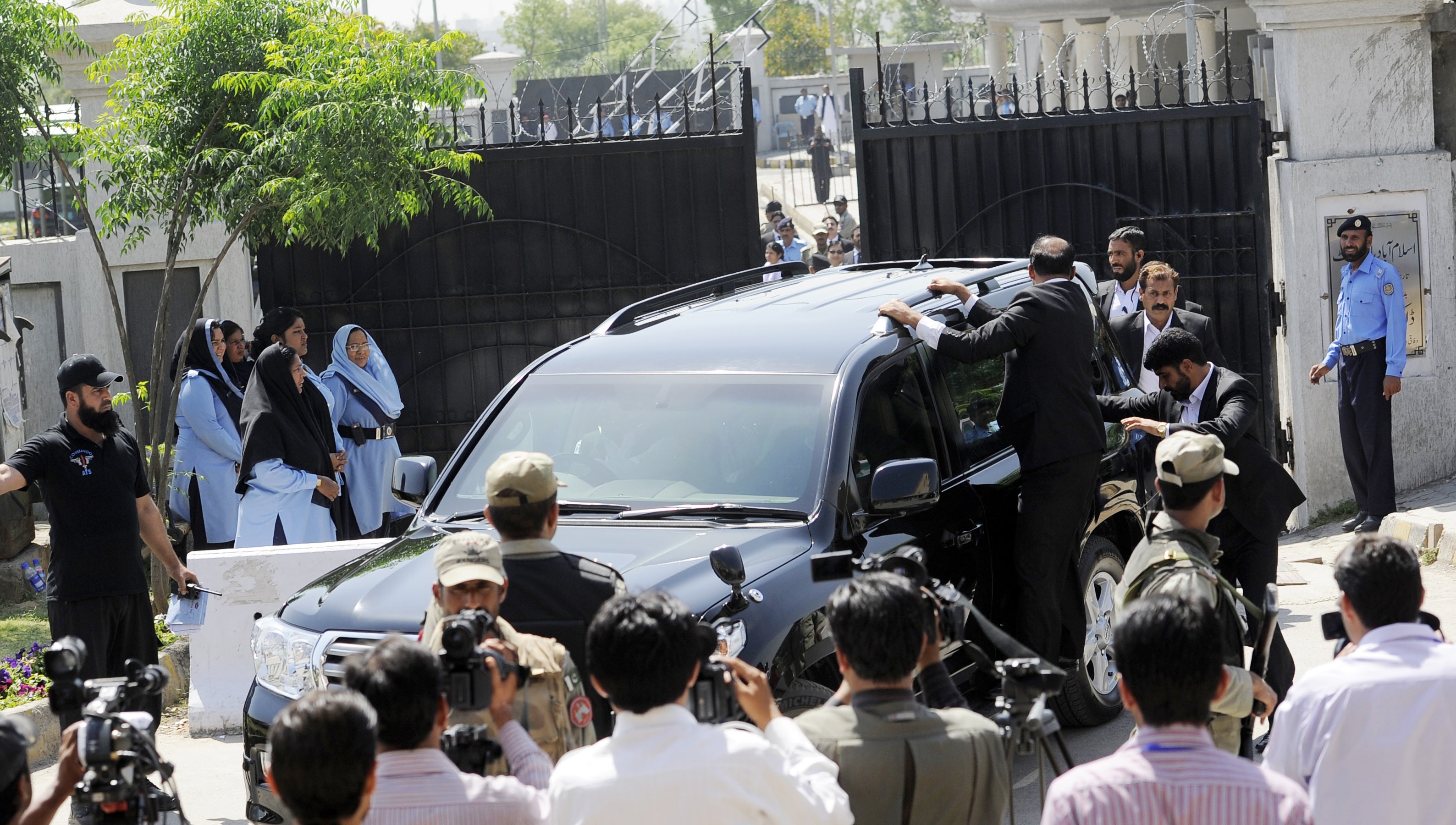 Pakistan ex-leader Musharraf flees court under arrest order, holes up in fortified compound
ISLAMABAD Pakistan's former military ruler General Pervez Musharraf, who returned to the country just last month hoping to run in May parliamentary elections, fled an Islamabad courthouse in his armored SUV Thursday morning a wanted man.
The Islamabad High Court revoked his bail in a case in which he's been accused of treason and then ordered Musharraf arrested. At that point he fled the courtroom, quickly got into his SUV and left with one of his personal security guards still clinging to the side of the vehicle.
A government official told CBS News on the condition of anonymity that Musharraf had returned to his palatial farmhouse in Islamabad's upper class Chak Shehzad suburb. The compound is heavily fortified with guard towers, razor-fencing and high walls.
The official told CBS News that Pakistani authorities were likely to declare the premises a "sub-jail," suggesting there would be no effort to enter and place him under arrest. If the government takes that route, it wouldn't be the first time. A number of high-profile Pakistanis in trouble with the law have similarly found themselves confined to their homes, which were subsequently declared sub-jails.
For Musharraf, Thursday's episode all but destroys any chance he had of returning to Pakistani politics after his much-hyped return following five years in exile. On Tuesday, a separate court banned him from running in the upcoming elections.
The case which brought the arrest order -- not the only legal proceedings the former leader is facing in his native country -- relates to the November 2007 arrest of several judges right after then-President Musharraf implemented a nationwide state of emergency.
Supporters of the ex-leader's All Pakistan Muslim League (APML) political party have said his life would be in danger if he was sent to a regular Pakistani prison, where fellow inmates would likely include Islamic militants arrested during the crackdown on some terror groups during Musharraf's nine-year rule. He has already survived two separate assassination attempts linked to al Qaeda and the Taliban, and the Taliban put out a fresh threat on his life when he announced his return to Pakistan.
A senior Western diplomat in Islamabad, who also asked not to be identified, said Musharraf's arrest was not likely to affect the build-up to parliamentary elections planned for May 11. However, he warned that the influential army, which has ruled Pakistan for more than half of its existence as an independent state, might step in behind the scenes to try and protect Musharraf.
"The generals will probably feel they can't tolerate harm coming to one of their former chiefs," speculated the diplomat.
Musharraf became a key ally to the U.S. in the wake of the Sept. 11 terror attacks. Former President George W. Bush built a strong relationship with the general as he launched the U.S.-led war in Afghanistan to oust the country's Taliban rulers. In the subsequent years, Musharraf became one of Washington's most important, but challenging allies in the region -- there have long been suspicions that Pakistan's military and intelligence agencies have links to some militant groups which operate in the country.
Thanks for reading CBS NEWS.
Create your free account or log in
for more features.