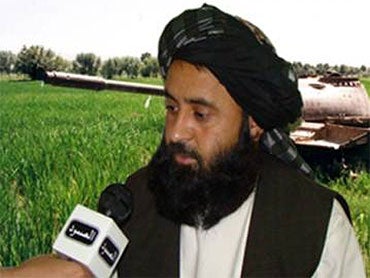 Pakistan Arrests 2nd Key Taliban Leader
Updated at 6:29 a.m. Eastern.
An Afghan official says two Taliban "shadow governors" from northern Afghanistan have been arrested by Pakistani authorities, including one very senior commander for the militant group in the country's north.
Mohammmad Omar, the official governor of Kunduz province, said Thursday that the insurgency's shadow governors in Kunduz and Baghlan were arrested about 10 to 12 days ago in Pakistan.
That's roughly the same time that Pakistani and U.S. intelligence forces captured the Taliban's top military commander - Mullah Abdul Ghani Baradar.
Omar says the two arrested were Mullah Abdul Salam from Kunduz and Mullah Mohammad in Baghlan.
Taliban sources confirmed Thursday to CBS News' Sami Yousafzai that Abdul Salam had been arrested, saying he was apprehended by Pakistani forces while travelling to meet his boss, Mullah Baradar.
Yousafzai reports that Abdul Salam was far more than the Taliban's unofficial political chief in Kunduz, acting also as the group's senior military commander over a large portion of northern Afghanistan.
He was atop the German NATO contingent's most wanted list, according to Yousafzai. German troops make up the largest NATO presence in the region.
There are conflicting reports over where Abdul Salam was detained in Pakistan, with some sources saying it was the city of Quetta and other reliable informants placing his arrest in the town of Faisal Abad in the Punjab province. Faisal Abad is on the road to Karachi, where Baradar was detained around the same time.
Later Thursday, Pakistani officials said up to nine al Qaeda-linked militants had been arrested in several raids Wednesday night in Karachi.
Two Pakistani intelligence officials said those arrested included Ameer Muawiya, a man they said was in charge of foreign al Qaeda militants operating in Pakistan's tribal regions near Afghanistan.
The officials said Thursday that U.S. communication intercepts played an important part in tracking down the suspects.
It wasn't immediatly clear whether the raids on the al Qaeda suspects were linked to the arrests of the senior Taliban leaders.
Baradar was the Afghan Taliban's No. 2 man, behind supreme leader Mullah Omar. In addition to commanding all of the group's military operations, he was also in charge of fund raising.
He was arrested about 11 days ago in a joint operation by CIA and Pakistani security forces in the southern Pakistani port city of Karachi, U.S. and Pakistani officials said on condition of anonymity Tuesday.
CBS News sources could not immediately confirm the arrest of Mullah Mohammad, the Taliban governor from Baghlan, but Yousafzai says he is not nearly as crucial a player in the militant organization as Abdul Salam.
Sayed Ansari, a spokesman for the Afghan Intelligence Agency, told CBS News' Fazul Rahim he was not aware of the latest arrests, but added that the Afghan government welcomes any moves by Pakistan to "deny terrorists a safe haven."
Abdul Salam's arrest is further evidence of major shift in Pakistan's policy as a U.S. ally in the war against Islamic extremists.
Officials referred to Baradar as the linchpin of Taliban strategy in Afghanistan, and as CBS News senior national security correspondent David Martin reported, his capture, and Abdul Salam's came just as the U.S. and its allies launched a major new offensive in Helmand province.
Baradar's arrest suggests the Pakistani intelligence services are ready to deny Afghan militant leaders a safe haven in Pakistan - something critics have long accused them of doing.
Haroun Mir, a leading Afghan expert on the Taliban, tells CBS News Baradar's arrest is "the most important event in the war against the Taliban and the war on terrorism in years."
"The real significance is the change in the Pakistani policy," explains Mir.
U.S. and Afghan leaders "have been criticizing Pakistan for years for allowing the Taliban to move freely between Afghanistan and Pakistan, and now, by arresting Mullah Baradar, they have demonstrated in the strongest way a change in policy."
Read More Analysis from Haroun Mir in World Watch
The arrest may also push other insurgent leaders thought to be sheltering in Pakistan toward reconciliation talks with the Afghan government - a development increasingly seen as key to ending the eight-year war.
Thanks for reading CBS NEWS.
Create your free account or log in
for more features.