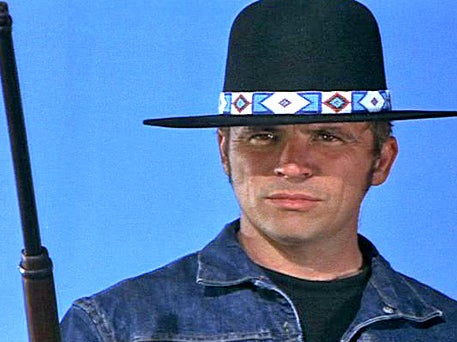 "Billy Jack" star Tom Laughlin dies at 82
NEW YORK - Actor-writer-director Tom Laughlin, whose production and marketing of "Billy Jack" set a standard for breaking the rules on and off screen, has died.

Laughlin's daughter told The Associated Press that he died Thursday at Los Robles Hospital and Medical Center in Thousand Oaks, Calif. Laughlin was 82 and Teresa Laughlin, who acted in the Billy Jack movies, said the cause of death was complications from pneumonia.

"Billy Jack" was released in 1971 after a long struggle by Laughlin to gain control of the low-budget, self-financed movie, a model for guerrilla filmmaking.

He wrote, directed and produced "Billy Jack" and starred as the ex-Green Beret who defends a progressive school against the racists of a conservative Western community. The film became a counterculture favorite and the theme song, "One Tin Soldier," was a hit single for the rock group Coven.

Laughlin was in his mid-30s when he created Billy Jack with his wife and collaborator, Delores Taylor. Billy Jack was half-white, half Native American, a Vietnam veteran and practitioner of martial arts who had come to hate war. Billy Jack was first seen in the 1968 biker movie "Born Losers," but became widely known after "Billy Jack," the second of four films Laughlin made about him (only three made it to theaters).

"Billy Jack" was completed in 1969, but its release was delayed for two years as Laughlin struggled to find studio backing. He eventually successfully sued Warner Bros. to retain rights and - with no support from Hollywood or from theater chains - Laughlin made a radical decision: Distribute the movie himself and rent theaters to show it in. He also was among the first to advertise on television and to immediately open a movie nationwide, rather than release it gradually.

"Billy Jack" initially flopped at the box office, but generated an underground following and became a substantial commercial success and inspiration to independent filmmakers. The title character has been cited as a forerunner for such screen avengers as Rambo.

Laughlin was born in 1931 and grew up in Milwaukee. He played football for the University of South Dakota (where he met his future wife) and Marquette University, but decided he wanted to become an actor after seeing a stage production of "A Streetcar Named Desire."

"He was profoundly affected by the poverty he saw on the Indian reservations near the University of South Dakota," Teresa Laughlin said. "I think the seeds of the Billy Jack character started there."

His early film credits included "South Pacific," ''Gidget" and Robert Altman's "The Delinquents." Laughlin also was interested in directing and writing and by 1960 had directed, written and starred in "The Young Sinner."

Laughlin wasn't only a filmmaker. He ran for president as both a Republican and Democrat and founded a Montessori school in California. He was an opponent of nuclear energy and a longtime advocate for Native Americans and bonded with another actor-activist, Marlon Brando.

In recent years, he wrote books and attempted to make another Billy Jack movie.

"There had been lots of interest and deals would sort of come together and not happen," said Teresa Laughlin, who noted that her father had battled cancer. "One of the prime reasons that he couldn't get a deal was his failing health and, I think, his inability to come to terms with that. In his mind's eye, he remained Billy Jack."

He is survived by his wife, a sister, three children and five grandchildren.
Thanks for reading CBS NEWS.
Create your free account or log in
for more features.