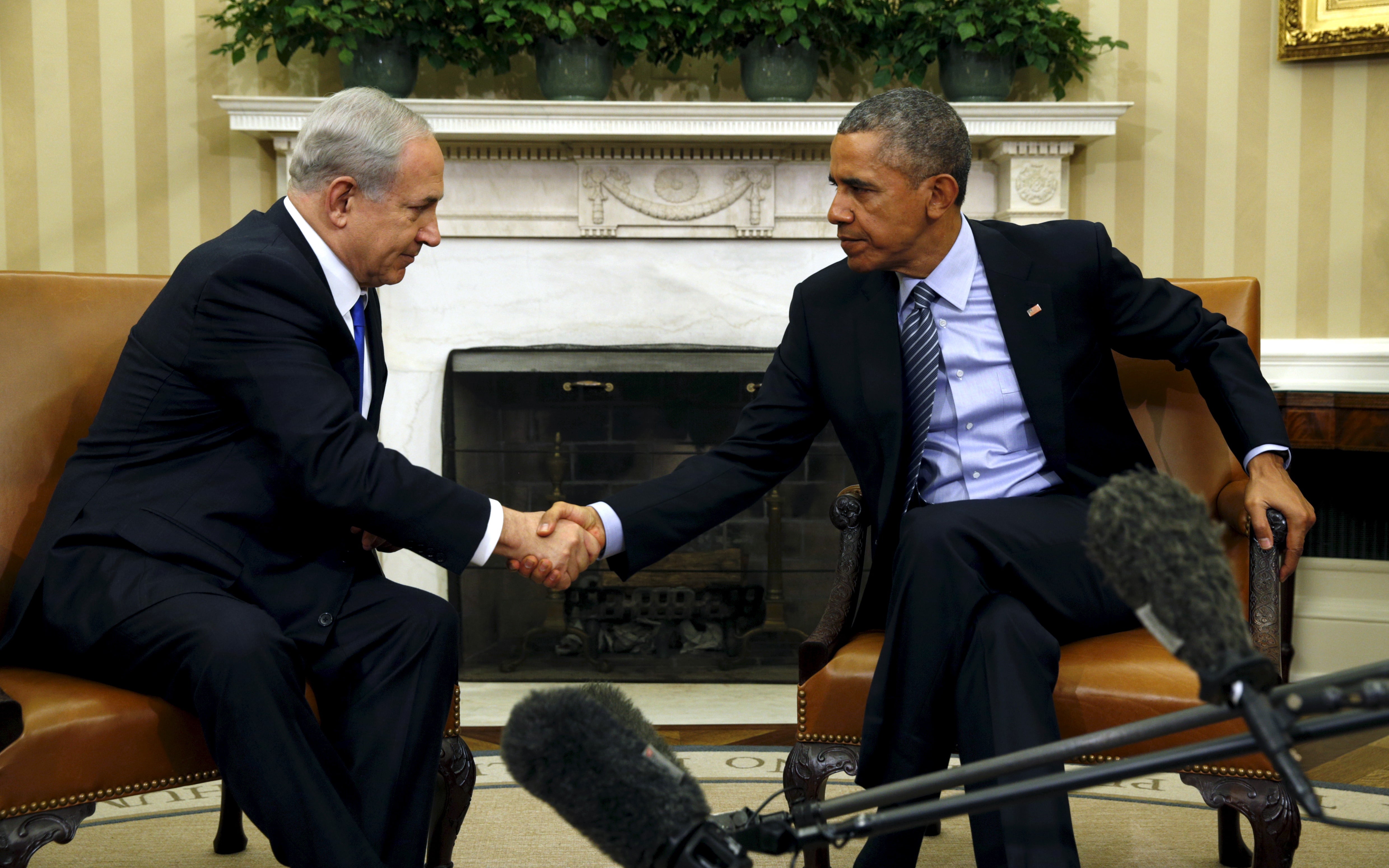 Obama, Netanyahu voice commitment to peace process
President Obama and Israeli Prime Minister Benjamin Netanyahu said they are committed to achieving peace between the Israelis and Palestinians, even as the administration has given up on formal talks before the end of Mr. Obama's term.
The two leaders had their first face-to-face meeting in the Oval Office Monday in more than a year. Their relationship has been tense for months amid disagreements over the nuclear deal with Iran and Netanyahu's suggestion that a two-state solution is no longer viable.
Mr. Obama said he condemned "in the strongest terms" a spate of recent stabbings carried out by Palestinians against Israelis. He added, "It is my strong belief that Israel has not just the right but the obligation to protect itself," and said he will discuss with Netanyahu, "his thoughts on how we can lower the temperature between Israeli and Palestinians, how we can get back on a path towards peace and how we can make sure that legitimate Palestinian aspirations are met through a political process even as we make sure that Israel is able to secure itself."
Netanyahu, for his part, said Israel has not given up on hope for peace and he remains committed to a two-state solution with a Palestinian state that recognizes Israel as a Jewish state.
"I don't think that anyone should doubt Israel's determination to defend itself against terror and destruction but neither should anyone doubt Israel's willingness to make peace with any of its neighbors that genuinely want to achieve peace," he said. "I look forward to discussing with you practical ways in which we can lower the tension increase the stability and move toward the peace."
Despite the optimistic statements, administration officials who discussed Netanyahu's visit with reporters last week were blunt about the fact that there was no chance of negotiating an agreement before the end of Mr. Obama's presidency. Instead, Deputy National Security Advisor Ben Rhodes said the focus will instead be on keeping peace talks possible for a future administration and looking for the kinds of measures that might rebuild some trust, reduce tensions and "leave open the promise of a two-state solution."
The two leaders will also discuss long-term military cooperation between the two countries and implementation of the nuclear deal with Iran.
"It's no secret that the prime minister and I have had a strong disagreement on this narrow issue but we don't have a disagreement on the need to make sure that Iran does not get a nuclear weapon and we don't have a disagreement about the importance of us blunting destabilizing activities," he said, promising to "find common ground" with Israel on the issue.
Netanyahu's objections to the deal were so strong that he accepted an invitation to address the U.S. Congress and urged lawmakers to reject the agreement the administration had negotiated.
Ultimately the deal survived an attempted vote of disapproval in Congress in spite of heavy lobbying by Netanyahu and powerful organizations like the American Israel Public Affairs Committee. Mr. Netanyahu's trip appears to be aimed, in part, at restoring relations with Democratic lawmakers who were attacked for supporting the deal.
He will accept an award from the conservative American Enterprise Institute Monday evening and will speak at the liberal Center for American Progress on Tuesday.
At the beginning of his remarks in the Oval Office, President Obama addressed a shooting attack by an ex-Jordanian police officer in Amman Monday that left two Americans dead and one wounded.
"We take this very seriously and will be working closely will the Jordanians to determine exactly what happened but at this stage I want to just let everyone know that this is something we're paying close attention," the president said. He added that the U.S. will send its depeest condolences to the families once they have been notified.
Thanks for reading CBS NEWS.
Create your free account or log in
for more features.