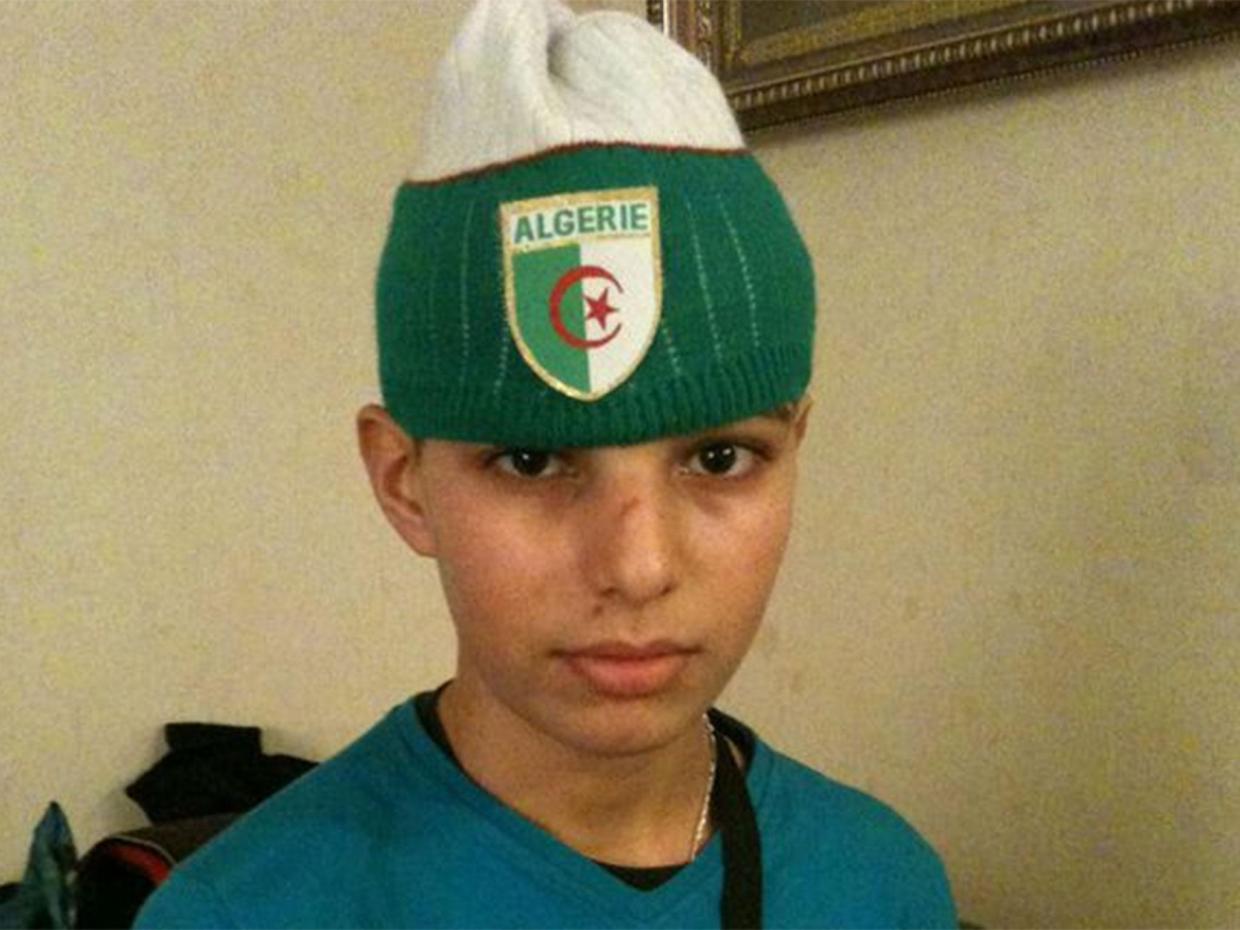 New details emerge about teen killer of French priest
SAINT-ETIENNE-DU-ROUVRAY, France -- Adel Kermiche nursed his obsession with jihad in this quiet French town alongside the Seine River, and his twice-thwarted attempt to join Islamic State of Iraq and Syria (ISIS) extremists in Syria ended with an attack on an elderly priest celebrating Mass in its sturdy stone church.
New details emerged Wednesday about the 19-year-old, one of two assailants who took five hostages Tuesday at the church in Saint-Etienne-du-Rouvray, slitting the throat of the 85-year-old priest, the Rev. Jacques Hamel, before being shot to death by police.
The attack was claimed by ISIS, which released a video Wednesday allegedly showing Kermiche and his accomplice clasping hands and pledging allegiance to the group.
In it, Kermiche identifies himself by the nom de guerre Abul Jaleel al-Hanafi, and says his compatriot, who has not been identified by French authorities, is called Ibn Omar. Wearing a camouflage jacket and speaking in broken Arabic, Kermiche recites: "We pledge allegiance and obedience to Emir of the faithful Abu Bakr al-Baghdady in hardship and in ease."
Social media pictures appear to show Kermiche as a youngster growing up in Northern France, but sometime in 2015, he was suddenly radicalized, CBS News' Elizabeth Palmer reported.
At the time of Tuesday's attack, Kermiche was awaiting trial. He was living with his parents and wearing an electronic tag.
"We tried to bring him to his senses," his classmate Redwan said.
"But he would quote the Koran to us, saying France is the land of the unbelievers, and we should go to Syria and fight," he continued.
Those who knew him in this Normandy town where he grew up said Kermiche appeared to think of little else other than trying to join the extremist group in Syria after the January 2015 attacks on the satirical newspaper Charlie Hebdo and a kosher supermarket.
"He said it wasn't possible to live peacefully in France. He spoke with words that did not belong to him. He was mesmerized, like in a sect," his mother said in an interview last year after her son was detained and returned to France after trying to make it to Syria.
She said the family, who had flagged him to authorities, did not know where to turn.
"Luckily he was caught in time twice," she told the Tribunal de Geneve newspaper. "If he had made it to Syria, I would have had to write him off."
Initially Kermiche was jailed, but a judge later ordered him released -- over prosecutor objections -- and placed him under limited house arrest with an electronic surveillance bracelet.
He was not the first person to leave this corner of Normandy headed for Syria, nor the most notorious.
Maxime Hauchard, a Muslim convert who appeared in a November 2014 ISIS video slitting the throat of a Syrian soldier, grew up in a village just a few miles away, and was among a microcell of four or five local jihadi recruits.
By the time Kermiche's obsession with joining ISIS began, Hauchard had already been in Syria for nearly 18 months, according to police. His most recent propaganda appearance, in a Twitter post after the November attacks in Paris, was a threat against next month's Rio de Janeiro Olympics.
Kermiche never made it that far. After being freed and placed under house arrest, wearing a surveillance bracelet, he was allowed out for four hours each day. During that time, the tracking device was deactivated and he was permitted to go anywhere in the region as long as he returned home by the appointed hour, according to a police official who spoke on condition of anonymity because he was not authorized to discuss the case publicly.
A neighbor, who gave only his first name, Redwan, was at work when he learned about Tuesday's attack at the church.
"I knew it was him. I was sure," the 18-year-old said, adding that Kermiche told friends that he had been promised women and the chance to "save his brothers" in Syria.
"We tried to bring him to his senses, but every time we did it he was bringing in a verse from the Quran. He was inventing things," the young man said.
A family acquaintance defended the efforts of Kermiche's parents even as this Normandy town tried to absorb the shock of Tuesday's slaying.
"The parents did everything to avoid this. They gave them everything in material terms, in terms of love," said Annie Geslin, who worked with Kermiche's mother in a family association.
"They did not succeed in getting their son to return to a, how to say it, a normal behavior," she added.
The Kermiche family home was empty Wednesday, and Geslin said the parents were right to leave, given the tumult.
Meanwhile, Pope Francis, visiting Krakow, Poland, for World Youth Day celebrations, decried the attack and slaying of the priest as an act of "war."
"I am not speaking of a war of religions," he said. Religions don't want war. The others want war."
President Francois Hollande presided over a defense council and Cabinet meeting in Paris after speaking with Roman Catholic, Orthodox, Muslim and Jewish leaders, who sent a message of unity and solidarity.
The archbishop of Paris, Cardinal Andre Vingt-Trois, called on Catholics to "overcome hatred that comes in their hearts" and not to allow ISIS "to set children of the same family upon each other."
The rector of the main Paris mosque, Dalil Boubakeur, said France's Muslims must push for better training of Muslim clerics and urged that reforming French Muslim institutions be put on the agenda. He did not elaborate.
With the attack threat for the country ranked extremely high, Interior Minister Bernard Cazeneuve said France was working to protect 56 upcoming summer events and may consider cancelling some.
Defense Minister Jean-Yves Le Drian said 4,000 members of the Sentinel military force were being deployed in Paris, while 6,000 had been sent to patrol in the provinces. They were being bolstered by tens of thousands of police and reservists.
Thanks for reading CBS NEWS.
Create your free account or log in
for more features.