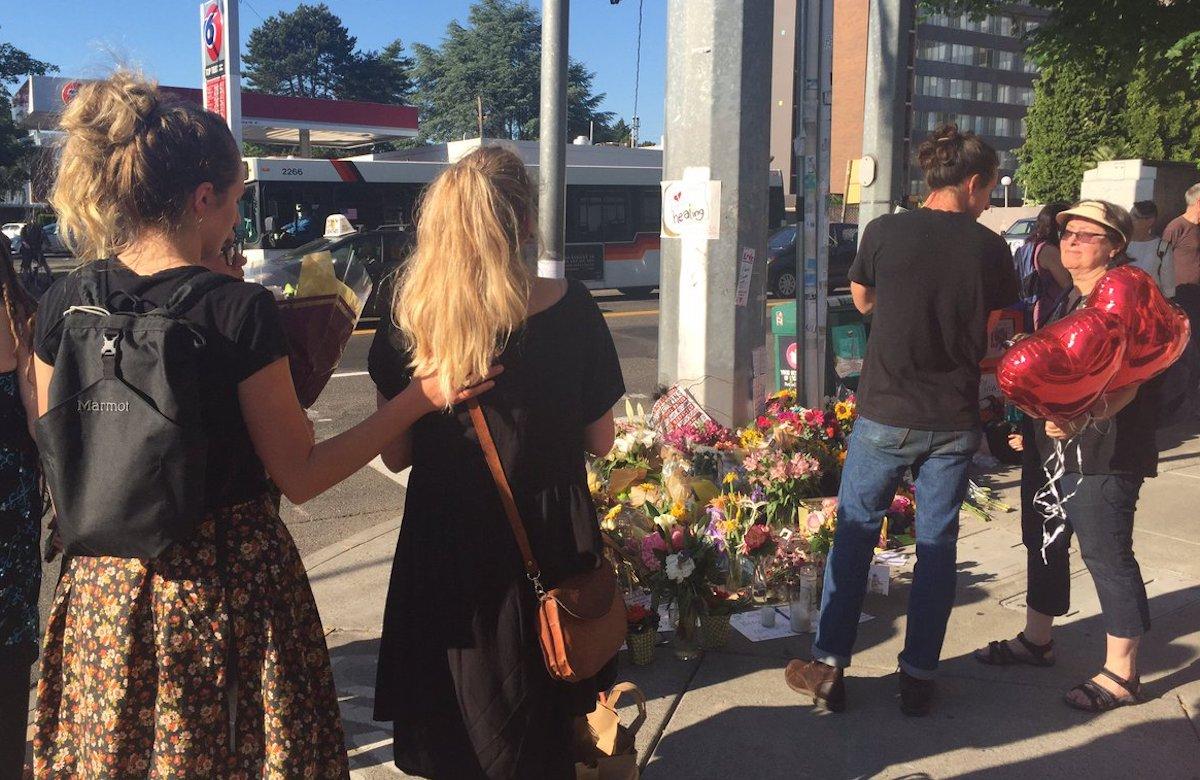 "We stand together here as one": Muslims in Portland thank community after deadly stabbing
PORTLAND, Ore. -- Muslims in Portland, Oregon, thanked the community for its support and said they were raising money for the families of two men who were killed when they came to the defense of two young women -- one wearing a hijab -- who were targeted by an anti-Muslim rant.
"I am very thankful as a Muslim, I am very thankful as a Portlander... that we stand together here as one," Muhammad A. Najieb, an imam at the Muslim Community Center, said Saturday.
He said the two young women "could have been the victims, but three heroes jumped in and supported them."
Najieb said a fundraising page launched by his group for the families of the dead men, a surviving victim and the two young women had raised $50,000 in its first hours.
Another fundraiser, created by Nick Zukin, a local restaurant owner, had raised $313,000 for the victims on his GoFundMe page, titled, "Tri Met Heroes." Zukin wrote that he's been in contact with the Portland Mayor's Office to ensure the money goes to the victims' families.
Harris Zafar with the Ahmadiyya Muslim Community in Portland said while the events Friday were shocking, he was inspired by the actions of these men, CBS affiliate KOIN reports.
"….knowing that innocent people who were complete strangers stood up to defend these terrified two teenage girls," Zafar said. "They had nothing to gain out of it but they stood up to help them and to do what was right. That level of honor and valor and courage, we don't see."
In fact, Micah David-Cole Fletcher, 21, who was also stabbed and is expected to survive, had once wrote a poem about prejudice against Muslims following the Sept. 11th terrorist attacks.
Police said they'll examine what appears to be the extremist ideology of suspect Jeremy Joseph Christian, 35, who is accused of killing the two men Friday. Christian's social media postings indicate an affinity for Nazis and political violence.
The attack occurred on a light-rail train on the first day of Ramadan, the holiest time of the year for Muslims.
Community members held a vigil in the Hollywood Transit Center on Saturday night to remember the victims of the attack.
"We've got each other's back here," said one woman at a memorial Saturday night, CBS News' Mireya Villarreal reports.
Christian was being held on suspicion of aggravated murder, attempted murder, intimidation and being a felon in possession of a weapon. He was arrested a short time after the attack when he was confronted by other men.
The mother of one of the girls the victims were defending posted on Facebook thanking them for what they did, KOIN reports.
"Thank you, thank you, thank you," Dyjuana Hudson wrote. "You will always be out hero."
Hudson's teenage daughter was with her Muslim friend when the suspect allegedly started yelling at them.
One of the victims of the hate speech is sending her thanks to those who came to her defense, according to KPTV.
Destinee Mangum, 16, told the station that she and her 17-year-old friend were riding the train when Christian approached them yelling what is described as hate speech. She said her friend is Muslim, but she's not.
"He told us to go back to Saudi Arabia, and he told us we shouldn't be here, to get out of his country. He was just telling us that we basically weren't anything and that we should kill ourselves," she said.
The girls were scared and moved to the back of the train while a stranger jumped in to help.
"I just want to say thank you to them and their family and that I appreciate them because without them, we probably would be dead right now," Mangum said while fighting back tears.
A woman who witnessed the attack told KOIN she tried to stop Meche's bleeding.
"I took off my shirt and put it on him," Rachel Macy said. "I told him 'You're a beautiful man, I'm so sorry the world is so cruel.'"
Christian will make his first court appearance in the case Tuesday, and it wasn't clear if he had an attorney. No one answered the phone at his Portland home.
Police identified the victims as 53-year-old Ricky John Best of Happy Valley, Oregon, and 23-year-old Taliesin Myrddin Namkai-Meche of Portland.
Mayor Ted Wheeler said Best was a U.S. Army veteran and a city employee.
"They were attacked because they did the right thing," Wheeler said. "Their actions were brave and selfless and should serve as an example and inspiration to us all. They are heroes."
Namkai-Meche's mother, Asha Deliverance wrote on Facebook "Taliesin Myrddin Namkai Meche, My dear baby boy passed on yesterday while protecting two young Muslim girls from a racist man on the train in Portland. He was a hero and will remain a hero on the other side of the veil. Shining bright star I love you forever."
Deliverance spoke at the vigil Saturday, saying her son had a heart "as big as the world."
"Love is what it's about," she said. "We taught him to love everyone and that's what we should be doing and that's what we all should be doing and that's why we are all here, so give it up for love."
His father and sister were also at the vigil, but his father said "words are coming pretty hard today."
Police said one of the two young women on the train was wearing a hijab. The assailant was ranting on many topics, using "hate speech or biased language," police Sgt. Pete Simpson said.
The FBI said it's too early to say whether the slayings qualify as a federal hate crime. However, Christian faces intimidation charges, the state equivalent of a hate crime.
Police Sgt. Pete Simpson told CBS News that Christian attended a free speech march in April with a baseball bat to confront protesters but the bat was quickly confiscated by officers.
The Portland Mercury, one of the city's alternative weeklies, posted an article with video clips of a man wearing a metal chain around his neck and draped in an American flag. "He ranted how he was a nihilist. He'd soon yelled racial slurs ... and gave the Nazi salute throughout the day," the Portland Mercury says.
On what appears to be Christian's Facebook page he showed sympathy for Nazis and Timothy McVeigh, who bombed a federal building in Oklahoma City in 1995.
Thanks for reading CBS NEWS.
Create your free account or log in
for more features.