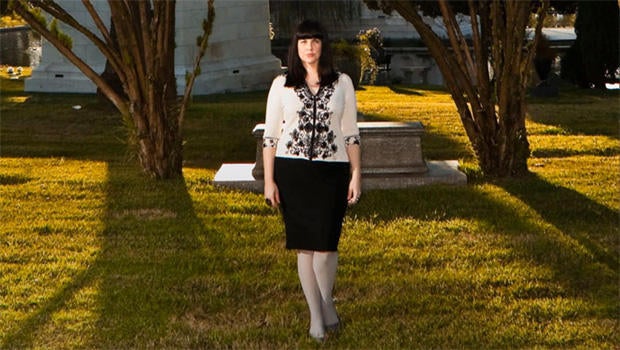 Mortician Caitlin Doughty on a "good death"
The tales from the crypt Luke Burbank has to tell us are all about one woman's truly unique undertaking:
Caitlin Doughty is a different kind of YouTube star. "Hi, I'm Caitlin. And this is a skull. Welcome to 'Ask a Mortician'!"
She really is a licensed mortician, who's produced over a hundred episodes of "Ask a Mortician" over the last six years. Everything you wanted to know about death, and then some.
"Do hair and fingernails keep growing after you die? No."
She offers a little history ("In the late 1800s coffins went out of fashion, in favor of caskets"), and a surprising amount of humor, considering the subject.
"I got the idea for the YouTube channel because I was just getting so many questions about what went on behind the scenes," she told Burbank. "And so I thought that if I could not only talk about what's happening but do it in an engaging, fun way, more people would be open to these new ideas of what we can do with a body."
Her bestselling memoir, "Smoke Gets In Your Eyes" (and yes, she was also a crematory operator), argues that Americans need to think more about end-of-life rituals, instead of keeping death at a distance.
"Being back there alone, cremating the bodies, and the family wasn't there, that really showed me that our rituals are off," she said. "They're broken. They're not where they need to be."
Her message seems to have caught on … and she's become an unlikely celebrity;
"Being the most famous mortician is kind of like being the most famous accountant," Doughty said. "But I set out to be a public advocate because I really believe in changing the funeral industry. So I love the fact that we've really started a movement."
That movement was on full display last month, when a few hundred "deathlings" (as Doughty calls them) descended on Seattle for the seventh annual Death Salon, where discussion groups talked about death with other "geeky death nerds."
There were grief counselors (Megan Devine said, "'Everything happens for a reason' is a stack of dismissive crap") and green burial advocates ("After a green burial, we often come back to plant native plants on the site," said Brian Flowers).
All gathered to discuss the latest in death trends, such as "human composting."
Megan Rosenbloom, who helped Doughty organize the weekend, said, "When you come to a Death Salon, people might have an idea that it would be very depressing or something like that. And although there are definitely moments where you hear very touching, sad stories, or whatever, it's actually quite a lot of fun."
For the record, none of these deathlings are "pro-death." They're just of the belief that the more we talk about it -- openly and honestly -- the less terrifying it needs to be.
"Thank you so much for coming, and being a part of this," Doughty told the crowd. "Go Death!"
As part of her battle with what she calls the "funeral-industrial complex" -- a $15 billion-a-year industry -- Doughty opened her own funeral home, Undertaking L.A., in Los Angeles
"Undertaking L.A. is a different kind of funeral home, offering families choices they may not even know they have," she said. Doughty helps people perform wakes and funerals in their own homes.
"What our funeral home offers is unlimited participation from the family," Doughty said. "Even years later we hear that, 'My dad's death was awful, and it was terrible, but the funeral wasn't, and the burial wasn't, because we were able to be involved.'"
Her new book, "From Here to Eternity," goes way beyond the United States in search of "the good death."
She discovered some curious approaches, and words, like columbaria (separate buildings for storing cremated remains).
"In Japan there's a columbarium that's 360 degrees of light-up Buddhas," she said. "You go in and you have your little tap card, and it goes boop, boop, boop. And your loved one's Buddha will light up and start pulsing and glowing."
And what would a good death look like for Caitlin Doughty?
"I'd want to buried in a natural cemetery," she said. "Just me in a shroud, shallow hole in the ground, and put my body right in there. And I just wanna decompose and go back into the earth."
For more info:
Thanks for reading CBS NEWS.
Create your free account or log in
for more features.