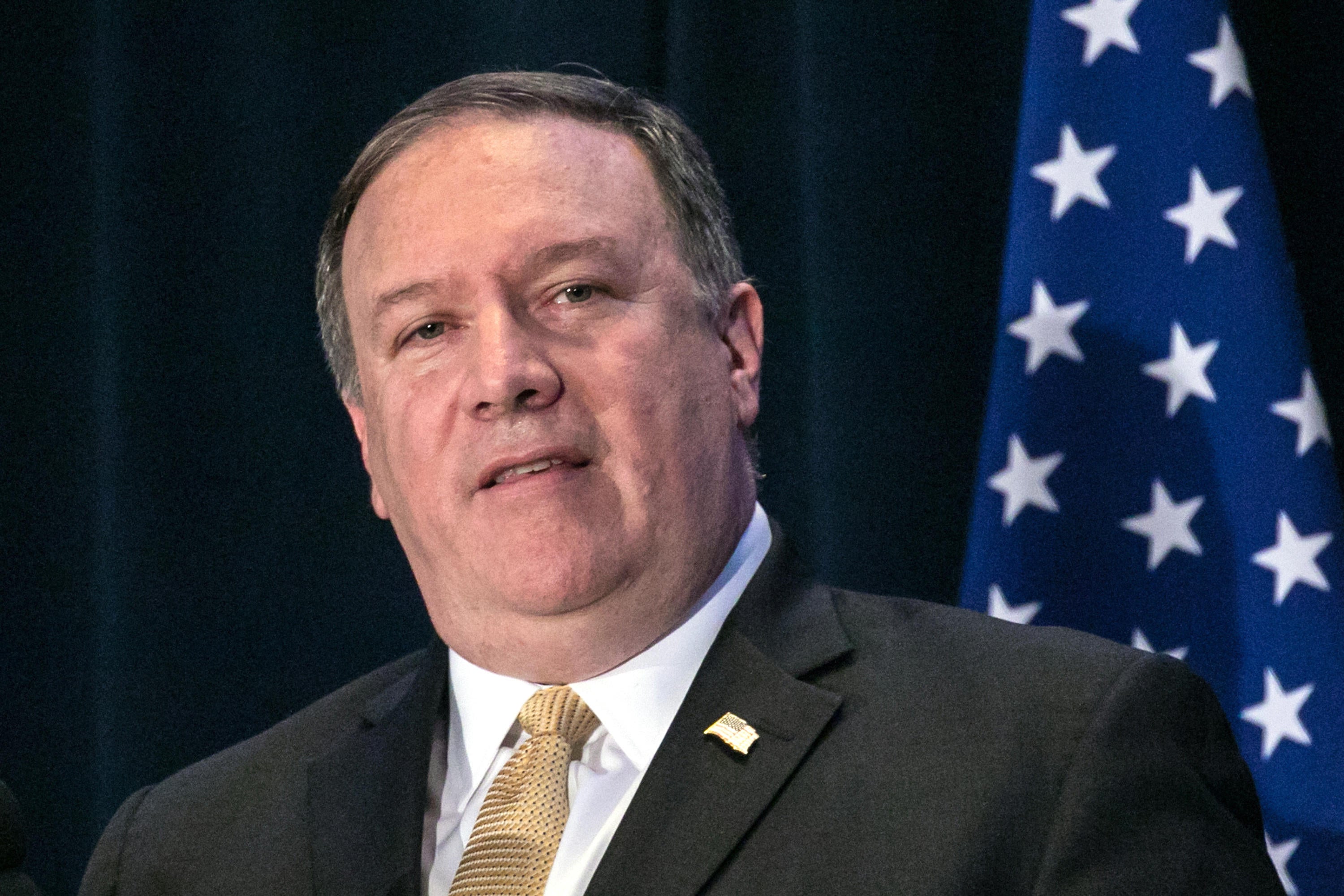 Mike Pompeo forms "Iran Action Group" for post-nuclear deal policy
Secretary of State Mike Pompeo is forming a dedicated group to coordinate and run U.S. policy toward Iran as the Trump administration moves ahead with efforts to force changes in the Islamic Republic's behavior after withdrawing from the Iran nuclear deal.
Pompeo announced the creation of the Iran Action Group on Thursday, telling reporters that the initiative would be "directing, reviewing and coordinating all aspects of the State Department's Iran-related activity." The group will be headed by Brian Hook, who is currently the State Department's director of policy planning, and will report directly to Pomepo. Hook led the Trump administration's ultimately unsuccessful attempt to negotiate changes to the nuclear deal with European allies before the president decided in May to pull out of the accord.
"Our hope is that one day soon we can reach an agreement with Iran but we must see major changes in the regime both inside and outside of its borders," said Pompeo on Thursday. He added, "The Iranian people and the world are demanding that Iran finally act like a normal nation."
He said that State is committed to a "whole of government effort to change the Iranian regime behavior."
Hook said, based off of Pompeo's extensive list of actions Iran must take in order to enter into a new deal with the U.S., "our new strategy addresses all manifestation of the Iranian threat and the new Iran Action Group will be focused on implementing that strategy." He said that the group will be comprised of an "elite team" of foreign affairs professionals at State and across the administration.
The group will "play a critical role in leading our efforts within the Department and executing the president's Iran strategy."
Since withdrawing, the administration has re-imposed sanctions that were eased under the deal and has steadily ramped up pressure on Iran to try to get it to stop what it describes as "malign activities" in the region. In addition to its nuclear and missile programs, the administration has repeatedly criticized Iran for supporting Syrian President Bashar Assad, Shiite rebels in Yemen and anti-Israel groups. It has also in recent weeks stepped up criticism of Iran's human rights record and is working with other nations to curb their imports of Iranian oil.
CBS News' Kylie Atwood reports that the State Department currently faces a November 4th deadline when sanctions will be reimposed on those who are importing Iranian oil. The Department has been working around the clock to coordinate with countries to cutoff their supply.
U.S. officials have also been in talks with Saudi Arabia to produce more oil to meet the global demand. To keep countries from turning away, this month Iran announced it would slash its oil prices for all markets, specifically targeting Asian markets, starting in September. Earlier this month Saudi also cut prices for exports everywhere but the United States.
The U.S. has also told businesses and governments in Europe that they may also be subject to penalties if they violate, ignore or attempt to subvert the re-imposed U.S. sanctions.
The Trump administration's exit from the Iran deal is also creating internal divisions within Iran's leadership. On Monday, Iran's supreme leader rejected the possibility of talks with President Trump. "THERE WILL BE NO WAR, NOR WILL WE NEGOTIATE WITH THE U.S.," Ayatollah Ali Khamenei tweeted.
He also said Iran negotiations - like President Rouhani - crossed red lines in their negotiations on the Iran Deal. "The Islamic Republic can negotiate with America whenever it achieves the power to resist America's pressure and blackmail," the Ayatollah said. "Today this is not the case."
When asked about the Supreme leader and Rouhani divide making it hard for the U.S. to communicate at all with the Iranians, Hook brushed it off as something that they have to handle internally. He made no comment on the remarks earlier this summer from Mr. Trump indicating he would meet with Iranian leaders without preconditions
Pompeo and other officials have denied that the administration is seeking to foment regime change in Iran and maintain they only want to see the government change course. Pompeo created a similar group dedicated to working on North Korea policy while he was director of the CIA.
Hook is expected to be replaced as policy planning chief by Kiron Skinner, a foreign policy academic and adviser to several Republican presidential candidates who served on Mr. Trump's national security transition team and very briefly at the State Department after Trump took office, according to the officials who were not authorized to publicly discuss personnel matters and spoke on condition of anonymity.
Thanks for reading CBS NEWS.
Create your free account or log in
for more features.