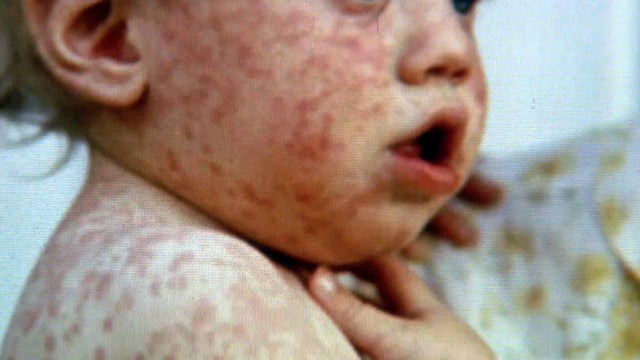 Measles outbreak in Orange County, California worst in decades
An outbreak of measles in Orange County, California is the worst health officials have seen in two decades.
Twenty-one county residents have been diagnosed with measles in 2014, including 7 who have been hospitalized, CBS Los Angeles reports.
"It's very contagious, and what we're trying to do is prevent the exposure and spread," said O.C. Health Deputy Agency Director Eric Handle told the station. "The measles virus can cause inflammation in the brain that can appear immediately, or seven years out."
Measles is a highly contagious infection that starts with a fever, cough, runny nose and pink eye before progressing to a rash on the face, upper neck that within a few days spreads down to the rest of the body.
Approximately 20 percent of cases experience more serious complications such as pneumonia and encephalitis, which is a potentially-fatal swelling of the brain.
The disease is spread through infected droplets from a person's nose, mouth or throat that are dispersed in the air.
Health officials have set up clinics and urged people who have not been vaccinated to get the MMR vaccine to stop the disease's spread. Officials however warned people experiencing symptoms to speak with their doctors first, because they risk spreading the disease if they show up to vaccination locations without warning.
Neighboring counties have also seen an increase in cases in 2014, according to officials: Los Angeles County has seen 10 cases this year, and Riverside has seen five.
Recent measles outbreaks have also been reported in San Francisco and New York City, prompting calls for vaccination.
A Centers for Disease Control and Prevention report last December found the highest number of measles cases in the past 17 years, with health officials citing philosophical differences with the vaccine for the increase.
If someone infected comes over from another country where measles cases are more common, unvaccinated people -- especially children younger than 6 months -- are at risk.
Thanks for reading CBS NEWS.
Create your free account or log in
for more features.