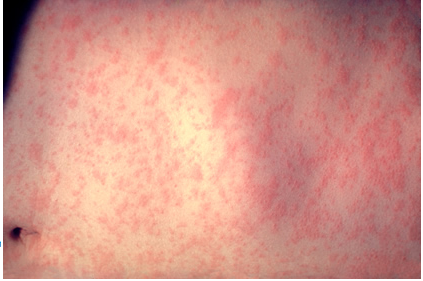 Measles outbreak in New York City, health officials warn
America's biggest city has a measles outbreak on its hands.

New York City health officials warned unvaccinated New Yorkers that they should get shots after identifying 16 cases of measles in Manhattan and the Bronx.

Nine of the cases are children, and seven are adults. Four people have been hospitalized as a result of the outbreak, according to the New York City Department of Health and Mental Hygiene.

Measles is a highly contagious disease that is spread easily through the air and typically has symptoms that begin within seven to 14 days of infection. Symptoms include a blotchy rash, fever, cough, runny nose, sore throat aches, tiny white spots found inside the mouth and red, watery eyes.

About 30 percent of measles cases lead to serious complications including pneumonia, ear infections and diarrhea, the Centers for Disease Control and Prevention adds.

Brain inflammation, hospitalization and even death are possible complications.

The health department is urging anyone who has not been vaccinated to get an MMR vaccine, especially children. Adults who are unsure whether or not they've received the shot could get revaccinated or take a blood test to see if they are immune.

Babies should get the vaccine at 12 months of age, so the best way to protect really young toddlers is to have older children get vaccinated. Two doses are required for full protection, with the second shot administered at 4 to 6 years old.

Side effects are typically mild and include soreness at the site of the shot, the health department added.

The CDC warned in December that once-eliminated measles had come back in elevated numbers -- about 175 cases in 2013, compared to the typical 60 each year. Anti-vaccination beliefs were suspected to be behind the rate increases, including an oft-debunked link perpetuated by a British researcher whose since-retracted study found a link between the MMR vaccine and autism risk.

The disease is more common in Europe, Asia, Africa and the Middle East, so international travelers who have not been vaccinated may transmit the disease.
Thanks for reading CBS NEWS.
Create your free account or log in
for more features.