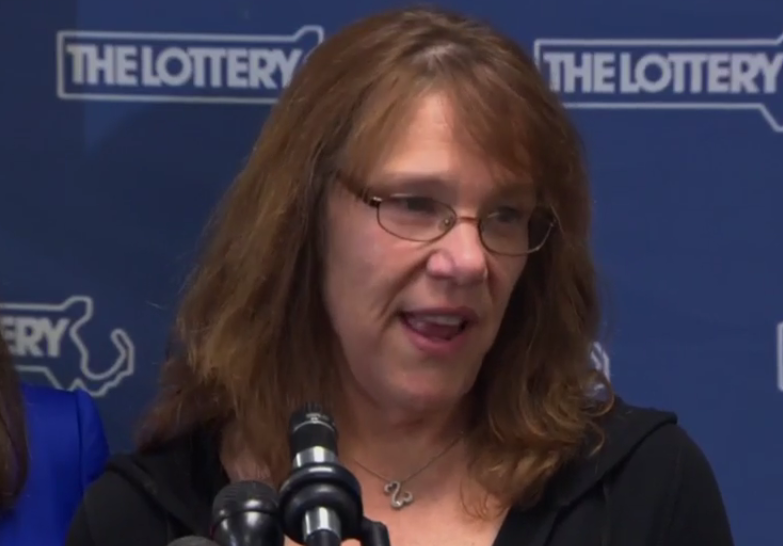 Massachusetts Powerball winner: Mavis L. Wanczyk claims $758M jackpot
The woman who purchased the sole winning Powerball ticket has been identified as 53-year-old Mavis L. Wanczyk from Chicopee, Massachusetts, who came forward Thursday to claim her winnings.
Wanczyk purchased the winning Powerball ticket at the Pride Station & Store in Chicopee, Massachusetts. She becomes the winner of the largest single-ticket Powerball jackpot in history.
Wanczyk, a mother of a daughter and son, says she chose the winning numbers based on her family's birthdays. She says she does not plan to return to her job at a local hospital. She appeared at a press conference with officials from the Massachusetts State Lottery on Thursday afternoon.
During the press conference, Wanczyk told reporters she found out she had won the jackpot as she was leaving work Wednesday night with a colleague.
"He's reading these numbers, and I pull mine out, and I go, 'Hey, I have that number. And I have that -- I have that!'" she told reporters. "And he goes, 'Let me see that ticket. You just won!'"
The numbers she chose were based off the birthdays of family members and an assortment of random selections, Wanczyk said.
"My numbers were kind of basically random, like maybe with our birthdays, one from here, one from there," she said. "There's a thing between me and my mom and my stepfather and I have a friend, we all go out to dinner on a Friday night and we play Keno, and our number is four. I just happened to choose, and it worked to my advantage."
Lottery officials said Wanczyk chose to take a lump-sum payment of $480 million, or $336 million after taxes, the Associated Press reported, rather than a larger amount spread out over many annual payments.
Wanczyk said the first thing she'll do is take some time off.
"I just want to sit back and relax," Wanczyk said. "I had a pipe dream, and my pipe dream has finally come true. I wanted to retire and it came early."
CBS Boston reports the store will get $50,000 for selling the winning ticket. This is the fourth time a Powerball jackpot winning ticket has been sold in Massachusetts. The others were sold in 2011, 2012 and 2013.
Ahead of the press conference, Michael Sweeney, executive director of the Massachusetts lottery, called Wanczyk "a prototypical Massachusetts resident."
"My perception of her is someone who's a hard-working individual. Clearly she's excited," Sweeney said.
The winning numbers selected late Wednesday night were 6, 7, 16, 23, 26 and Powerball number 4.
The $758 million prize reflects the annuity option, paid over 29 years.
The odds of winning Wednesday night's drawing were 1 in 292.2 million.
Thanks for reading CBS NEWS.
Create your free account or log in
for more features.