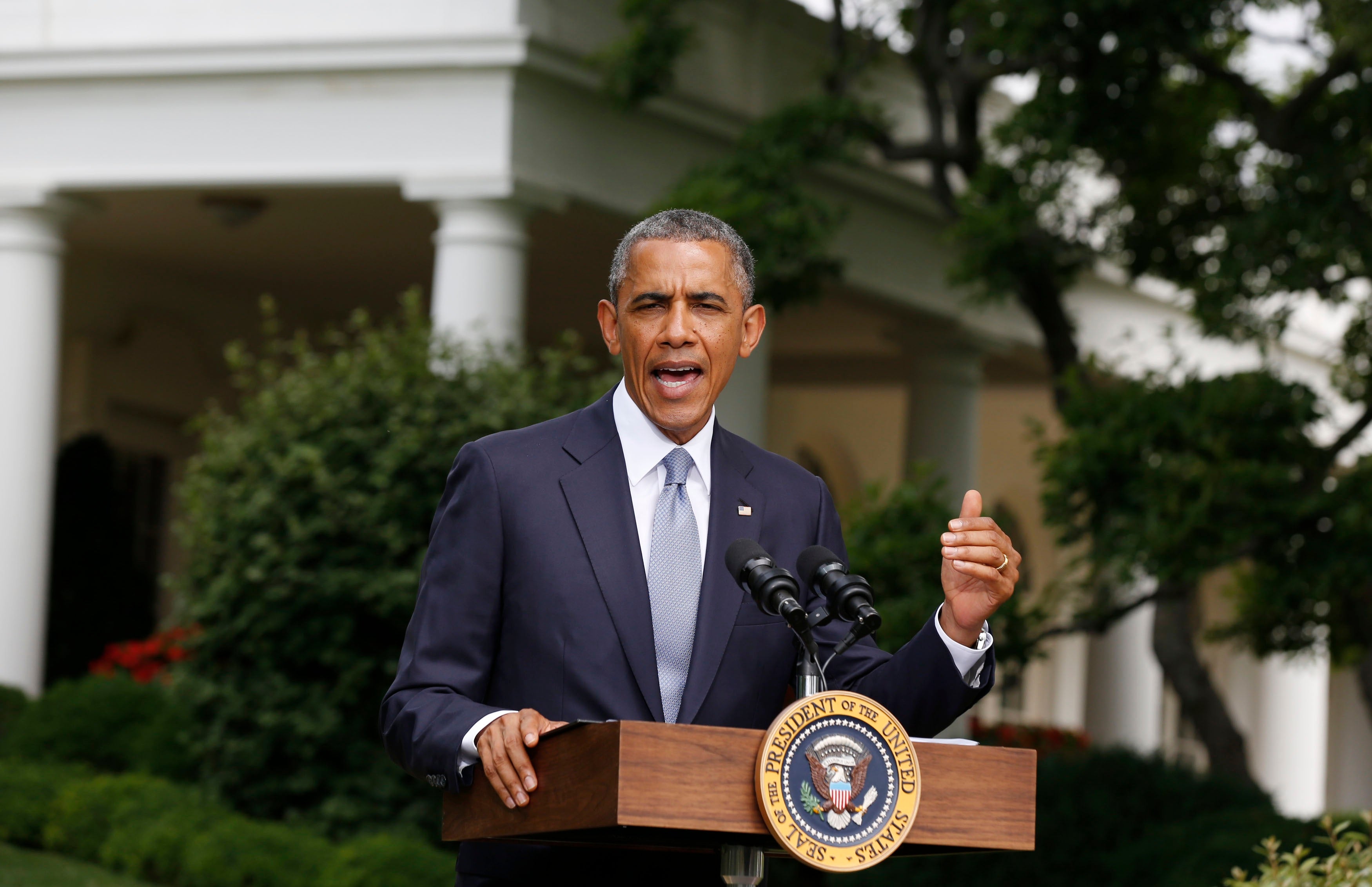 Obama to Putin: Stop rebels from impeding Malaysia Airlines investigation
President Obama offered a stern warning to Russian President Vladimir Putin that he must convince separatists in eastern Ukraine to allow international investigators full and unimpeded access to the site of the shoot down of Malaysia Airlines Flight 17.
The president condemned the Russian-backed rebels for removing bodies and evidence from the scene and threatening international investigators who have tried to access the wreckage, calling it "an insult to those who have lost loved ones."
"All of this begs the question: what exactly are they trying to hide?" Mr. Obama said at the White House Monday.
Noting the close ties between Russia and the separatists in eastern Ukraine, the president issued his strongest call yet for Putin to intervene.
"Russia and President Putin in particular has direct responsibility to compel them to cooperate with the investigation. That is the least that they can do," Mr. Obama said. "President Putin says that he supports a full and fair investigation and I appreciate those words but they have to be supported by actions."
The administration has stepped up its criticism of Russia in recent days, with Secretary of State John Kerry all but directly blaming them for the downing of the Malaysian airliner in a series of interviews Sunday.
On CBS News' "Face the Nation," Kerry said there is an "enormous amount of evidence" that ties Russia to the crash, including providing weapons and training to the pro-Russian separatists in eastern Ukraine.
Kerry also called on Russia "to become part of the solution, not part of the problem" and urge the separatists to allow a fair and full international investigation to proceed.
Mr. Obama also said that the "immediate focus" of the world is on recovering the bodies of the approximately 300 passengers and crew who died and determining exactly what happened. He said the nations that lost citizens on the flight "remain in a state of shock, but frankly also in a state of outrage."
Just a day before the plane was shot down, Mr. Obama had moved to increase sanctions on key sectors of the Russian economy, including the defense industry, in an attempt to reduce tensions in Ukraine. He said Tuesday that he still prefers a diplomatic solution.
"But," he said, "if Russia continues to violate Ukraine's sovereignty and to back these separatists ...then Russia will only further isolate itself from the international community and the costs for Russia's behavior will only continue to increase. Now is the time for president Putin and Russia to pivot away from the strategy that they've been taking and get serious about trying to resolve the hostilities."
Mr. Obama also addressed the ongoing conflict between Israel and Hamas and called for an fast cease fire to end the fighting.
"Israel has a right to defend itself against rocket and tunnel attacks from Hamas. And as a result of its operations, Israel has already done significant damage to Hamas's terrorist infrastructure in Gaza," the president said. "I've also said, however, that we have serious concerns about the rising number of Palestinian civilian deaths and the loss of Israeli lives."
He dispatched Kerry to Cairo Sunday evening to push for a cease fire based on a November 2012 agreement between Israel and Hamas.
"Obviously, there are enormous passions involved in this and some very difficult strategic issues involved. Nevertheless, I've asked John to do everything he can to help facilitate a cessation of hostilities. We don't want to see any more civilians getting killed," he said.
Thanks for reading CBS NEWS.
Create your free account or log in
for more features.