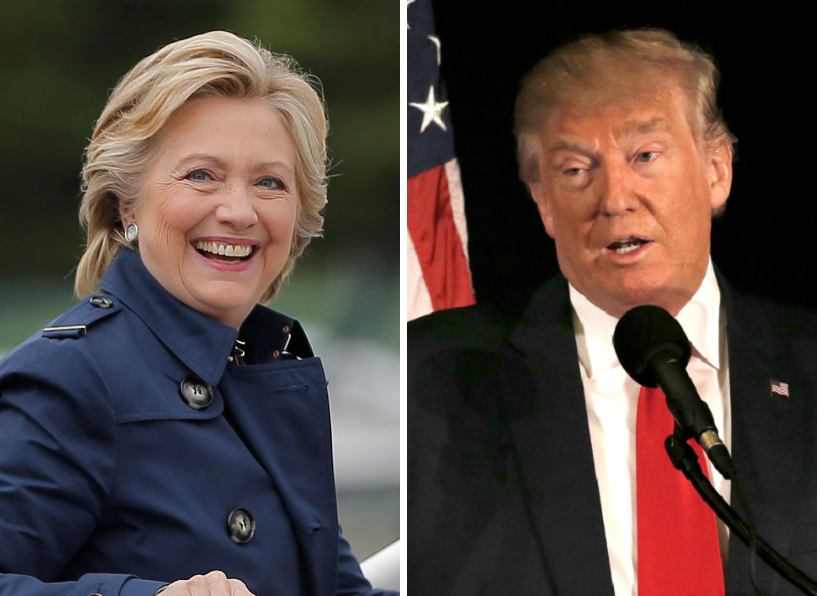 Poll: Do Trump's comments in video reflect his feelings about women now?
By Sarah Dutton, Jennifer De Pinto, Fred Backus and Anthony Salvanto
Amid allegations by a number of women accusing Donald Trump of inappropriate sexual advances, and the leaking of a high-level Hillary Clinton campaign official's emails, CBS News' latest poll shows that voters are finding weaknesses in both candidates.
Donald Trump's Comments on Women
Trump has expressed regret for his comments about women in a decade-old video, and said that those comments do not reflect how he views women now. But most voters are skeptical. Fifty-four percent of registered voters and a majority of Democrats (84 percent) and independents (52 percent) think Trump's comments from eleven years ago are an accurate reflection of how he views women today. Forty percent of voters – including 69 percent of Republicans – disagree.
The Trump campaign has dismissed Trump's comments on the video as "locker room talk," indicating the language is typical of how men sometimes talk about women to each other. Voters are divided: 47 percent think Trump's comments are typical, while 48 percent think they are not. Republicans and Democrats view this matter differently.
A slight majority of both men and women think Trump's comments on the video reflect his attitude towards women today. Just over half of men reject the notion that his comments are typical of how men sometimes talk about women, while women are split.
Overall, 40 percent of registered voters say they have a worse opinion of Trump as a result of his comments on the video, though most – 56 percent - say their opinion is unchanged. Women (44 percent) are more likely than men (36 percent) to have a worse opinion of Trump as a result of his comments.
More broadly, just 15 percent of voters think Trump respects women a lot, and 40 percent think he doesn't respect them at all. In contrast, 53 percent think Clinton has a lot of respect for women.
Forty-six percent of women overall, and nearly half of women age 65 and older, say Trump does not respect women at all.
The percentage of women who say Trump doesn't respect women at all has risen from 31 percent in September to 46 percent today.
Trump's comments about women have initiated the withdrawal of support by a number of prominent Republican Party leaders and elected officials. Three in four registered voters – as well as three in four Republican voters – say these repudiations will have no effect on their vote one way or the other. But 20 percent of Republicans say this will make them more likely to support Trump.
Trump has repeatedly referred to former President Bill Clinton's conduct with some women in the past, as well as how Hillary Clinton responded to her husband's extramarital activities. Two in three voters do not think Bill Clinton's extramarital activities and Hillary Clinton's response should be a part of the presidential campaign, though most Republicans differ with Democrats and independents on this matter.
Hillary Clinton's Wall Street Speeches
Voters are divided as to whether Hillary Clinton should release the texts of her speeches to Wall Street donors - something Donald Trump has made a condition to the release of his income tax returns. 52 percent of registered voters think it's necessary for Hillary Clinton to release the texts of her speeches, while 45 percent do not. Most Republicans and independents think Hillary Clinton should release these speeches, while most Democrats don't think it's necessary.
On the heels of the leaked excerpts of Clinton's Wall Street speeches, nearly seven in 10 voters say those have no effect on how they view Clinton. A quarter say they think worse of her, rising to 40 percent among Republicans.
Even among voters who have heard or read a lot about the speeches, six in 10 say the excerpts do not change their opinion of her.
It should be noted that more voters nationwide have heard or read at least something about the Access Hollywood recording (85 percent) than have heard about the leaked emails reportedly containing Clinton's speeches (51 percent).
Trump's Tax Returns
Trump has not released his tax returns, and most voters think he should. Fifty-nine percent think it's necessary for him to release his returns, including majorities of Democrats and independents. Partisanship is at play here , as most Republicans don't think Trump needs to release his tax returns. These percentages have changed little from a month ago.
Clinton's Email Controversy
Most voters think Clinton did do something wrong when she set up a personal email address and server for work while she was Secretary of State, including 42 percent of voters who think what she did was illegal. While just 11 percent of Democrats think Clinton's actions were illegal, this rises to 45 percent among independents and 72 percent among Republicans.
Candidate Qualities
In leaked excerpts of Clinton's speeches, she references the need for having both a public and private stance on issues, and voters view her generally as not being forthright in her views. About two in three voters think Clinton says what people want to hear, while just 34 percent think she says what she believes. In contrast, 59 percent think Donald Trump says what he believes.
Both candidates are viewed negatively on a number of characteristics: majorities of voters think neither is honest and trustworthy, and more than half of voters think neither candidate shares their values. Half of voters think Clinton does not understand their needs and problems, or have good judgment – but around six in ten say those things about Trump.
Overall, both candidates continue to be viewed far more negatively than positively by voters.
Three out of four voters say they watched last week's presidential debate. Most debate watchers said the debate had no effect on their views of Clinton, and half said their views of Trump were unchanged. But one in three voters who watched said their view of Trump worsened as a result of the debate.
The Candidates on the Issues
Voters see Clinton as better at handling immigration (51 percent) and foreign policy (59 percent), and now she has a clear lead on managing the threat of ISIS (50 percent - 44 percent). Trump has a slight edge managing the economy and jobs (49 percent - 47 percent). Two weeks ago, Trump had a slight edge on handling ISIS and a larger lead on handling the economy.
The Vice Presidential Candidates
Slightly more voters now have an opinion of both vice presidential candidates than did so last month, before the two candidates faced off in their debate. Voters' views of Tim Kaine are now slightly more negative than positive, but half still don't have an opinion of him. In contrast, more voters have a favorable opinion of Mike Pence than an unfavorable one, with 39 percent undecided.
The 2016 House Vote and Views of the Party
With control of the Congress at stake in this year's election, some Republican leaders have expressed concern about the effect of Donald Trump's candidacy on down ballot races. Right now, likely voters lean towards voting for a Democrat (50 percent) over a Republican (45 percent) for their representative to the House if the election were held today.
Overall opinion of the Republican Party is largely negative but also largely unchanged among registered voters compared to July, with 61 percent now viewing the GOP unfavorably. Meanwhile, views of the Democratic Party have improved. While a slight majority of voters had an unfavorable opinion of the Democrats in July, today opinion is divided.
---
This poll was conducted by telephone October 12-16, 2016 among a random sample of 1,411 adults nationwide, including 1,189 registered voters. Data collection was conducted on behalf of CBS News by SSRS of Media, PA. Phone numbers were dialed from samples of both standard land-line and cell phones.
The poll employed a random digit dial methodology. For the landline sample, a respondent was randomly selected from all adults in the household. For the cell sample, interviews were conducted with the person who answered the phone.
Interviews were conducted in English and Spanish using live interviewers. The data have been weighted to reflect U.S. Census figures on demographic variables.
The error due to sampling for results based on the entire sample and the sample of registered voters could be plus or minus three percentage points. The error for subgroups may be higher and is available by request. The margin of error includes the effects of standard weighting procedures which enlarge sampling error slightly.
The sample of likely voters is modeled among registered voters (N=1,189), assigning each respondent a probability of voting based on their responses. The margin of error for the sample of likely voters is plus or minus three points. This poll release conforms to the Standards of Disclosure of the National Council on Public Polls.
Thanks for reading CBS NEWS.
Create your free account or log in
for more features.