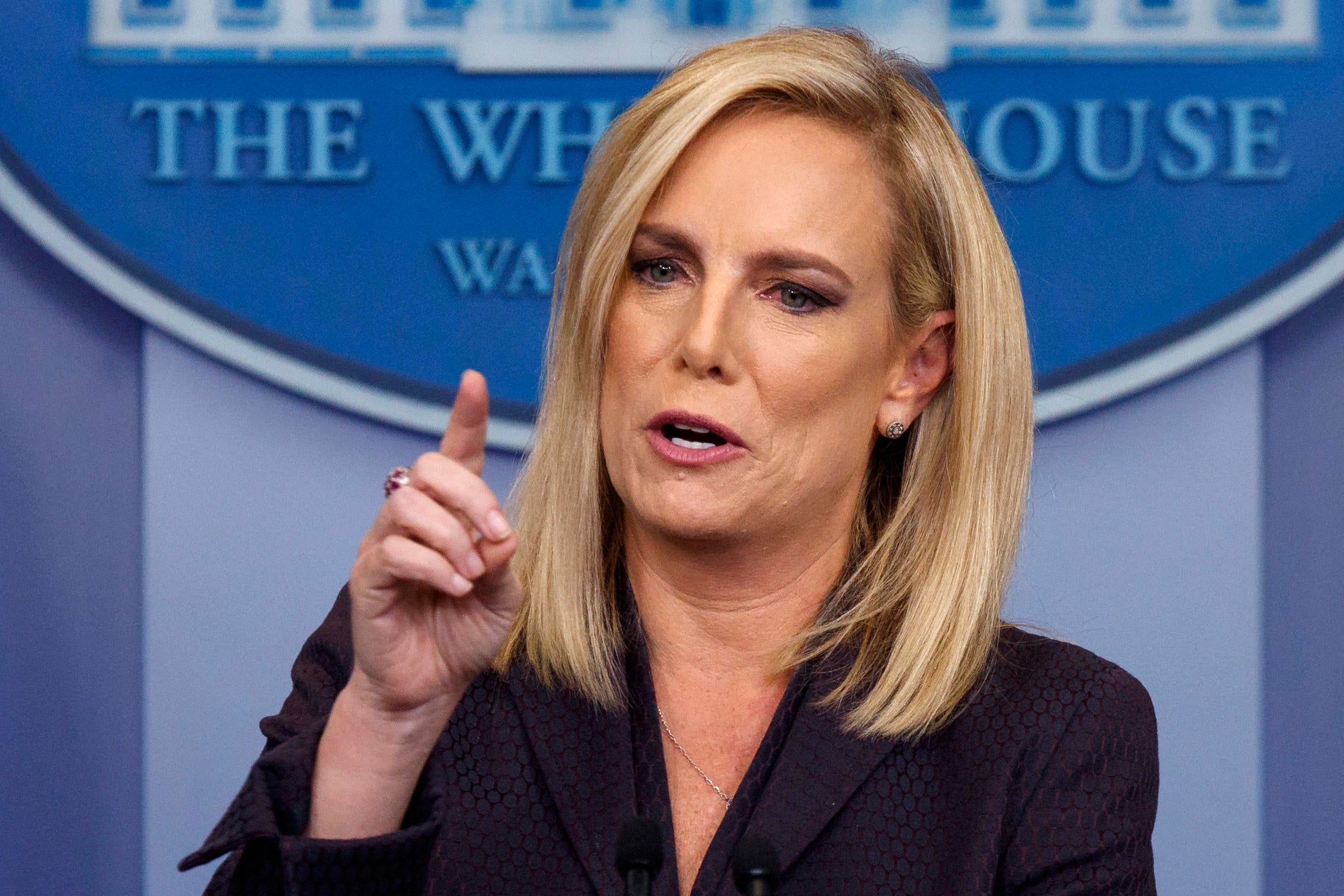 Trump will deploy National Guard to southern border, DHS secretary says
Department of Homeland Security (DHS) Secretary Kirstjen Nielsen said that President Trump, DHS and the Department Of Defense, working alongside governors of each state, will deploy the National Guard to the U.S.-Mexico border.
Mr. Trump will sign a proclamation certifying his intent Wednesday, Nielsen said during the White House briefing. However, the president doesn't have unilateral authority to send National Guard troops to the border. That must be done in a memorandum of agreement in conjunction with the governors of the border states, and the numbers of guardsmen are still being negotiated.
"Border security is homeland security, which is national security," she told reporters.
The National Guards' duties would include aerial surveillance and support of existing border patrol agents but not apprehensions.
Nielsen said Mr. Trump's move comes in response to Congress's failure to pass strict border security legislation or provide proper funding for Trump administration immigration initiatives. She was unable to provide a cost estimate for the deployment project.
"Unfortunately – time and again – Congress has failed to act. Worse still, some members of Congress have continually opposed efforts to secure the border," she said.
Nielsen said migrants seeking refuge in the United States, particularly those hailing from Central America who then travel through Mexico, are taking advantage of "loopholes" to seek political asylum in the United States.
"While we have been apprehending aliens at the border with historic efficiency – these illicit smuggling groups saw that our ability to actually remove those who come here illegally did not keep pace," Nielsen said. "They saw that there were loopholes they could exploit to avoid detention and removal."
Soon after a Fox & Friends segment that aired on Easter Sunday, Mr. Trump expressed vehement disapproval, both on Twitter and in recent diplomatic meetings, of the migrant caravans traveling through Mexico and approaching the United States' southern border.
These caravans, which are lead by Pueblos Sin Fronteras, which translates in English to "people without borders," have guided asylum seekers north through Mexico since 2010. While the caravan contains roughly 1,100 people, most from Honduras, the Mexico director of Pueblos Sin Fronteras estimates that fewer than 100 marchers would attempt to cross into the United States, with the majority attempting to stay in Mexico.
"I think it has everything to do with protecting this country and I don't think this should come as a surprise," White House press secretary Sarah Huckabee Sanders said in response to a question asking if Mr. Trump has acted on the issue because of the Fox & Friends segment.
Thanks for reading CBS NEWS.
Create your free account or log in
for more features.