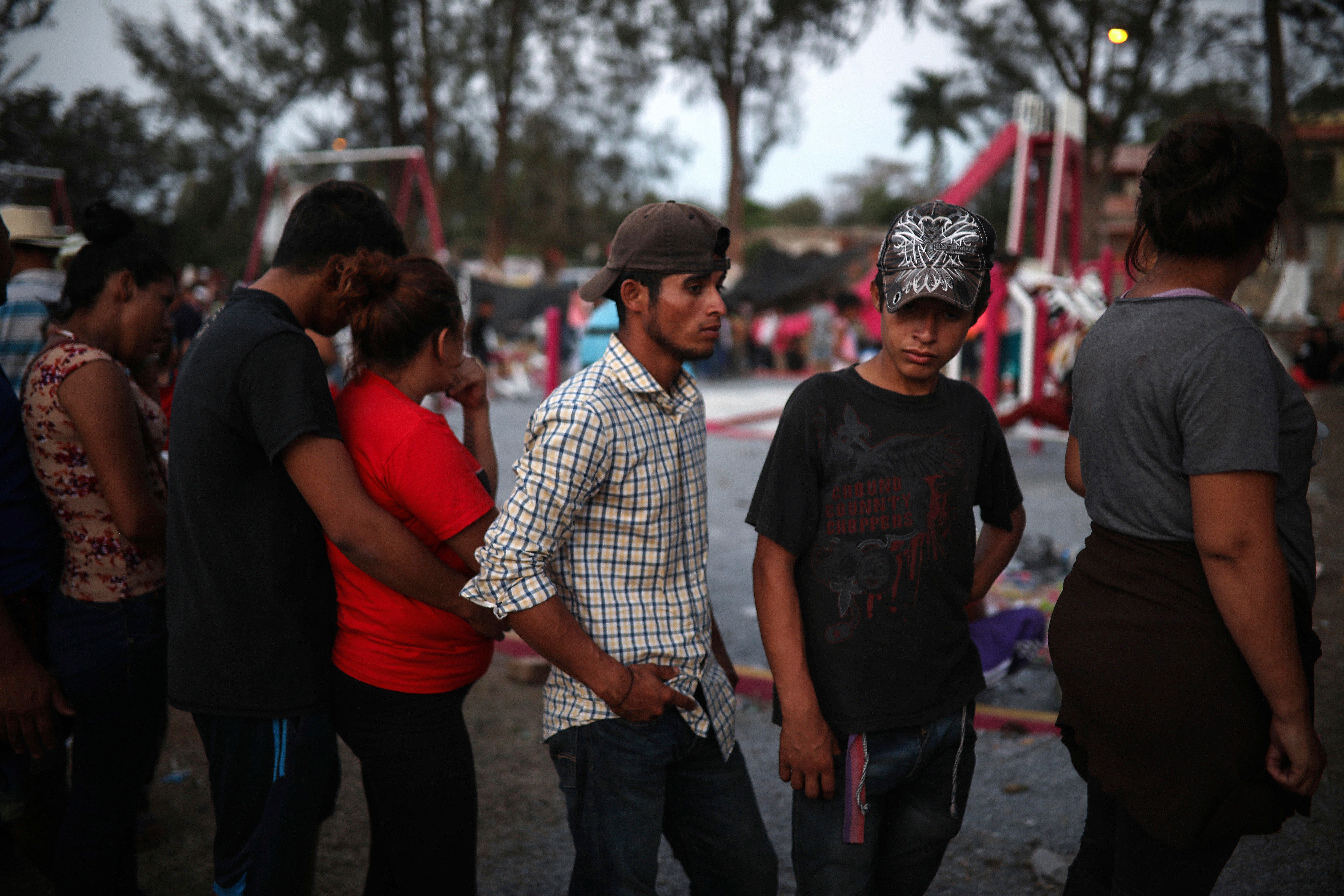 What to know about the migrant caravans
Since Easter Sunday, President Trump has been tweeting and commenting about a migrant caravan that has been making its way from Central America through Mexico. It "had better be stopped before it gets here," he tweeted Tuesday, threatening NAFTA negotiations and foreign aid. He has blamed Mexico and the Obama administration.
"President Obama made changes that basically created no border. It's called catch-and-release," Mr. Trump said during a meeting with Baltic leaders Tuesday. "You catch them, you register them, they go into our country and we can't throw them out. And, in many cases, they shouldn't be here." He even suggested that he would stop the caravan at the border with U.S. military force.
Mr. Trump also claimed Tuesday that the Mexican government had acted to break up the caravan because he had insisted on it. "I've just heard that the caravan coming up from Honduras is broken up, and Mexico did that," the president said. "And they did it because, frankly, I said, 'You really have to do it.'"
Mr. Trump has tweeted about the caravans four times, as of Tuesday afternoon. He wrote his first tweet on the matter Easter morning: "Border Patrol Agents are not allowed to properly do their job at the Border because of ridiculous liberal (Democrat) laws like Catch & Release. Getting more dangerous. "Caravans" coming. Republicans must go to Nuclear Option to pass tough laws NOW. NO MORE DACA DEAL."
On Monday, he blamed Mexico: "Mexico has the absolute power not to let these large "Caravans" of people enter their country. They must stop them at their Northern Border, which they can do because their border laws work, not allow them to pass through into our country, which has no effective border laws....."
And he added, "Honduras, Mexico and many other countries that the U.S. is very generous to, sends many of their people to our country through our WEAK IMMIGRATION POLICIES. Caravans are heading here. Must pass tough laws and build the WALL. Democrats allow open borders, drugs and crime!"
Finally, very early Tuesday, he threatened NAFTA and foreign aid to Honduras, as well as any other countries involved. "The big Caravan of People from Honduras, now coming across Mexico and heading to our "Weak Laws" Border, had better be stopped before it gets there. Cash cow NAFTA is in play, as is foreign aid to Honduras and the countries that allow this to happen. Congress MUST ACT NOW!"
The caravan was apparently breaking up on Tuesday, according to Homeland Security Secretary Kirstjen Nielsen, who tweeted, "I've been advised by Mexican officials that the caravan is dissipating. GOM (Government of Mexico) has repatriated several hundred participants to Central America and is offering refugee status to others who qualify. I thank the GOM for their partnership on this and other security issues."
The caravan may have come to Mr. Trump's attention during a Fox & Friends segment on Easter Sunday, which noted that an estimated 1,200 migrants were marching toward the U.S.
Fox's guest, Brandon Judd, who is the president of the National Border Patrol Council and a staunch Trump supporter, accused the Mexican government of "assisting these individuals coming up to the United States," of "helping them get to our border," even though, Judd said, they lack passports or other documentation.
Judd also claimed that the 2017 dropoff in illegal crossings -- the "Trump effect," he called it -- has disappeared because the Obama holdovers in the border control agencies haven't followed through on Mr. Trump's vision.
These immigrants, he warned, wait in the shadows and create "havoc and chaos."
"How many times do we have to hear stories of United States citizens being killed by people that are here illegally before we actually do something," Judd wondered, a reference to the shooting of Kate Steinle by an immigrant who had been deported from the U.S. five times.
During the segment, Judd also railed against Republicans in Congress and advised them to "go the nuclear option" so that they would be able to bypass Democrats and "pass laws to end the catch-and-release program that will allow us to hold [immigrants] for a long time." Shortly after the segment, Mr. Trump issued his tweet calling on Republicans to use the nuclear option "to pass tough laws."
The caravan
The caravan is a Central American migrant refugee group being helped by Pueblo Sin Fronteras, an organization that has provided humanitarian aid "to migrants and refugees on the move" for about 15 years, according to its website.
"Our dream is to build solidarity bridges among peoples and turndown border walls imposed by greed," the site reads. Pueblos Sin Fronteras, or "people without borders," did not immediately respond to CBS News for comment.
The group is composed of about 1,100 Central Americans who are mainly from Honduras, where living conditions are desperate for most of the population. Two-thirds live in poverty, the country suffers from the worst inequality in Latin America and among the worst in the world, according to the World Bank. Honduras is also plagued by rampant crime, with one of the highest murder rates in the world.
With some on foot and others by vehicle, the migrant caravan began its journey on March 25 from the southernmost tip of Mexico and marched north, although most planned to try to stay in Mexico. In fact, one of the caravan's organizers, Mexico director of Pueblo Sin Fronteras Irineo Mujica, told the BBC that he estimates that fewer than 100 marchers would attempt to cross into the United States.
The caravan stalled in Oaxaca on Monday, some 800 miles south of the U.S. border. The Associated Press reported that the migrants were waiting for advice on further transit or filing for humanitarian visas in Mexico.
The migrants travel in large groups both for safety and in an attempt to draw attention to the dangerous conditions migrants face during their journey. They plan to stop in the state of Puebla, in central Mexico, where Pueblo Sin Fronteras will hold law workshops aimed to teach the migrants about seeking asylum or other legal protections in both the United States and Mexico.
"We are not anarchists," Mujica told the New York Times in an interview Monday. "We try to help people to know their rights, things that we as human beings should be doing, try to advocate for human, sensible solutions."
CBS News' Blair Guild contributed to this report
Thanks for reading CBS NEWS.
Create your free account or log in
for more features.