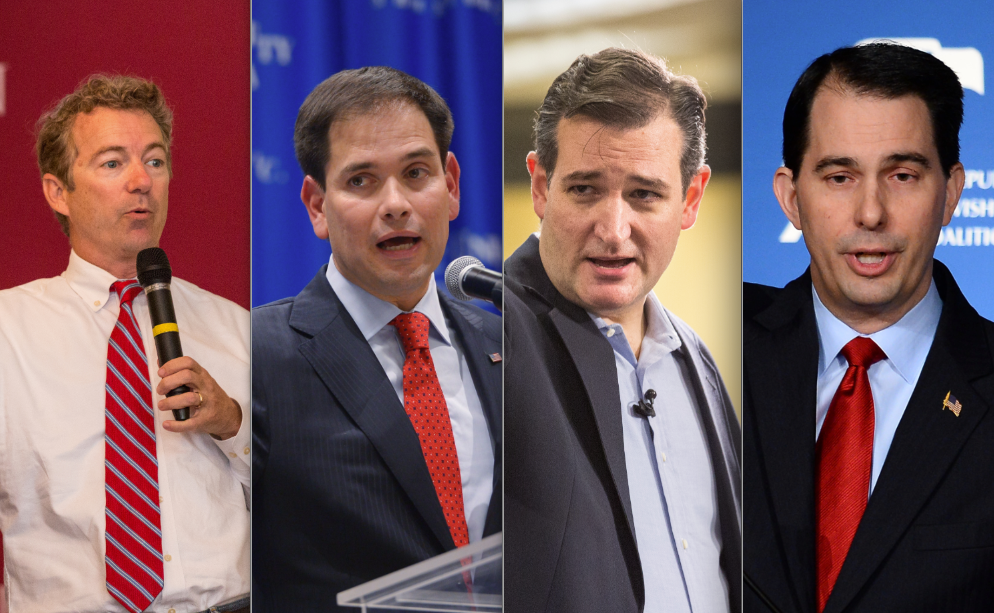 Likely GOP candidates flock to Koch Brothers' summit in California
As they gear up for a costly 2016 presidential race, at least four potential Republican candidates have been invited to California this weekend to rub elbows with conservative donors at a summit hosted by billionaire industrialists Charles and David Koch, the New York Times reports.
Sens. Marco Rubio, R-Florida, Ted Cruz, R-Texas, and Rand Paul, R-Kentucky, are expected to attend the gathering, which will be held at a resort in Palm Springs. Wisconsin Gov. Scott Walker and former Florida Gov. Jeb Bush were also invited, but Bush declined to attend, citing a scheduling conflict.
In recent years, the Koch brothers, who lead Koch Industries, the second largest privately held company in America, have steadily built one of the nation's most powerful conservative influence networks, setting up advocacy groups like Americans for Prosperity (AFP) to push a free-market, low-regulation message.
The brothers and their affiliated groups have poured hundreds of millions of dollars into the past few election cycles, largely on behalf of conservative causes and candidates. Democrats have sought to make conservative bogeymen out of the Kochs, portraying them as rapacious industrial barons hoping to buy elections and game the system for personal gain.
Republicans, though, have been grateful for the additional firepower on their side. And as 2016 approaches, this weekend's summit gives potential Republican candidates a valuable opportunity to impress some of the GOP's most profligate donors.
"The invitation to the seminar is a big deal," Phil Cox, the former number two at AFP, told the Times. "It's important entree to those donors and potential donors, and having Charles or David or other leaders in the network say good things about any particularly candidate at one of these seminars is a big deal."
Each of the candidates attending - and several who aren't - have a unique pitch to offer to the Koch Brothers, whose brand of conservatism leans strongly toward fiscal issues, emphasizing laissez-faire capitalism and downplaying social issues and foreign interventionism.
Paul shares an ideological kinship with Charles Koch, several Republicans with ties to the brothers told the Times. He's embraced small-government fiscal policies while emphasizing causes like criminal justice reform and fewer foreign entanglements that resonate with Koch's libertarian leanings.
Walker's fights with public employee unions in his state, which generated an unsuccessful effort to recall him from office in 2012, have endeared him to grassroots conservatives and caught the attention of donors in the Kochs' orbit.
Rubio, too, has earned some attention, speaking at several Koch-affiliated events in the past several years.
Of course, the men at this weekend's summit won't be the only people attempting to curry the Kochs' favor over the next several years. Gov. Chris Christie, R-New Jersey, has strong ties to David Koch, the Times reports, and the two men consulted regularly during the 2014 election cycle, when Christie was the head of the Republican Governors Association.
And Indiana Gov. Mike Pence also has extensive ties to the Koch network. Many of his former staffers now work with Koch-affiliated groups, the Times Reports, and he's seen as a viable 2016 option - a Midwestern governor who could excite the base while satisfying the establishment.
One potential candidate who notably wasn't invited to this weekend's gathering was Mitt Romney, the 2012 Republican presidential nominee who recently signaled his interest in a repeat bid in 2016.
It's not clear how much influence the Koch brothers and their constellation of advocacy groups are prepared to exert on the Republican primary process. Some insiders expect them to stay out of specific races and concentrate their efforts on shaping the candidates' platforms through issue advocacy, the Times reports.
But it's also possible that one of the brothers or senior officials in their network could endorse a specific candidate or spend money attacking another.
Whoever ends up the beneficiary of their efforts, the Koch brothers are undoubtedly poised to be big players in the next presidential race. Tim Phillips, the president of AFP, said in a speech on Thursday that the group is preparing an "ambitious, steady effort" for the upcoming election cycle, the Times reports.
"We're going to be there throughout this year, and the next year in 2016 and beyond," he said.
Thanks for reading CBS NEWS.
Create your free account or log in
for more features.