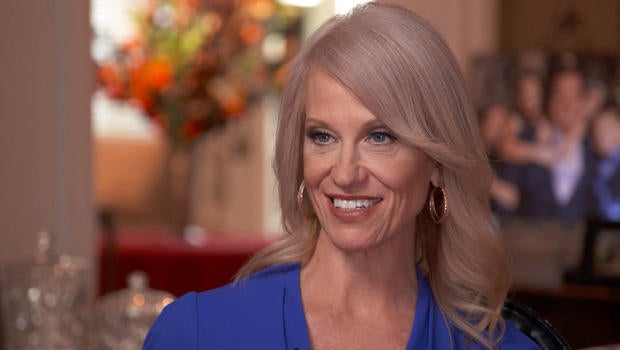 Kellyanne Conway: Counselor and target
Kellyanne Conway played a crucial role in Donald Trump's election to the presidency. And she continues to have a high-profile job in his White House (with the occasional day off). Norah O'Donnell of "CBS This Morning" has a Sunday Profile:
Last Sunday, Kellyanne Conway wasn't defending her boss, President Donald J. Trump, on TV. She was at church, attending mass with her husband, attorney George T. Conway, and their four children, along with some friends.
Breakfast at a diner came next, followed by some quality family time at their northern New Jersey home -- a brief return to what life used to be like.
But these days, her Sunday routine is far from normal. The new normal includes full Secret Service protection.
"Why? Have there been threats?" asked O'Donnell.
"Yes," Conway replied. "I have 24/7 Secret Service protection."
"Most White House staffers do not."
"Do not. I find that to be very unfortunate, and obviously if they didn't need to be there, they wouldn't be."
But they do need to be here. The unusual round-the-clock protection was granted to guard President's Trump's high-profile, highly controversial White House counselor.
O'Donnell said, "You were going to stay on the outside and make a lot of money. Why did you go inside the White House?"
"It's a great question, Norah. Every time I see people say, 'She sold her soul,' I'm thinking, 'Wow.' I was making in one and a half speeches -- a couple hours out of my life -- what I will make this year in the White House as counselor to the president."
Of course, before she counseled President Trump, the 50-year-old attorney and businesswoman, who founded her own polling company, became the first woman to manage and win a presidential race.
And it's because she's a woman, says Conway, that she finds herself a constant target.
Take wearing that Revolutionary-style coat at the inauguration (left). She responded to critics by tweeting: "Sorry to offend the black-stretch-pants women of America with a little color."
"Let's agree that it was silly to focus on your outfit, that's fine," O'Donnell said. "But who are the 'black stretch pants women'? I'm actually honestly asking, 'cause I don't know what the answer is!"
"Goodness, I mean, walk through an airport, look at a lot of America today. They don't wear anything that snaps, buttons or zippers. And that's okay. That's their business. But why criticize what I wear?"
Fast forward to this past Monday, when she was photographed kneeling on a couch in the Oval Office.
"We're constantly going back to where I sat, the presumptive negativity of what I wore or what I said, and I do think it's a triple-standard, I hate to tell you," Conway said.
"And what does that mean, a 'triple-standard'?"
"Well, people talk about the double-standard of what a woman wears, not what she said or what she was doing X, Y and Z. The triple standard is that, you know, conservative women are held to -- you know, are just cast aside many times by traditional feminist outlets and individuals who control a great deal of the media.
"I mean, I can't let the haters get to me or to the president. What he's doing here is so big."
Then again, for some, it's not what she's wearing, or doing; it's about what she has said.
"I bet it's brand new information to people that President Obama had a six-month ban on the Iraqi refugee program after two Iraqis came here to this country, were radicalized, and they were the masterminds behind the Bowling Green Massacre."
As is now well known, there was never a Bowling Green Massacre. She called it an honest mistake.
But there was also this remark on NBC's "Meet the Press" about the size of the crowd on Inauguration Day: "You're saying it's a falsehood. And they're giving -- Sean Spicer, our press secretary -- gave alternative facts to that." [To which Chuck Todd replied, "Look, alternative facts are not facts; they're falsehoods."]
O'Donnell asked, "Did you take a credibility hit because of what happened with that, what happened with the Bowling Green Massacre, and what happened when you talked about alternative facts? Did that hurt your credibility?"
"Well, I think the question presumes that it did," she responded. "And so, now you've got that out in the ether and the one or two -- "
"Actually, you can say no. I didn't presume anything."
"No. What people should do, what I've always done with others, is look at the measure of someone's career. I've been a pollster for two decades plus. And I've worked very hard to speak candidly and truthfully."
"What are 'alternative facts'?"
"Well, it was 'alternative investment and additional facts.' And that got conflated. But, you know, respectfully, Norah, I see mistakes on TV every single day and people just brush them off. Everybody thinks it's just so funny that the wrong movie was, you know, heralded as the winner of the Oscars. You say, 'Well, that's just all in good fun, things happen.' Well, things happen to everyone."
Conway has also taken flack for promoting Ivanka Trump's fashion line while in the White House. ["I'm gonna give a free commercial here. Go buy it today, everybody! You can buy it online" she said on Fox News.]
White House Press Secretary Sean Spicer would later say she was "counseled" for that. Then this past week, the White House said Conway acted "without nefarious motive or intent."
O'Donnell asked, "Did you feel bad about what happened?"
"I always feel badly because I'm, you know, Catholic guilt, mother guilt, maternal guilt, counselor guilt," Conway laughed. "It's all there, of course. Of course I felt badly about what happened because I am here to serve the president, who's here to serve the people."
And she does it from one of the most coveted offices in the West Wing, once occupied by Valerie Jarrett, Karl Rove and former first lady Hillary Clinton.
The jacket is hanging up there. "It may go into my own private museum one day, along with the screen shot of my cellphone, 2:30 a.m. on election night, from Huma Abedin, who was calling on behalf of Secretary Clinton to call and concede to and congratulate Donald Trump on his victory."
O'Donnell visited Conway's office last Wednesday, the morning after President Trump's address to Congress, one that seemed to mark a departure from the fiery stump style Americans have grown accustomed to. Was the speech a reset button? "No. I think the reset button is way overdone," Conway said. "I mean, this is a progression. The man has been on the job for five weeks."
"What went into this speech that changed the way he's communicating?" O'Donnell asked.
"Well, first of all, I was part of the process. Others did the bulk of the work. But I will tell you that it is President Trump who was writing and rewriting entire passages. And he really wanted it to be in his voice. And he works with, predominantly, a brilliant speechwriter, Stephen Miller, who is able to really reflect the president's tone and content. And then I think you heard much of Ivanka Trump's voice in that speech."
Conway says her job includes press and communications. And she sees herself as a conduit -- a person who delivers advice and data to the president.
She arrives in the morning at 7:30. The time at which she leaves varies. "Not early," she said. "I mean, it really varies. Usually not before 8:00, 9:00.
"But I have a very hermit-like existence here, and part of it is because of the Secret Service detail, part of it is because if I want to go out with a friend for dinner it's photographed and it's talked about and it's, 'What did she eat? What did she do? What was she wearing?' And it's kind of weird. I mean, I'm not a celebrity. I'm just a pollster who happened to become a campaign manager. And I've been trying to keep a much lower profile here."
Which is why, she tells us, we're seeing less of her these days. She says she's trying to cut back on screen time.
She says, "People should not look at me as somebody who 'goes on TV.' That was five percent of what I did. Somebody once wrote a very flattering article and said -- they had to put one negative thing in there, I guess -- 'You know, maybe she's not that involved in everything because she's on TV.' It's like, 'No, I'm on TV when they're all still sleeping or watching me from bed.' I'm already there. Been up for two hours doing that. Oh, and I'm there late at night."
That may be just as well, because late-night hasn't been kind to Conway. Not long ago, "Saturday Night Live" depicted her as a stalker:

"Look, people really got outraged about that particular skit," Conway said. "I had people right, left and center coming to my 'defense,' saying it was over the top and it's all so -- but it's also untrue."
So who is Kellyanne Conway? She was raised in a blue-collar New Jersey town. Her parents divorced when she was young.
"I grew up in a house of all women. My mother, her mother and two of my mother's unmarried sisters raised me. So these four Italian Catholic women raised me in this house. And that has benefited me tremendously, because there's a certain humility that will never go away."
And while President Trump uses social media as an important tool to communicate, and sometimes attack, Conway tells us she considers it a cesspool, in part because of what her children see on it.
"Because it hurts my kids more than anything," she said. "They all read. They're all online reading."
"What do your kids say?"
"'Mom, why would people say X about you or Y about you or Z about you?' I say, 'Well, that's their unconsidered opinion. They don't want Donald Trump to be president. They don't want me to be there with him. They don't want any of us to be there.' I mean, we're all criticized and they try to pit us against each other, which is completely ridiculous.
"But I tell them, 'Say a prayer for those people,' because something's got to really bother you that you feel so bent on criticizing someone you hardly know for doing a job that you can't begin to understand."
Her husband, George Conway, who may also join the Trump administration as the nation's next Solicitor General, is much more camera-shy.
O'Donnell asked, "And what do you think of watching Kellyanne through this whole thing?"
"She's a fighter," he said. "She's tough. I, you know, don't like everything that's been said about her, to be sure. It makes me a little angry. But it's part of the fact that she's out there for the president and they're going to attack her. They're going to attack whoever they see standing up for the president."
O'Donnell asked Kellyanne, "You talk so passionately about public service and the role that you're crafting in the White House. I mean, that naturally evolves in something -- wanting to run yourself for office."
"But I feel like I'm in a really good place, Norah, as counselor to the president, to have the type of impact that usually motivates people to run for office. It's not just the fire in your belly anymore; you have to have the bile in your throat. And this is why I think many women do not run for office. Many good men and women who would -- "
" 'Bile in your throat'?"
"Yeah, just to swallow so much, that the country looks at you through this negative lens and corruption and cronyism and you're lying and you want money and you're motivated by power and capital and, you know, the money that can come to you, the wealth that can come to you. And it's just, there are really good men and women out there who truly want to serve. I've worked with them in my polling business for decades. And some of them make it and most do not."
For now, the Conways will soon be packing up and heading to Washington. Although not everyone is thrilled about it. Her children joked about signing a petition: "Yeah, to not let any of our family move."
"Go sign the petition."
"Stop the Conways!"
"Hashtag stop the move!"
Respected by some, denounced by others, Kellyanne Conway says there's only one thing that could make her rethink her future alongside the man she helped make president.
O'Donnell asked, "Is there anything that would cause you to want to leave the White House?"
"Yes, my children," she replied. "They're having the hardest time with this. This is all new for us. This is not something I've sought. I'm not a famous person on TV. It's just different to not have mom there, but it was a decision we made as a family, and we're going to move them here either way, because I'm here to support the president."

For more info:
Thanks for reading CBS NEWS.
Create your free account or log in
for more features.