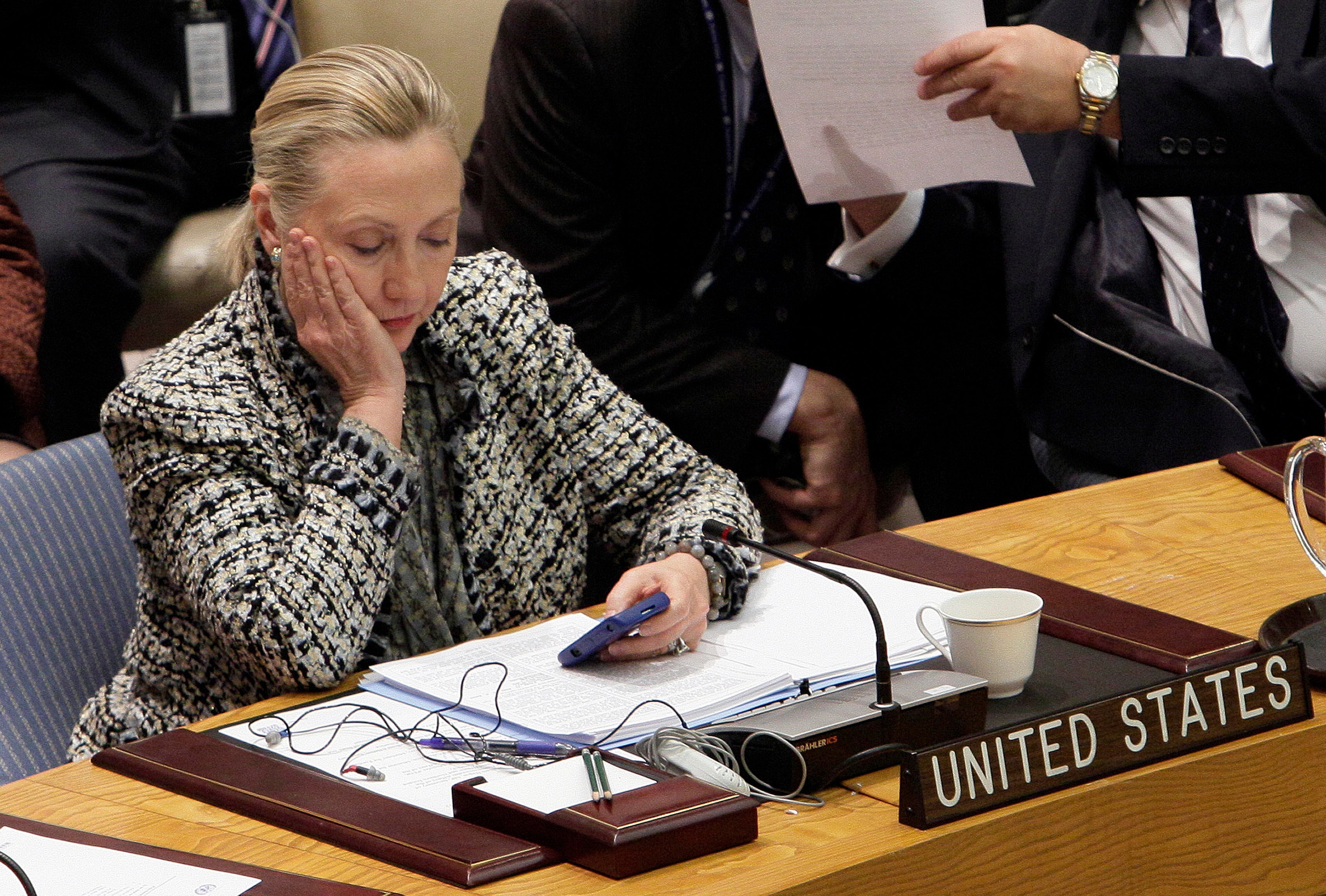 Just one new Benghazi-related email found in trove of FBI documents
The State Department told a federal judge in a filing early Wednesday that it has found just one document -- of the approximately 15,000 documents recovered by the FBI in the course of its investigation into Hillary Clinton's email server -- relating to the Benghazi attack that should have been turned over as part of a government records request.
Last month, the FBI handed over to the State Department about 15,000 records that Clinton's legal team had previously failed to turn over. A federal judge pressed the State Department to review the documents and determine whether any should have been disclosed as part of a Judicial Watch lawsuit seeking emails related to the Benghazi attack on Sept. 11, 2012.
On Aug. 30, the State Department said it had identified around 30 documents that could have addressed the Benghazi case. At the time, spokesperson John Kirby cautioned that some of those emails may have been duplicates of materials already publicly released or were items that did not qualify as public record.
On Wednesday, the State Department told a federal court that just one new document was found.
"There is one responsive record that is not duplicate of the documents provided by former Secretary Clinton," the department said in a filing. There were also two other responsive records that are "near duplicates" to email provided by former secretary Clinton.
The single new email was a laudatory message from then-U.S. Ambassador to Brazil Thomas Shannon, forwarded to Clinton by a top State Department aide after the secretary testified before a 2013 Senate panel about Benghazi.
"I watched with great admiration as she dealt with a tough and personally painful issue in a fair, candid and determined manner," Shannon wrote of Clinton in an email to Cheryl Mills' official State department account. "I was especially impressed by her ability to turn aside the obvious efforts to politicize the events in Benghazi, reminding Americans of the tremendous sacrifice made by Chris Stevens and his colleagues but also insisting that our ability to play a positive role in the world and protect U.S. interests requires a willingness to take risks."
State Department spokesperson Mark Toner said of the new document: "The email does not change the facts that have previously been made clear about the Benghazi attacks."
The two "near duplicates" are records of Clinton asking an aide to print out earlier emails.
Republican presidential nominee Donald Trump took aim last month at Clinton over the 30 documents related to Benghazi, signaling that it was one more reason the Democrat should not be elected.
"Another 30 emails were discovered by the State Department that Hillary Clinton failed to turn over – these were emails about Benghazi," Trump said at a rally in Everett, Washington. "It just never ends with the Clintons...It's a rigged system when they did nothing about the crimes that she committed. It's a rigged system. Remember that."
But on Wednesday morning, Clinton spokesperson Brian Fallon sent a tweet touting the latest State Department report:
The Justice Department shuttered its yearlong investigation into the Clinton email case in July, without criminal charges against the Democratic nominee -- but in an unusual move for the FBI, the agency has continued to release documents and notes from the probe ahead of the general election. The agency does not generally release material or make detailed press statements about an investigation in which the subject is not charged.
Earlier this month, the FBI also made public dozens of pages of documents and notes​ from interviews with Clinton and her top aides.
CBS News' Paula Reid contributed to this report.
Thanks for reading CBS NEWS.
Create your free account or log in
for more features.