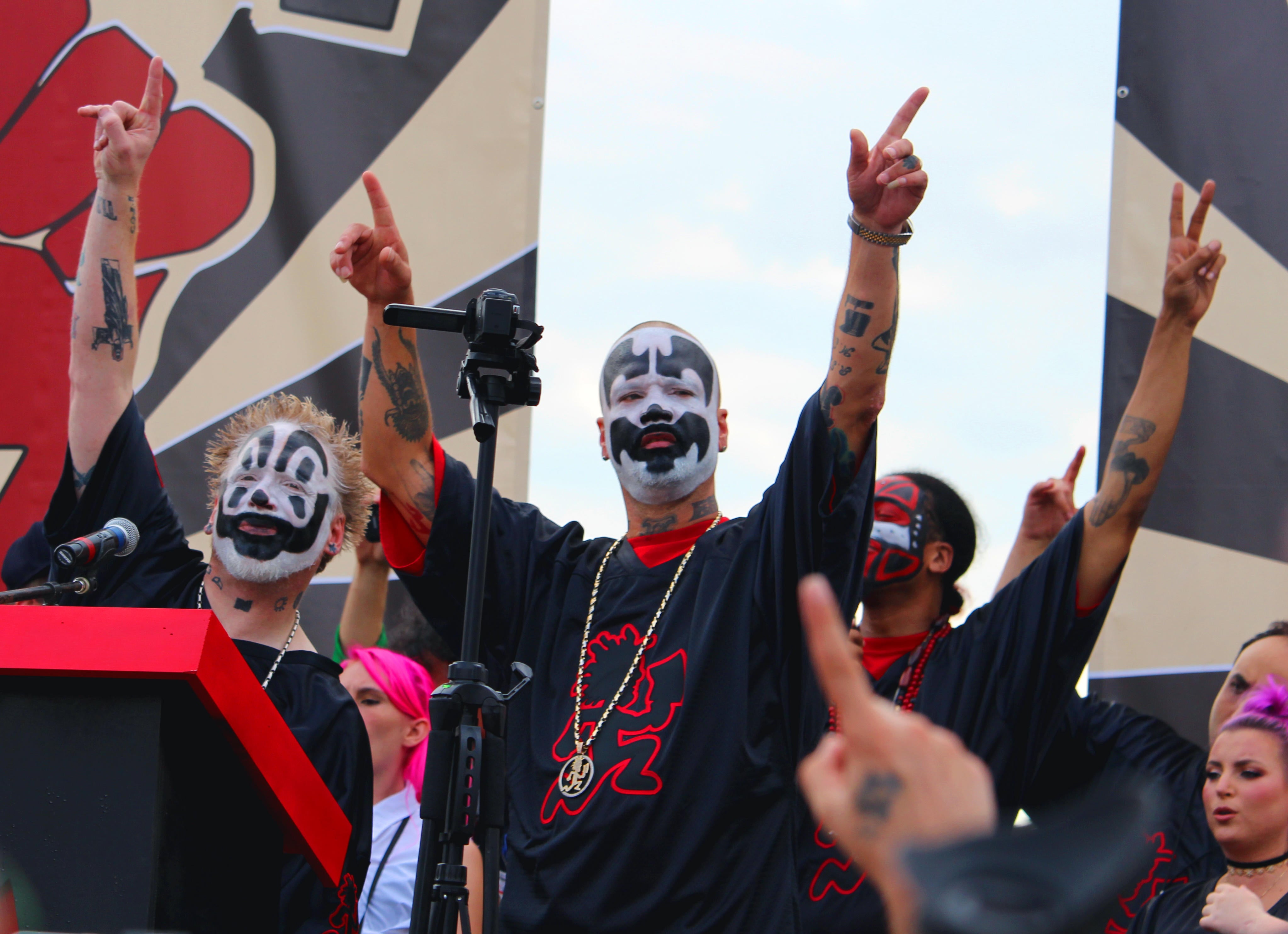 "Juggalos," Trump supporters converge on Washington for dueling rallies
WASHINGTON -- The National Mall has played host to rallies and protests of all sizes, scope and aims through the years, but Saturday it witnessed a convergence of groups most likely unique in the park's history.
Hundreds of so-called Juggalos -- fans of "horrorcore" hip hop duo Insane Clown Posse, known for the face paint some wear to match the band's "dark carnival" aesthetic -- marched as part of a long-planned protest against what they say is discriminatory treatment by law enforcement.
Scheduled more recently, and beginning just a few hours before, a smaller crowd, marked by the red "Make America Great Again" caps ubiquitous among Donald Trump's supporters, rallied in favor of the president's policy agenda
Though the "Juggalo March on Washington" and the pro-Trump "Mother of All Rallies" were on the same day, and at the same place, their aims couldn't have been more different.
The Trump supporters say their event aimed to boost the president's "America First" agenda, which they say will protect "traditional American culture." The Juggalos, far from traditional, say they have been discriminated against and targeted for their support of the Insane Clown Posse, whose lyrics are marked by violent imagery, and whose logo is a man holding a hatchet.
In 2011, the FBI's 2011 National Gang Threat Assessment listed Juggalos as a "loosely-organized hybrid gang," an unusual designation the agency hasn't since used. Though the group wasn't listed in the next two FBI assessments, released in 2013 and 2015, the band says "hybrid gang" designation caused myriad legal, professional and personal problems for hundreds of fans.
As of 3 p.m., there were no arrests on the National Mall related to the protests, according to to the D.C. Metropolitan Police Department and U.S. Park Police.
Organizers of the two rallies regarded each other warily against the backdrop of last month's deadly protests in Charlottesville, Virginia.
At that event, white supremacists bearing Confederate battle flags sparked violence as they protested the city's decision to remove Confederate monuments and memorials from public spaces. Dozens were injured in clashes throughout the day, punctuated by a deadly car attack -- labeled domestic terrorism by Attorney General Jeff Sessions -- that left one dead and many more injured.
A Mother of All Rallies organizer told CBS News that the group will ask any attendees with Confederate flags, Nazi symbols or hateful signs to leave, or put paraphernalia back in their cars. But Juggalo organizers remain on edge about their proximity to the competing rally, said Farris Haddad, an attorney for Insane Clown Posse who was involved in planning the Juggalo March.
"We're concerned for the safety of the Juggalos. The last thing we want is any kind of clashes or violence. We're just here for a peaceful march," said Haddad, known as the "Juggalawyer" to fans of the group, whose music includes anti-bigotry lyrics and a 1992 song called "Rebel Flag" that's critical of Confederate ideology.
"After Charlottesville, we were like, 'Holy (expletive), this could be a problem,'" Haddad said. "[Insane Clown Posse] throws events and concerts every year, and there are never any major issues with violence."
A few members of Antifa arrived on the Mall Saturday, saying they were there to "protect the Juggalos."
The Mother of All Rallies organizer told CBS News that two rallies had been in touch and agreed to be "allies," but Haddad adamantly denied that claim. He said the two groups only conversed on one occasion, when the Juggalos declined an invitation to work together.
The pro-Trump rally features a series of speeches by prominent members of the alt-right movement. Though organizers initially said they hoped to draw "one million patriots," about 10,000 people expressed interest in the event on the group's Facebook page, and organizers said they expected fewer than that to attend.
The Juggalos' event, which officially began at 2 p.m., includes musical performances and speeches by people who say the FBI's gang designation caused issues ranging from the loss of employment and being listed in local gang databases, to targeting by child protective services and even the revocation of probation.
One speaker, Virginia resident Jessica Bonometti, appeared to hold back tears as she recounted losing her job as a probation officer in March 2016, because her superiors learned via Facebook that she was a fan of the Insane Clown Posse.
"So instead of going to work everyday and helping people who have fallen on hard times and are stuck in the criminal justice system, I do nothing at all, because no one will hire me. No one," Bonometti said.
As they got ready to March around the National Mall, Insane Clown Posse frontman Joseph "Violent J" Bruce said the FBI had picked on Juggalos because they are different.
"If they get away with this, if they roll right over us, where exactly does it [expletive] stop?" Bruce asked.
Thanks for reading CBS NEWS.
Create your free account or log in
for more features.