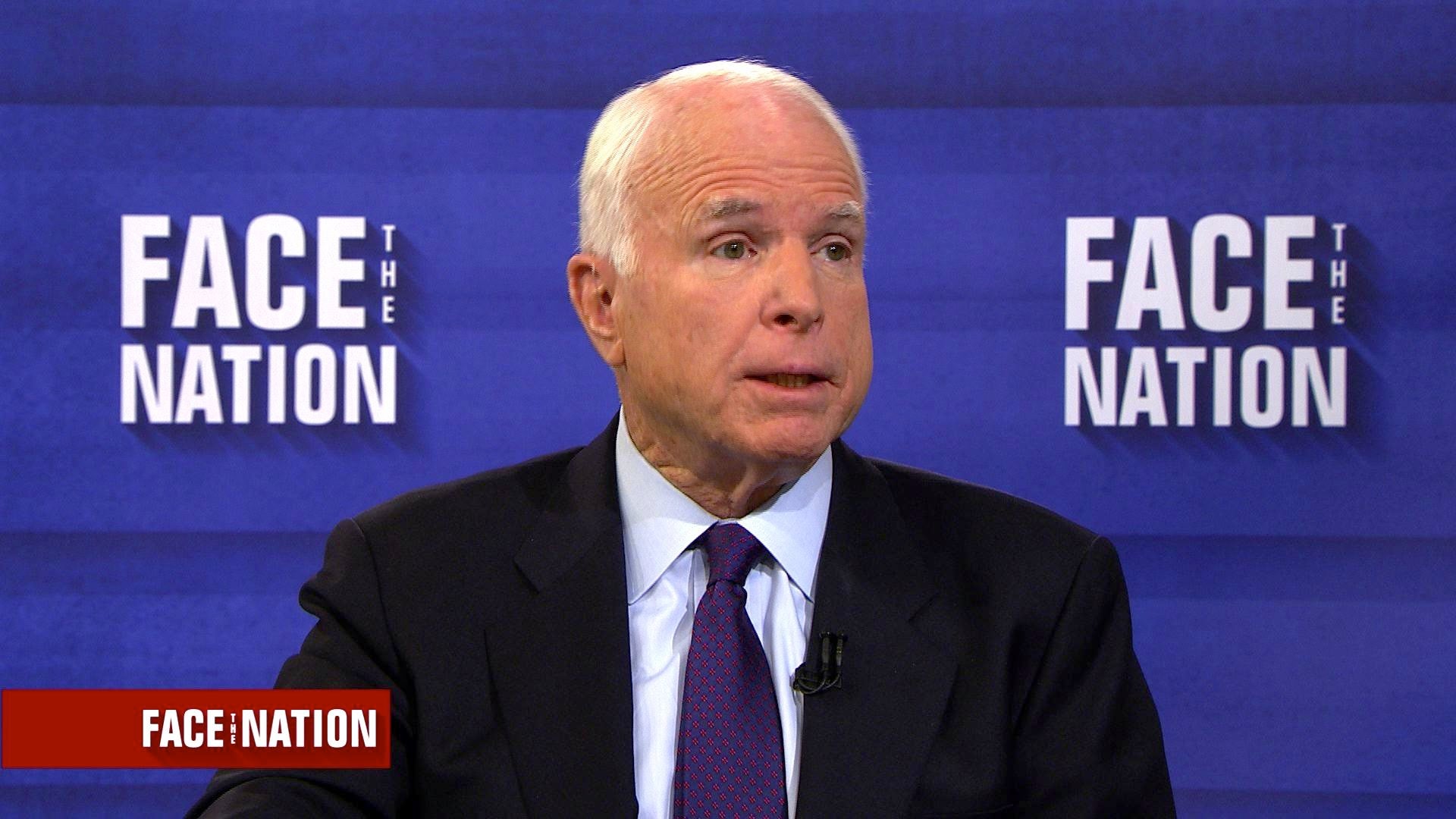 John McCain says President Trump's travel ban will "give ISIS some more propaganda"
Sen. John McCain on Sunday criticized President Donald Trump's ban on immigrants from seven Muslim-majority countries, saying it has been a "confused process" that will only give the terror group ISIS "more propaganda."
"The good news is that it's only got to do with a pause," he told CBS' "Face the Nation. "The bad news is that obviously this process and these conclusions were not vetted."
McCain said that it's important to understand the "ramifications of this kind of action," which has been roundly criticized by foreign leaders.
"The effect will probably in some areas give ISIS some more propaganda," he said, adding that he is particularly concerned about the effect the ban will have on Iraqis -- whose troops are fighting side-by-side with American forces in the battle to retake Mosul.
He also blasted Mr. Trump for failing to consult with federal agencies or any foreign leaders before announcing such a sweeping action. As a result, he said, there's a great deal of "confusion" over the ban itself -- whether it applies to green-card holders, what happens to Iraqis who have been actively aiding the U.S. military, and other issues.
"There's so much confusion out there," he said. "And published reports are that neither the Department of Homeland Security or the Justice Department or others were consulted about this before this decision was made."
McCain said he is "worried" about Mr. Trump's changes this weekend to the National Security Council, which involved adding his senior adviser Steve Bannon to the group going forward.
"The appointment of Mr. Bannon is something which is a radical departure from any National Security Council in history," he said. "...And the role of the chairman of the Joint Chiefs of Staff has been diminished, I understand, with this reorganization. The one person which is indispensible would be the chairman of the Joint Chiefs of Staff, in my view."
He said he has no problem with Mr. Trump's hour-long phone conversation with Russian President Vladimir Putin on Saturday, but noted that U.S. leaders should never forget what Putin's real aims are.
"I think phone calls are fine -- I think that we have to understand Vladimir Putin for what he is," McCain said, citing Putin's annexation of Crimea, his bombing of hospitals in Aleppo and his attempts to "destabilize" other countries, including the U.S.
McCain, who was captured and tortured during the Vietnam War, said he hopes that Mr. Trump's selection of people like Defense Secretary James Mattis means the discussion about bringing back waterboarding and other enhanced interrogation techniques is over.
"I hope, I pray that it's done," he said. "I appreciate Gen. Mattis's comment, and especially Gen. Mattis's comment about what it does to the people who commit the torture -- that's an aspect of this that we probably haven't examined as much as we should."
Thanks for reading CBS NEWS.
Create your free account or log in
for more features.