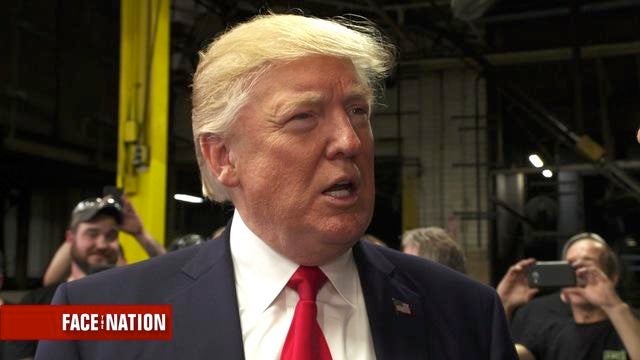 Trump: Putting Gorsuch on Supreme Court "best moment" of first 100 days
President Trump cited the successful confirmation of Associate Justice Neil Gorsuch to the Supreme Court when he was asked about the "best moment" of his first 100 days in office during a recent interview with CBS News' John Dickerson.
"The best moment? Well, I think the Supreme Court Justice -- I've always heard for my life, that if you're president and you put on a Supreme Court Justice, that's about as big as it gets," Mr. Trump told Dickerson during a behind-the-scenes interview at his Saturday rally in Harrisburg, Pennsylvania. "And when you think about it, every five-to-four decision that we win for the next 40 years – because hopefully Justice Gorsuch is going to be there for a long time…he's only 49 years old – is something you did. So that's a real legacy in a certain way, very important."
Mr. Trump nominated Gorsuch at the end of January to fill the seat left by the late Justice Antonin Scalia, a conservative icon during his time on the court. Gorsuch was confirmed earlier this month, but not before a bitter partisan fight that prompted the Senate's GOP leaders to lower the threshold for confirmation of Supreme Court justices to a simple majority of 51 senators.
Dickerson also asked the president whether he learned any lessons during the fight over Gorsuch's nomination that he can apply to other tricky legislative battles.
"Oh, I think so," the president said. "I think we're doing very well on healthcare. I think we're doing well on a lot of things. And we're going to be putting in infrastructure very soon. You know, I've just been there for a little while. And we're going to do very well on infrastructure."
"Healthcare going to happen next week?" Dickerson asked.
"We'll see," Mr. Trump replied. "I don't want to put any dates. You know, they put a timeline on the same basic thing, because this is just evolving, getting better all the time. The premiums are coming down. The deductibles are coming down. And I don't like to put dates. It's going to happen. We're going to get something very good."
For more of Dickerson's interview with President Trump, click here.
Thanks for reading CBS NEWS.
Create your free account or log in
for more features.