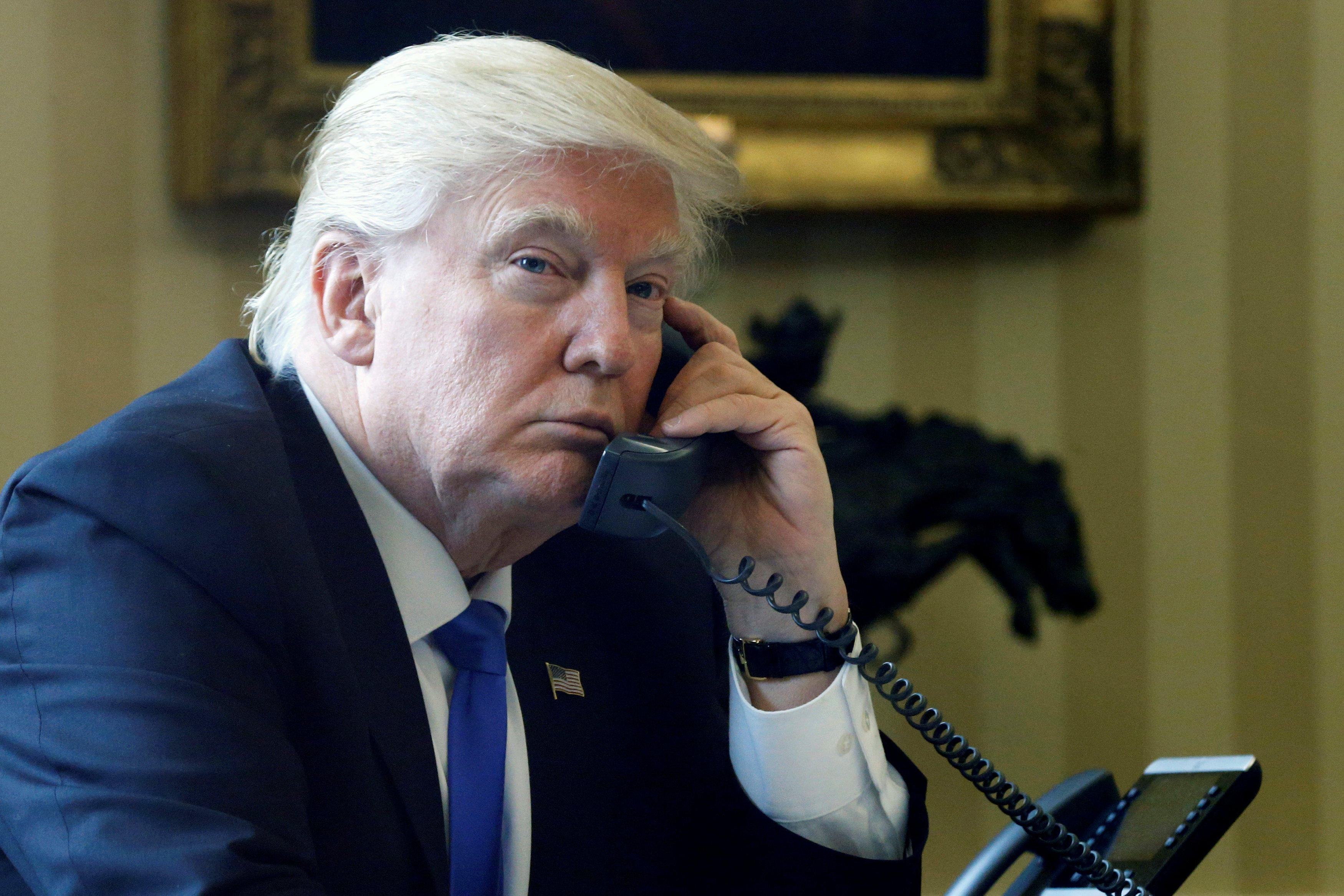 Trump talks with Putin, foreign leaders in round of phone calls
Amid roiling global tensions over a recent executive order halting the U.S. refugee program and travel from certain Muslim countries, President Trump engaged in a series of phone calls with world leaders Saturday, including Russian President Vladimir Putin, German Chancellor Angela Merkel and Japanese Prime Minister Shinzo Abe.
Gathered with several members of his senior staff around his desk, the president spoke with Putin around noon Saturday, the first known phone conversation Mr. Trump has had with the Russian leader since his inauguration last week.
According to a White House readout of the call, the "positive" conversation lasted approximately one hour and discussed topics ranging from "mutual cooperation in defeating ISIS" to efforts in Syria.
"Both President Trump and President Putin are hopeful that after today's call the two sides can move quickly to tackle terrorism and other important issues of mutual concern," the readout said.
In a Kremlin statement, Russia also mentioned that the leaders spoke about plans to organize a summit for the two. The White House did not confirm the information in their own readout of the call.
Vice President Mike Pence, chief of staff Reince Priebus, chief White House strategist Steve Bannon and National Security Adviser Michael Flynn were in the Oval Office during the call. Rex Tillerson, Mr. Trump's pick for secretary of state who remains unconfirmed by the Senate, was not present at the meeting.
Mr. Trump previewed the talk with the Russian leader during his first joint press conference with British Prime Minister Theresa May on Friday.
At the White House, the president said "ideally" Russia and the U.S. would have "a great relationship," but said it was still "too early" to consider lifting sanctions on the foreign power. (Former President Obama had imposed a new round of sanctions and restrictions against Russia following U.S. intelligence community findings that the country had hacked the 2016 presidential elections with the intent of propping up Mr. Trump's campaign over rival Hillary Clinton.) Mr. Trump said that he would keep an "open" mind about dealing with Putin, who he said he doesn't know well.
The phone conversation between the two key world leaders comes just as some in Congress have called for further investigation into possible ties between Russia and members of Mr. Trump's presidential campaign staff.
Earlier Saturday morning, the president also spoke with German Chancellor Angela Merkel.
According to White House press secretary Sean Spicer, the call lasted about 45 minutes.
Spicer also reported via Twitter that Mr. Trump spoke Saturday with Japanese Prime Minister Shinzo Abe, who the president invited to visit the White House on Feb. 10.
Mr. Trump is also expected to speak with French President François Hollande and Australian Prime Minister Malcolm Turnbull on Saturday.
Thanks for reading CBS NEWS.
Create your free account or log in
for more features.