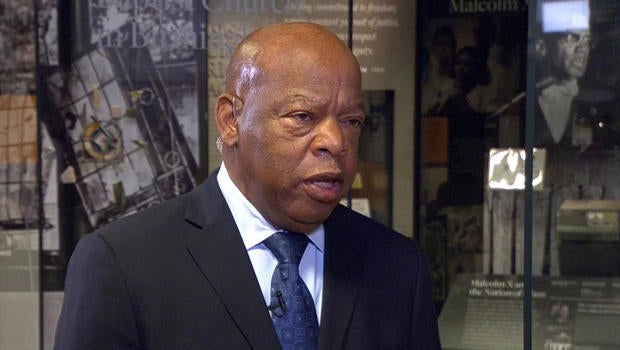 Rep. John Lewis: New African American museum "is about not giving up"
Georgia Congressman John Lewis risked his life many times in the fight for civil rights and has been a central figure in that movement for half a century.
He also fought in Congress for 15 years to create the Smithsonian's National Museum of African American History and Culture, which will officially open later this month in Washington, D.C. As many as 20,000 people are expected on the National Mall September 24 to watch President Barack Obama cut the ribbon, reports "CBS This Morning" co-host Gayle King.
When asked what he felt walking into the new museum for the first time, Lewis replied, "Well, I felt good! I was almost overcome. I didn't want to cry; I've been holding back tears, because so many of the exhibits, so much in this museum, remind me of the struggle that we went through to get legislation passed and get it signed into law."
Among the items in the museum's exhibits on the country's civil rights struggle are photos of Lewis speaking at the March on Washington for Jobs and Freedom on August 28, 1963. "I'm 23 years old, I have all of my hair, and [am] a few pounds lighter!" he laughed.
Introduced as "young John Lewis," the chair of the Student Nonviolent Coordinating Committee (SNCC) -- a leading organization in the civil rights movement -- he was the youngest speaker at the event, which also featured Dr. Martin Luther King Jr. and A. Philip Randolph.
"I went straight to the podium," he recalled, "I looked to my right, I looked to my left, and I looked straight out and said, ''This was it.' And I started speaking."
"Congressman Lewis, were you not afraid?" King asked. "That was a major crowd."
"I was not afraid,: he said. "We had been waiting for that day. We had been organizing …"
"Not everybody was on your side, though," King noted.
"No, but we had to do what we had to do. We had to speak truth to power," Lewis said.
Also included is a mug shot of Lewis, arrested in Mississippi in May 1961 during the Freedom Ride.
"I was inspired by Rosa Parks and Martin Luther King Jr. and others to get in trouble," he said.
He didn't listen to parental warnings of not getting into trouble in a racially-divided South?
"Well, I listened to them, but sometimes when you see something that is not right and not fair and not just, you move and you're inspired to do what you must do. I got in the way. I got in trouble. I call it good trouble. Necessary trouble!"
Referred to as the godfather of the museum, Lewis first introduced a bill for the creation of a museum dedicated to the African American experience in 1988. It was rejected. Lewis continued introducing a bill for nearly 15 years, but continually faced obstruction, primarily from Sen. Jesse Helms.
Lewis said the North Carolina Republican would put a hold on the bill each time it reached the Senate. "We were never able to get it through. And I remember on one occasion, the Democratic leader of the Senate and the Republican leader came to me and said, 'John, we don't have anything to trade this man.'
"But we never gave up, we never gave in. We persisted and we came together, and we passed it, and President George W. Bush signed it into law."
"Do you consider yourself a patient man that you never gave up?" King asked.
"I believe that you see something that you want to get done, you cannot give up and you cannot give in," Lewis replied. "You have to be persistent. This museum is about not giving up.
"I've heard over and over again, 'You can make your way out of no way.'"

For more info:
Thanks for reading CBS NEWS.
Create your free account or log in
for more features.