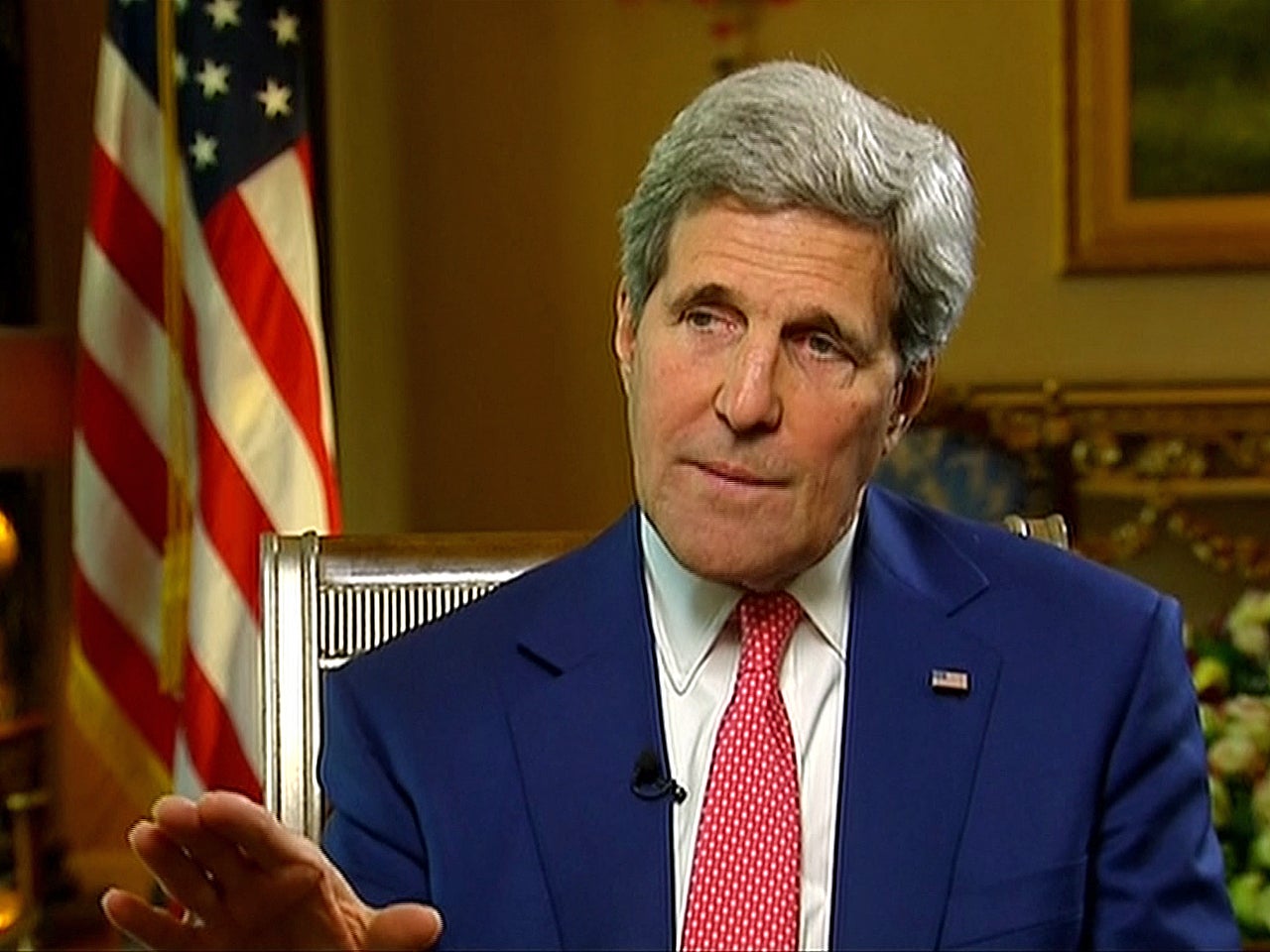 John Kerry on Iraq: No decision on "American force in a vacuum"
ERBIL, Iraq -- Secretary of State John Kerry told CBS News on Tuesday that President Obama is fully prepared to use American military might to help the Iraqi government push back Sunni Islamic militants sweeping across the country's west, but not "in a vacuum" of Iraqi political power.
President Obama's "focus and mine is on the issue of government formation," Kerry told CBS News correspondent Margaret Brennan in Erbil, the capital of the Iraq's northern autonomous Kurdish region, where he was pressing regional leaders to keep backing the central government in Baghdad.
"It would be a complete and total act of irresponsibility" for the president to order airstrikes, said Kerry, when "there's no government, there's no backup, there's no military, there's nothing there that provides the capacity for success."
"What we are doing is a deliberate, careful, thoughtful approach, listening to the people here, listening to the allies, listening to the partner countries in the region, and putting together something that can work," he added.
"We're not making a decision about American force in a vacuum," he told Brennan, explaining that any U.S. military commitment was "tied to success in the long run," which he said could only come from "leadership that can unify Iraq."
Kerry has spent two days urging Iraqi leaders -- including Shiite Prime Minister Nouri al-Maliki, who has been accused by the country's minority Sunni and Kurdish populations of consolidating power among members of his own sect and unfairly distributing the nation's vast oil wealth -- to form a new, inclusive government capable of rebuilding the country's military and effectively countering the threat from the Islamic State of Iraq and Syria (ISIS) militants.
He stressed to Brennan on Tuesday that, regardless of whether President Obama decides to order airstrikes in Iraq -- as al-Maliki's government has requested -- there is "no pure military victory here. We've got to have a political solution."
With pressure mounting for President Obama to take some action to help stop the ISIS advance, both from Iraq and some U.S. politicians, Brennan asked whether the White House could afford to keep delaying a tangible response.
There's "no excuse for inaction," said Kerry, adding that President Obama was trying "to move this process forward" as quickly as possible.
He said on the political front -- the one on which U.S. military involvement is currently pinned -- progress in was "happening very rapidly," noting that Iraqi leaders were expected to begin forming a new government around the first of July.
Kerry did not say whether the Obama administration would wait to see how that government takes shape before making a decision on possible U.S. airstrikes, but he suggested on Monday that the White House could move before political reforms took shape in Baghdad.
Mr. Obama "always reserves the right to use force if its going to be to the advantage of a particular strategy," said Kerry. That strategy, according to the Secretary of State, on Tuesday remained a work in progress.
Thanks for reading CBS NEWS.
Create your free account or log in
for more features.