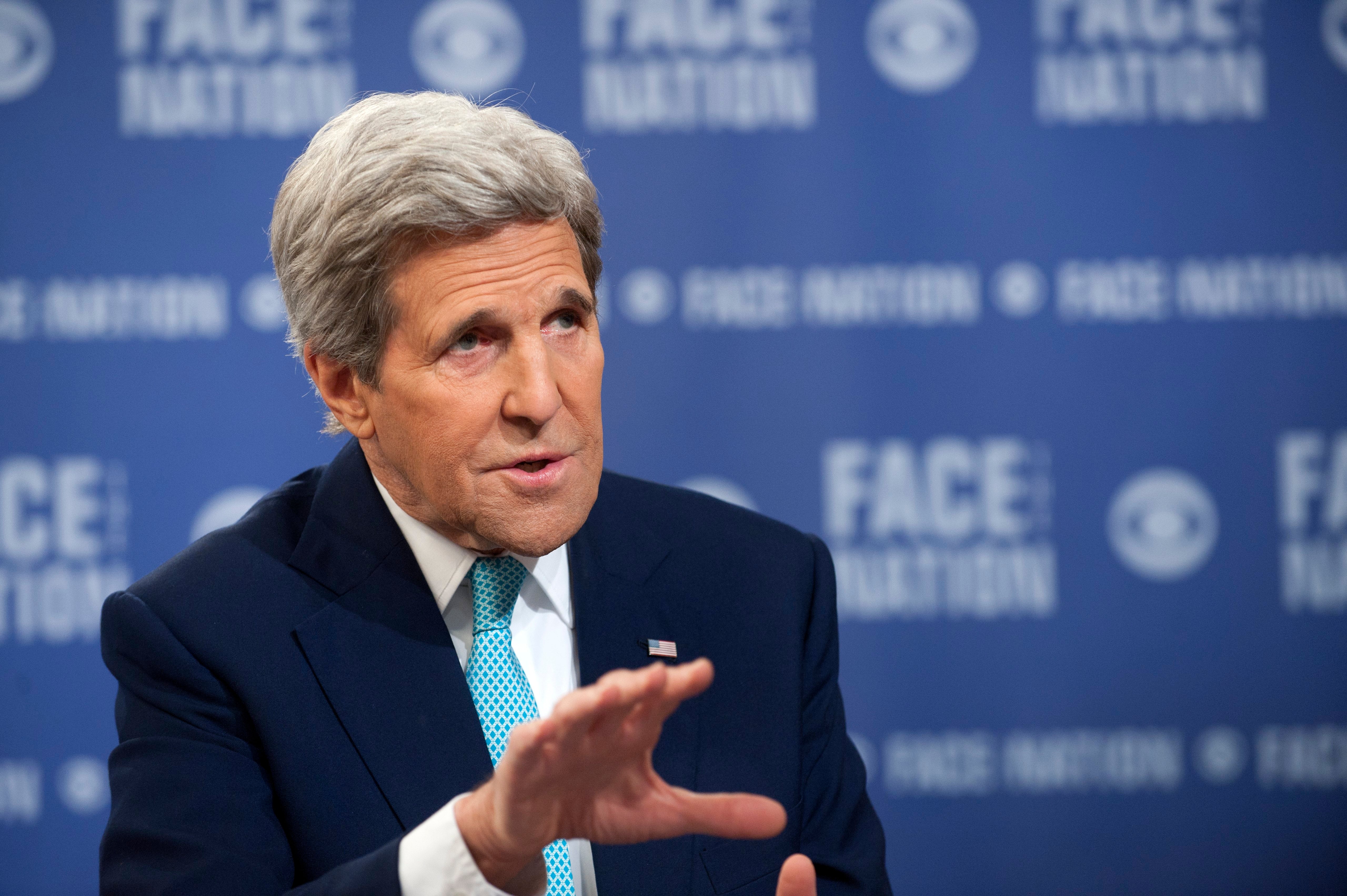 John Kerry: 2016 campaign trail rhetoric on Muslims is an "embarrassment"
Secretary of State John Kerry said the rhetoric on the 2016 campaign trail about Muslim immigration and torture are an "embarrassment" to the United States.
As world leaders watch the U.S. presidential election, Kerry said, "I think it is fair to say that they're shocked," he said Saturday in an interview on CBS' "Face the Nation." "It upsets people's sense of equilibrium about our steadiness, about our reliability, and to some degree I must say to you, some of the questions the way they're posed to me it's clear to me that what's happening is an embarrassment to our country."
Though he didn't mention anyone by name, Kerry may have been referring to GOP front-runner Donald Trump and Texas Sen. Ted Cruz, both of whom have called for greater surveillance of Muslim communities in the United States. Trump has also called for a halt on Muslim immigration to the U.S.
Kerry, who just returned from Brussels following the terror attacks there last week, said there's "great urgency" in Europe to fix the gaps in intelligence that helped lead to the bombings at the Brussels airport and the Maelbeek Metro station.
"We've been engaged actually, with the Belgium authorities for some period of time now trying to fill gaps that they're aware exist," he said. "And I think everybody is now geared up to recognize that the fight is not just in Iraq and Syria but the fight is wherever those fighters have come from."
Kerry noted that the fight against ISIS is making "real progress," citing all the territory that's been retaken from the terrorist group as well as the frequency with which Western forces are "taking out" leaders of ISIS.
"What's important for people to understand is, we are making real progress in Iraq and Syria," he said. "And I mean real progress. In 2014 when they began to sweep across Iraq, that is when President Obama ordered the initial bombing that stopped them from moving towards Baghdad. And since then, we have recouped about 40 percent of the territory in Syria which they had captured."
Kerry suggested the attacks in Europe and elsewhere serve a dual purpose for ISIS: to create terror in the West, but also to improve morale among their people in Iraq and Syria and recruit others to the cause.
"I think there are a number of people who believe that their need to reinforce their narrative, that even though they're under pressure there's still this viable force," he said. "It's the only way for them to recruit. It's the only way for them to try to provide some added morale to people that we know are very much having moral problems in Syria and Iraq."
He said he couldn't assess how long it would be until Syrian President Bashar al-Assad is out of power, but that "if Assad is not going to move to the side and cede to the transition, then Iran and Russia and all the other nations in the international security group have called for and supported, if he doesn't do that, there will not be peace in Syria."
Kerry, who spent part of last week in Russia meeting with Russian President Vladimir Putin and other Russian leaders, said the Russians are "not wedded to Assad." Putin has supported Assad, providing military support to his regime, but announced earlier in March that Russian forces would begin to withdraw from Syria.
Has Russia gotten more of a "foothold" in the Middle East because of its involvement in Syria? Kerry called that idea "ridiculous." Still, asked if Russia is an "ally" in Syria, Kerry said no--but that the country is helping the U.S. with other things in the "strategic interest" of the United States.
"Russia has helped bring about the Iran nuclear agreement. Russia helped get the chemical weapons out of Syria," he said. "Russia is now helping with the cessation of hostilities. And if Russia can help us to actually affect this political transition, that is all to the strategic interest of the United States of America."
Kerry also responded to criticism of the president for continuing on his pre-planned foreign trip -- watching a baseball game in Cuba, and dancing the tango in Argentina -- while the world was dealing with the aftermath of the Brussels bombings.
"The president of the United States' schedule is not set by terrorists," he said. "The President of the United States has major diplomatic responsibilities. He has to engage with other countries. That was an important part of trying to build a relationship and achieve some of our goals with respect to human rights, with respect to transformation in Syria - in Cuba and elsewhere."
"Life doesn't stop because one terrible incident takes place in one place," he said. "The president responded to it. He talked to the prime minister of Belgium from Cuba."
Kerry also said that in the wake of Brussels, Americans don't need to "live in fear" while traveling abroad, but at the same time cautioned that Americans can and must be "vigilant."
"Well it's really a matter of common sense, but there are guidelines and the State Department is ready to help anyone understand exactly what that means," he said Saturday, asked to explain how and whether American travelers should adjust their plans after the attacks.
Thanks for reading CBS NEWS.
Create your free account or log in
for more features.