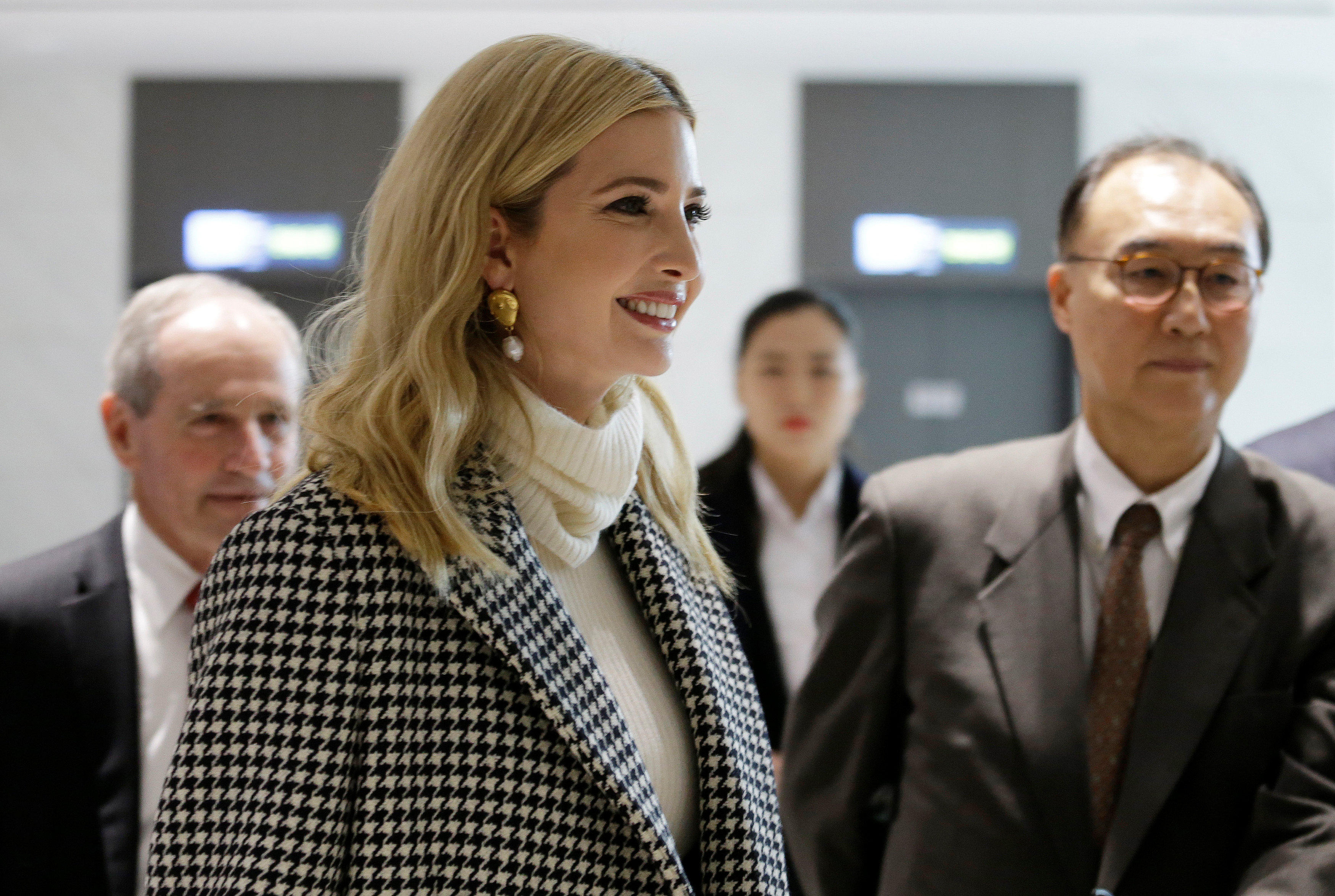 Ivanka Trump in S. Korea on Olympic "cheer" mission
SEOUL, South Korea -- Ivanka Trump arrived to a red-carpet welcome in South Korea on Friday to attend this weekend's closing ceremony for the Winter Olympics in Pyeongchang. The visit is her first since her father Donald Trump became U.S. president.
Her arrival at the airport was broadcast live on TV, and she was to have dinner with President Moon Jae-in in the presidential compound, according to South Korean media.
A North Korean delegation will also attend the closing ceremony, but both the South Korean government and the White House have said it's unlikely Ivanka Trump will meet the North Koreans or defectors from North Korea. Speculation is high in South Korea that she might deliver a message from President Trump on North Korea.
She told media at the airport that she is "very, very excited to attend the 2018 Winter Olympic Games (and) cheer for team USA."
South Korean media said Moon would emphasize the importance of U.S.-North Korea talks during the dinner with Ivanka Trump and other members of a U.S. delegation.
Moon hopes to make the Olympics an avenue for peace on the divided Korean Peninsula.
But while the games appear to have paved a way for possible rapprochement between the two Koreas, U.S. and North Korean officials have yet to make direct contact. Earlier this week, the U.S. government said Vice President Mike Pence was set to meet North Korean officials during his visit to South Korea for the opening ceremony, but that North Korea canceled at the last minute.
Moon met Kim Yo Jong, the sister of North Korean leader Kim Jong Un, and Kim Yong Nam, North Korea's nominal head of state, a day after the opening ceremony and urged North Korea to do more to engage in a dialogue with the United States.
There are no indications that Ivanka Trump will meet Kim Yong Chol, vice chairman of North Korea's ruling Workers' Party Central Committee, who is to lead the North's delegation to the closing ceremony.
Kim is in charge of inter-Korean affairs and used to be head of military intelligence. In that previous role, he was accused of planning an attack in 2010 on the Cheonan, a South Korean warship, that killed 46 sailors, and the shelling of South Korea's Yeonpyeong island the same year.
As CBS News' Jacqueline Alemany reported earlier this week, Ivanka Trump's visit to the Olympics was described by White House officials in dramatically different terms than Pence's politically charged trip.
The vice president led the U.S. Delegation for Pyeongchang's opening ceremony while pushing the administration's "maximum pressure campaign" against North Korea, which included meeting with North Korean defectors, announcing new sanctions against the North, and bringing Fred Warmbier, Otto Warmbier's father as his guest.
Ivanka Trump's trip will be decidedly non-political: White House officials said she would not meet the North Korean delegation, nor any North Korean defectors. She will be in Pyeongchang for celebratory purposes, to cheer on U.S. Olympians and support a "vital" ally's "remarkable transformation" since the Korean war, as one White House official put it. She will be meeting with athletes from Team USA and plans on attending sporting events on Saturday and Sunday in Pyeongchang.
The president's daughter is leading the U.S. delegation at her father's request. An official described Ivanka Trump as well suited to lead the delegation because of her experience on the world stage, and because she is "something of a winter sports enthusiast."
Thanks for reading CBS NEWS.
Create your free account or log in
for more features.