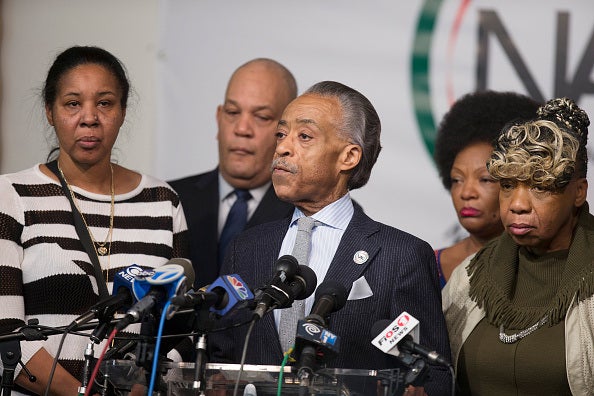 Will NYPD officers' murders derail the protest movement?
NEW YORK - Civil rights leaders Sunday condemned the ambush killings of two New York police officers and expressed fear that the backlash over the bloodshed could derail the protest movement that has grown out of the deaths of Michael Brown and Eric Garner.
In the raw hours following the killing of the officers, police union officials and politicians accused those who have protested the deaths of Garner and Brown of fanning anti-police fervor. Patrick Lynch, president of the Patrolman's Benevolent Association in New York, said there was "blood on the hands" of demonstrators and elected officials who have criticized police tactics.
The Garner and Brown families issued statements repudiating the officers' killings, while civil rights leaders took to the airwaves to try to put some distance between the movement and the crime.
Garner's mother, Gwen Carr stood with Rev. Al Sharpton during a press conference at the National Action Network headquarters in New York and condemned the violent shootings, while emphasizing her son's name was not connected to what happened on Saturday.
"I'm standing here in sorrow about losing those two police officers," she said. "That was definitely not our agenda."
Garner's widow also spoke and later tweeted her condolences as well.
Other civil rights leaders also denounced the ambush and warned that linking it to the nationwide protests against police violence is counterproductive.
"To link the criminal insanity of a lone gunman to the peaceful protests and aspirations of many people across the country, including the attorney general, the mayor and even the president, is simply not fair," NAACP President Cornell William Brooks said on CBS' "Face the Nation."
Brooks said the shootings were "certainly not a step forward" for the movement.
Officers Rafael Ramos and Wenjian Liu were gunned down at close range in their patrol car in Brooklyn on Saturday by Ismaaiyl Brinsley, who then committed suicide. Before the attack, Brinsley, 28, wrote on an Instagram account: "I'm putting wings on pigs today. They take 1 of ours, let's take 2 of theirs."
He used the hashtags Shootthepolice RIPErivGardner (sic) RIPMikeBrown - references to two blacks who died at the hands of police. Garner died in a New York City officer's chokehold, and Brown was shot by an officer in Ferguson, Missouri. Grand juries decided not to bring charges against either officer.
In the wake of the ambush, former New York Mayor Rudy Giuliani lashed out at New York Mayor Bill de Blasio, President Barack Obama and Attorney General Eric Holder. Speaking on Fox News, Giuliani said: "We've had four months of propaganda starting with the president that everybody should hate the police."
"They have created an atmosphere of severe, strong, anti-police hatred in certain communities, and for that, they should be ashamed of themselves," he said.
In a tweet, former New York Gov. George Pataki called the killings the "predictable outcome of divisive, anti-cop rhetoric of Attorney General Eric Holder and Bill De Blasio."
The accusations stoked fears that any gains made in the protest movement would be lost.
"We've been denouncing violence in our community," no matter who the target is, New York community activist Tony Herbert said. He said he worries that the shooting will be used to discredit the larger cause.
"It sullies the opportunity for us to make inroads to build the relationships we need to build to get the trust back," he said. "This hurts."
Similarly, the Rev. Al Sharpton, who has called for peaceful protests, condemned "eye-for-an-eye" violence and called it absurd to blame protesters or politicians for the officers' deaths.
"We are now under intense threat from those who are misguided - from those who are trying to blame everyone from civil rights leaders to the mayor rather than deal with an ugly spirit that all of us need to fight," he said.
Sharpton added: "There are those of us committed to nonviolence and making the system work. And there are those committed to anarchy and recklessness who could care less about the families of police or the families who have raised questions about police accountability."
Thanks for reading CBS NEWS.
Create your free account or log in
for more features.