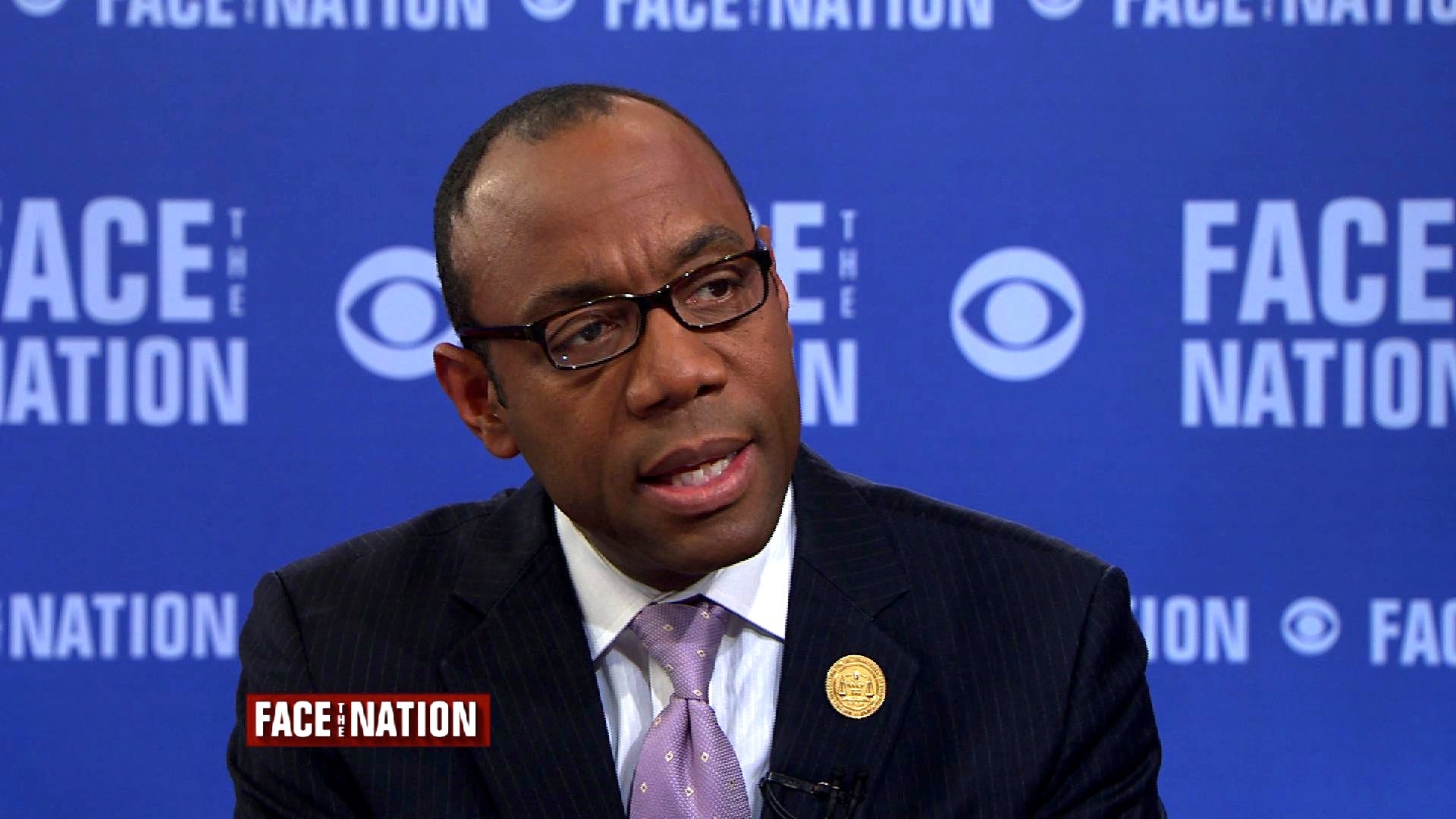 Is it fair to blame Mayor de Blasio for NYPD cops killed?
NAACP President Cornell William Brooks said it is "simply not fair" to blame politicians like New York Mayor Bill de Blasio and Attorney General Eric Holder for the deaths of two New York Police Department officers who were ambushed and killed by a gunman in Brooklyn on Saturday.
"To link the criminal insanity of a lone gunman to the peaceful protests and aspirations of many people across the country including the attorney general, the mayor and even the president is simply not fair," Brooks said in an interview on CBS' "Face the Nation" Sunday.
He was responding a tweet from former New York Gov. George Pataki, a Republican, who wrote, "Sickened by these barbaric acts, which sadly are a predictable outcome of divisive anti-cop rhetoric of #ericholder & #mayordeblasio. #NYPD."
Pataki's comments echoed those of Patrolmen's Benevolent Association President Patrick Lynch, who told reporters after the shooting: "There's blood on many hands tonight."
Brooks offered his condolences to the families of the police officers who were killed. In addition to saying it is not fair to blame politicians or peaceful protesters for the deaths, he also said that it is "quite simply wrong" to kill someone, regardless of whether they are a police officer or civilian.
The NYPD deaths are "certainly not a step forward" for the people who have been protesting the deaths of Michael Brown, the Missouri teenager who was killed by a police officer, and Eric Garner, who died after he was put in a chokehold by an NYPD officer. He linked all of the deaths together, saying they are the result of "a violence problem" in the U.S.
"Think about it this way: The tears of the families of these police officer sand the tears of Eric Garner's family and Michael Brown's families aren't shed in law enforcement blue, racially black or brown. They're colorless, they're tragic and unnecessary," he said.
Brooks added that the policing reforms the NAACP is advocating for will help protect both the public and police officers.
In a separate interview, South Carolina Republican Sen. Lindsey Graham said, "I blame the shooter and nobody else." But later he added, "I think that the mayor of New York has probably undercut his cops and the attorney general is trying to walk a fine line."
"What happened in Missouri, I understood why the cop had to defend himself. When you see the video in New York, did that man really have to die? But the tone they're setting around the rhetoric regarding the cops incites crazy people. But I blame the shooter," he added.
Thanks for reading CBS NEWS.
Create your free account or log in
for more features.